IKEA Launches Range Of Couches To Celebrate Pride Month And WTF Is Up With The Bisexual One?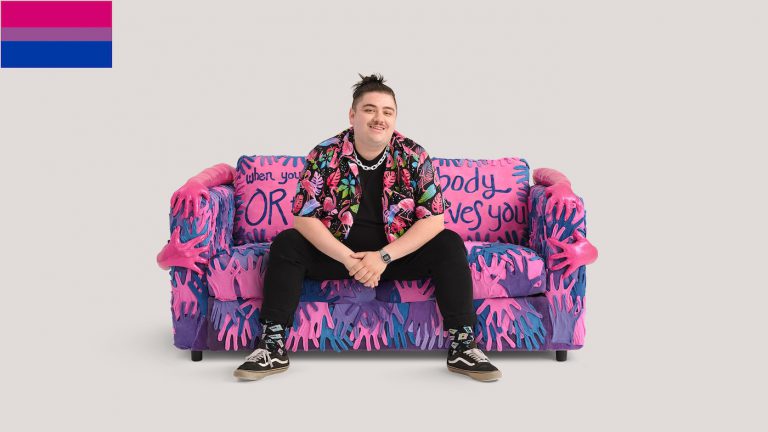 IKEA Launches Range Of Couches To Celebrate Pride Month And WTF Is Up With The Bisexual One?
IKEA have released "a series of one-of-a-kind slipcovers inspired by the colours of different Pride flags, and the lived experiences from a wide spectrum of gender and sexual identities they represent," but all everyone can talk about is 'what's up with the Bisexual couch!'
Called Love Seats the colourful couches were created in celebration of this year's Pride Month. Unfortunately these are not going to be manufactured and sold in stores but fans still love them.
"This partnership is our way of helping artists in different communities express themselves on a large platform in a way that's been tricky during COVID-19," said Claudia Mayne, Ikea Canada's director of marketing communications. "Each Love Seat was designed in collaboration with a community member and inspired by the colours and personal meaning of the corresponding flag. Each designer had the freedom to create a one-of-a-kind piece of art. The campaign also features LGBTQ+ people sharing their stories of "self-love, romantic love, family love, chosen love, or community love."
While the range is super colourful and cute, it's the bisexual one that has everyone talking. The slipcover was designed to represent the bisexual flag and is covered in textured pink, purple and blue handprints.
therapist: it's OK, the Ikea pride collection can't hurt you

the Ikea pride collection: pic.twitter.com/aBZDXKiC36

— Louis Staples (@LouisStaples) June 29, 2021
The love seat features the message, "When you change 'or' to 'and,' nobody believes you." The line comes from a poem written by Brian Lanigan. The line refers to a previous relationship in which Lanigan's ex didn't accept his bisexuality.
"It's not all of me, it's part of me," Lanigan told Ikea Canada. "That label only describes one section of my life and identity. My art and conversations don't all have to be based around bisexuality. I can also simply exist."
That's all well and good but WHY is the bisexual couch covered in so many hands people want to know. The love seats have sparked a reaction from the queer community on Twitter. Many people seemed very uncomfortable with the whole thing.
everyone is talking about how "nobody believes you" is written on the bi ikea couch but can we talk about how its COVERED IN FUCKING HANDS?????????? pic.twitter.com/dYgUAsJU8w

— sand (@sanditimtom) June 29, 2021
therapist: the bisexual ikea couch isn't real it can't hurt you

the bisexual ikea couch: pic.twitter.com/0FVbP14Qsp

— alex (@alex_abads) June 29, 2021
ikea's new gaslighting couch is EVERYTHING! pic.twitter.com/xXvhMPJ1x7

— rachel (@bugposting) June 29, 2021
You can check out the whole collection HERE.
Images: Ikea and Twitter