Maid Of Honour Left To Clean Up Hundreds Of Dead Goldfish After Wedding!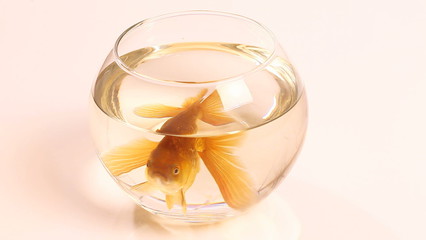 Maid Of Honour Left To Clean Up Hundreds Of Dead Goldfish After Wedding!
If you've ever been a maid of honour for someone then you know you're practically their slave for the day! Fussing over them, making sure they have everything they need and basically pandering to their every crazy ass demand. I remember when I was maid of honour once it was my job to follow the bride around with her lipstick and mirror for any time she needed a touch up. And I mean anytime!
That however, pales in comparison to this poor woman who found herself being maid of honour to a so called 'animal loving' bride who turned out to be nothing more than a sociopathic goldfish killer.
Here's how this story goes. According to a Reddit thread from April 18th a woman was  horrified to discover her bestie wanted to use LIVE goldfish as her wedding centrepieces which were also to double as wedding favours.
"Much of the wedding was pre-packaged with the reception hall it was held in. They covered invitations, catering, cake, tables/chairs, decorations. The time came to choose centerpieces for the tables. The venue offered a variety of glass containers the bride could fill with whatever she wanted. Tall cylindrical vases, decorative platters, bowls, globes. Which shape she chose would depend upon what the bride chose to display in it. Did she want flowers? Candles? Pebbles? No, she had a better idea.
You see, ex-friend was an animal lover. On and off again vegetarian/vegan, PETA supporter, etc. She was especially fond of fish. With that in mind, how cute would it be to have a pair of goldfish in a globe as a centerpiece? Real, live goldfish – a pair of them (to represent the couple, see?) – on each and every table, all 40 of them," the MOH explained.
The friend tried to talk the bride out of this ludicrous idea but she wasn't having it! So as the maid of honour recalled, roughly 100 goldfish were purchased — 80 for the tables, plus "spares" to replace any "floaters" that didn't make it through the ceremony.
One of the MOH's roles was to walk around the tables and replace any dead fish with live ones before anyone noticed. Can you imagine?!
"'That can be your job during the reception: just keep an eye out for dead ones and replace them before anyone notices. They're called feeder fish for a reason," the MOH said. "They don't live long, everyone knows that. We'll buy them that morning, they only need to survive through the reception."
Unfortunately many didn't make it. "I didn't have a lot of time to spare during the reception to watch over all 40 centerpieces, but I did catch a few floaters," the woman wrote.
If you thought that was the worst of it – well it wasn't! By the end of the reception not ONE SINGLE guest had taken any of the fish home. No-one! The poor MOH was left with 100 goldfish on her hands with no idea of what to do with them.
"That night I strolled into a big-box pet store in my big floofy red satin floor length gown, heels clacking on the tiles, and purchased a big-a** rectangular tank, a filter, and some fish flakes," she wrote.
As the days went by, more and more fish died until only a single goldfish remained. "By the third day, we were down to five, and we lost one a day after that until there was only one left. And that last one? Five years. I named it Sun," the maid of honor recalled.
You know what the funniest part of this story is? Little Sun has managed to outlast both the MOH's friendship with the bride as well as her marriage. "It lingered far longer than my friendship with the bride, and far far longer than her marriage." Hahahaha! Gold!