Man Attempts To Treat Back Pain By Injecting Semen Into His Arm!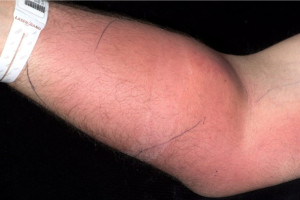 Man Attempts To Treat Back Pain By Injecting Semen Into His Arm!
A man has made headlines this week when he attempted to cure his back pain by injecting  semen into his arm!
In a report, hilariously titled "'Semenly' Harmless Back Pain: An Unusual Presentation of a Subcutaneous Abscess" – author Dr. L. Dunne outlines what happened when he came across this unusual case.
"A 33 year old male was seen complaining of severe, sudden onset lower back pain," the report, which was published in the Irish Medical Journal, begins.
The man had apparently come to seek help from the doctor for his back pain…not for his swollen arm full of sperm!!
"Thorough physical exam of the upper and lower limbs revealed an erythematous papule with a central focus on the medial aspect of his right upper limb. The patient disclosed that he had intravenously injected his own semen as an innovative method to treat back pain," he writes.
Injecting himself monthly with sperm was a treatment the 33 year old man in question had come up with on his own. A natural alternative to traditional medicine apparently.
"Upon further interrogation of this alternative therapy, he revealed he had injected one monthly 'dose' of semen for 18 consecutive months using a hypodermic needle which had been purchased online."
He would inject three "doses" of semen, entering both his blood vessels and his muscles.
"This is the first reported case of semen injection for use as a medical treatment," the doctors in Ireland wrote in the case study.
The man presented with a swollen arm that had hardened where he'd injected his semen. An x-ray revealed an area of trapped air beneath the man's skin as well as a build up of 'fluids'. The doctors immediately hospitalised the patient, treating him with an intravenous antimicrobial therapy.
The report goes on to say that there has been no evidence in medical science of semen ever being used to treat back pain:
Although there is a report of the effects of subcutaneous semen injection into rats and rabbits, there were no cases of intravenous semen injection into humans found across the literature. A search of more eclectic internet sites and forums found no other documentation of semen injection for back pain treatment or other uses.
Attempts at intravenous and arterial injection of harmful substances such as mercury, gasoline, charcoal lighter fluid, hydrochloric acid and hydrocarbon are well described and are generally carried out in attempted suicide as opposed to the case detailed above in which the patient was aiming to relieve physical discomfort.
Can't believe that we now have to tell people to NOT inject sperm into their bodies with a needle. Cum on are you kidding me? Is this how stupid humanity has become!
images: Irish Medical Journal and Pixabay