Man Jailed After He Dangled a Baby out of a 15th Floor Window for Facebook Likes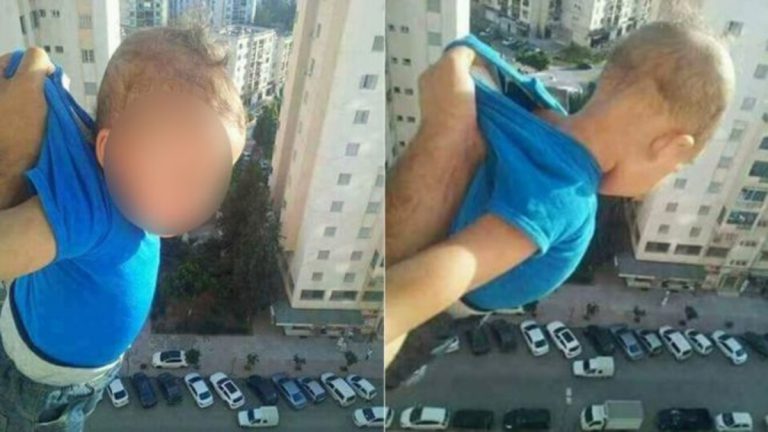 Man Jailed After He Dangled a Baby out of a 15th Floor Window for Facebook Likes
A man who dangled a terrified baby out of a 15th floor window in order to get Likes on Facebook has been given a two-year jail sentence for child abuse.
In the sickening photographs, a terrified toddler can be seen held by the scruff of his bright blue T-shirt, dangling out of an open window of an Algerian apartment building, 45 metres off the ground.
The man captioned the images with: "1000 likes or I drop him".
It was first reported that the man was the child's father, but that is no longer believed to be the case, with reports now stating that the man was a relative.
Those that saw the shocking images quickly contacted the local authorities in the Algerian capital of Algiers and the man was arrested.
He was sentenced to two years in prison after being found guilty of child abuse charges, according to local news outlet Al Arabiya.
These images are enough to make any parent feel sick. What sort of person thinks this is a fun thing to do for shits and giggles?
In court the man claimed that there was a balcony which had protective barriers on it that were digitally removed by other social media users, doctoring his original photograph. This claim was pretty much ignored by the court as the complete rubbish that it obviously is. It would be easy to prove if there was a balcony on the building, right?
The man's father reportedly urged the judge to forgive the man, saying he had just been mucking around.
I have no words.
This garbage human being deserves every minute of his two years in an Algerian jail for doing this.
And let's not gloss over why he did it.
For Facebook Likes. For attention.
Well, he certainly got it. And I hope he gets much more of it while in jail.
Source: Facebook