Meet The Habibs- Is This Australia's Most Racist Show?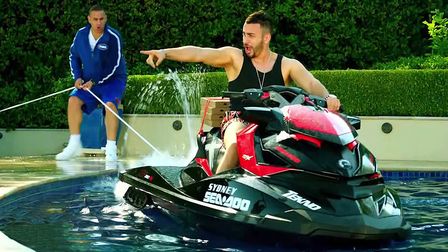 Channel Nine has a new comedy sitcom on the cards for 2016 and it's already causing a stir.
Titled Meet The Habibs, it's a story of a Lebanese family that has just moved in to the poshest suburb in Sydney. Doesn't sound too bad does it? Well, that's a matter of opinion.
Following previews of the show some are calling it racist and stereotypical. Many saying they doubt that the series will make it past the first few episodes.
If you're a fan of Fat Pizza then you will understand the type of humour we're talking about here. It's a stereotypical portrayal of a Lebanese family that has struck it rich by winning tattslotto and has bought a mansion next to a rather snooty couple that is less than pleased to have them as neighbours.
The Habibs are loud, colourful and brash. Something that apparently doesn't go hand in hand with being wealthy. Who knew!
This is the description given by Channel Nine about the show:
Here Come The Habibs!
When a Lebanese migrant family, the Habibs, strike it rich and move to Australia's poshest postcode, their neighbours know this can only mean one thing – trouble! Mega-rich suburb, old-money mansion, working- class Lebanese migrant family … there's no prize for guessing the odd one out. The real mystery is, how on earth did the Habibs fund their prized position in Australia's wealthiest suburb? Pig-headed dad Fou Fou (Michael Denkha) is a dodgy builder, mum Mariam (Camilla Ah Kin) is a housewife, daughter Layla (Kat Hoyos) is an Instagram-a-holic, middle child Elias (Tyler De Nawi) is a uni student, and Toufic (Sam Alhaje) is a wheeler-dealer entrepreneur. Neighbour Olivia O'Neill (Helen Dallimore) is determined to drive the Habibs from her world and enlists her husband Jack (Darren Gilshenan) to help in the quest. Daughter Madison (Georgia Flood) doesn't think the Habibs are all that bad, especially the youngest son. It's a case of be careful what you wish for in this conflict- charged, fish-out-of-water story, which brings a fresh comic perspective to multicultural Australia. Here Come The Habibs! is the boldest Australian comedy in decades. The production is by Jungleboys, with executive producers Andy Ryan, Jo Rooney, Ben Davies and Jason Burrows. The series created by Rob Shehadie, Tahir Bilgic and Matt Ryan-Garnsey is directed by Darren Ashton and produced by Chloe Rickard. Here Come The Habibs! is proceeding with the assistance of Screen Australia and Screen NSW.
Is everyone just making a fuss about nothing? Have we become a nation that has lost it's sense of humour or is there some real concern that the show will do nothing to unify our communities?
This reminds me of a time many, many years ago when a new show premiered on Channel 7 called Acropolis Now. As a Greek-Australian myself I remember thinking how repulsive and racist a show like this would be. I mean who looks and dresses like Effie Stefanidis (Mary Coustas' character) anyway? How dare this show poke fun at Greeks and all our quirks. Then I watched the show. And I laughed. I laughed because this show was me in every way. It was my family, it was my friends it was my voice. Suddenly being a Greek-Australian I had a place in society that didn't feel foreign. I looked to these actors, that were so brave in pioneering a show like this, and felt proud that although yes they stereotyped many aspects of the migrant experience, many more were spot on! Being called 'wog' was no longer an insult. Shows like Acropolis now took that word and made it our own.
I can only hope Meet the Habibs does the same for the Lebanese community.