Mum Chases Her Toddler After He Streaks Across the Field During a Big Sporting Event in the US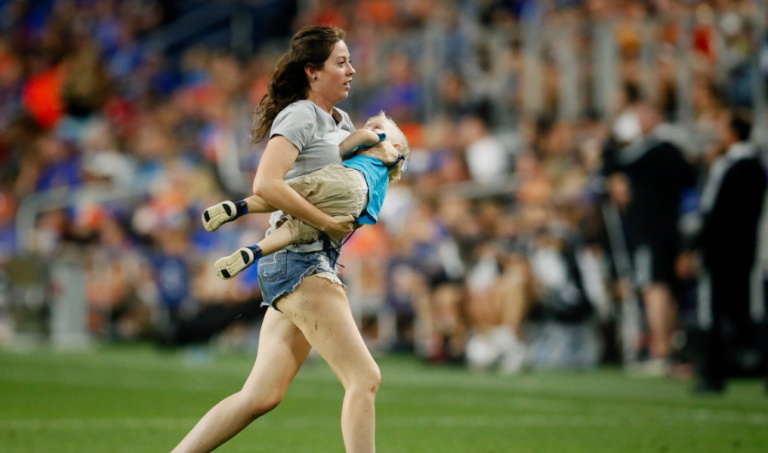 Mum Chases Her Toddler After He Streaks Across the Field During a Big Sporting Event in the US
In what must be every parent's secret nightmare, a mum in the US has had to run onto the playing field during a major sporting event to chase her toddler who decided it was in his best interests to join in the game.
Worse still, the poor mum stacked it after she managed to grab her child in front of a crowd of thousands.
Morgan Tucker, of Moscow, Ohio, took her son Zaydek to his first soccer game last Saturday night to watch FC Cincinnati face off against Orlando City FC.
Towards the end of the game, Morgan took her eyes off her little one for just a moment giving him a brief window of opportunity to slide under the fence and make a run for it onto the playing surface.
It could happen to any of us, honestly.
The hilarious footage was shown during the game and shared on social media to the delight of parents everywhere who thank their lucky stars that this scenario didn't happen to them.
We hope this mother and her young pitch invader are having a great day. ?
pic.twitter.com/hKfwa6wyWI

— Major League Soccer (@MLS) August 9, 2021
"When I slid and tackled him, I did not feel any pain but the next day I was sore for sure," said Tucker, who described her actions in the moment as "pure adrenaline." "I was so scared he was going to get hit in the head with a soccer ball."
A young pitch invader was quickly scooped up by their own personal security detail without incident. #FCCincy #mls pic.twitter.com/gK2bzgNdas

— Sam Greene (@SGdoesit) August 8, 2021
Both Tucker and Zaydek made it off the field without injury and without interrupting the game.
"When I got him back over the fence I said, 'What were you doing?,' and he said, 'Mom, soccer ball,'" Tucker said. "He was really into the game and when the [players] would go to the other side of the field, he was not happy, so he wanted them to be there with him."
"He was just running after them," she added of Zaydek. "He was just laughing and had no idea what he did."
Zaydek and his mom had a great time at the game pic.twitter.com/53TgisKvis

— Sam Greene (@SGdoesit) August 8, 2021
Tucker said she received cheers from the crowd as she ran off the field with Zaydek, adding, "Everyone was screaming and cheering and I knew they were not cheering for the game. My face was as red as a tomato."
It could have been any one of us. Thank goodness it wasn't.
Source: Twitter/@SGdoesit