Nine Newsreader Loses It After Her Colleague Dresses In The Same Colour As Her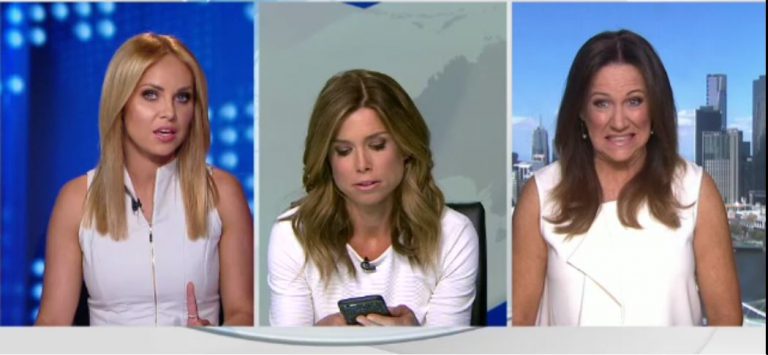 Nine Newsreader Loses It After Her Colleague Dresses In The Same Colour As Her
It's as laughable as it sounds. Channel Nine newsreader Amber Sherlock has been caught on camera chastising her friend and fellow journalist, Julie Snook, after warning her not to wear white during their live cross.
Video of the exchange shows Amber demanding that Julie "go and find a jacket" to wear over the top of her pale blue top.
Watch the full (raw) video here:
"I need Julie to put a jacket on because we're all in white. I asked her before we came on — Julie, you need to put a jacket on," Sherlock demanded.
As Snook began to explain she just hadn't had time to source a jacket before going into the studio, Sherlock cut her off: "Come on, I told you two hours ago."
Sherlock then pulled her iPhone out and informed Snook she'd personally call the Nine wardrobe department to "get something".
Fellow guest, psychologist Sandy Rea, could hear all this going down from her studio and looked fairly uncomfortable overhearing the exchange. She tried to defuse the problem by suggesting she'd get a jacket herself.
"You're fine, Sandy, but there can't be three of us. And I made this clear two and a half hours ago."
"Amber, if it's an issue I can get on out of here (the studio)," Julie calmly said.
"It is an issue. Go and grab a jacket," Sherlock demanded. Snook pointed out she was actually wearing light blue and not white but it made no difference at all and Sherlock continued to look pissed.
Predictably, social media have had a field day with the diva-esque meltdown.
Amber Sherlock was hospitalised after seeing this. #PutYourBlazersOnForJulie pic.twitter.com/3YCxxCreDN

— Sean Woodland (@sean_woodland) January 12, 2017
Amber Sherlock currently yelling at her refrigerator that it needs to put a jacket on. Dishwasher is fine, she told her already.

— Adam Richard (@adamrichard) January 12, 2017
It worked for the Bee Gees! #AmberSherlock #WardrobeWillBeFurious pic.twitter.com/stj4xffKlc

— Michael Smyth (@MichaelSmyth_) January 12, 2017
Even Sophie Monk took to her Instagram to parody the bizarre outburst.
Amber Sherlock has since attempted an explanation of her behaviour but has yet to publicly apologise to her fellow journalist.
"Live TV can be a pretty stressful beast, at times," Amber told Nine Honey.
"It's never much fun rocking up to work or to a party in the same outfit as one of your colleagues or friends. I probably overreacted with the pressure of presenting a live news bulletin."
Images: Channel Nine