Cassie's Chicken Carbonara Recipe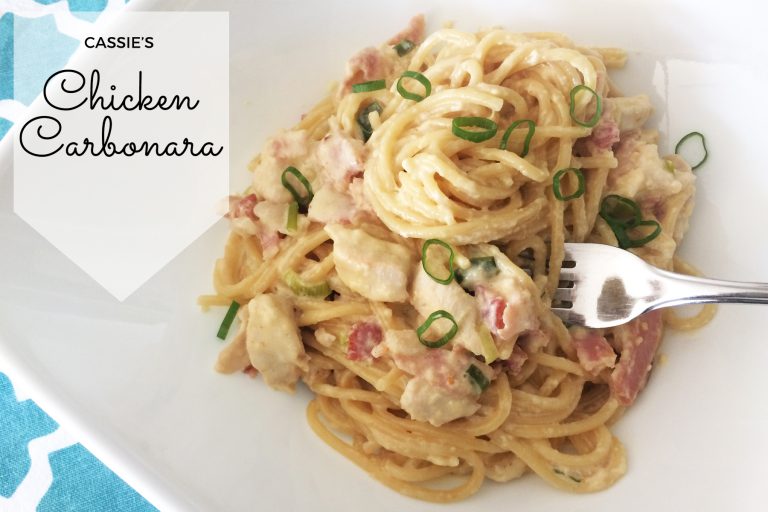 Cassie's Chicken Carbonara Recipe
This fabulous chicken carbonara recipe comes courtesy of one of our family's lovely preschool teachers, Miss Cassie! She scribbled the recipe down and gave it to me months ago, promising me that it was amazing.
It took me a little while to actually make her recipe, but I once I tasted it, I was somewhat annoyed that I hadn't made it sooner. She's right – it is amazing! Creamy, cheesy pasta – who doesn't love a carbonara?
Our children loved it and helped themselves to seconds. And I promised them that I would make it again soon. You should give it a go yourself!
Here's what you'll need to get Cassie's Carbonara on the table in less than twenty minutes.
Chicken breast fillets, bacon, shallots, dried spaghetti, cream and two packets of the dried "pantry fresh" parmesan cheese that you find near the tomato paste in the supermarket. You can also add fresh mushrooms if you like, but I didn't have any on hand. Next time I will!
Bring some salted water to the boil in a big saucepan and cook the pasta as per packet directions.
Meanwhile, fry the chicken and bacon in some olive oil until cooked. Add the cream, cheese and shallots and bring to a gentle simmer. Once the pasta is cooked, drain it, return it to the saucepan and stir through the carbonara sauce. Simple!
I really hope you enjoy this meal as much as we did. Thanks, Miss Cassie!
Cassie's Chicken Carbonara
Ingredients
2 tbsp olive oil
2 chicken breast fillets, diced
400g bacon, sliced
600ml cream
2 shallots
1 1/2 packets of pantry-fresh grated parmesan cheese
250g mushrooms (optional)
500g dried spaghetti pasta
Extra shallots to serve
Instructions
Place a large pot of salted water on high heat and bring to boil. Cook pasta as per packet directions.
Meanwhile, heat olive oil in a frying pan and cook chicken and bacon until just golden and cooked through. Add mushrooms (if using) and stir through, cooking until golden.
Add cream, parmesan cheese and shallots and bring to a gentle simmer.
Stir through cooked pasta and serve immediately sprinkled with extra shallots.
https://mumslounge.com.au/lifestyle/food/cassies-chicken-carbonara-recipe/