Should Planes Have Designated Child Free Zones?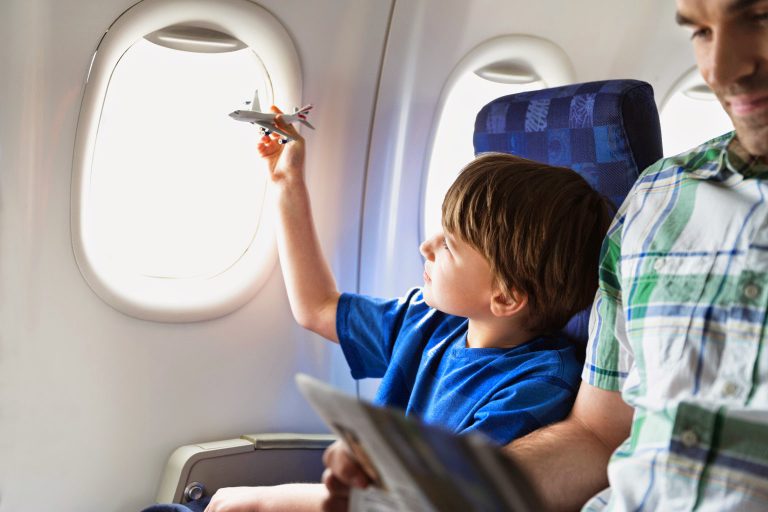 Most airlines strive to make air travel comfortable for their passengers. From extra blankets, to comfier cushions to meals that don't taste like warmed up cardboard, they do try their best. I mean if we're all going to be confined to the same space for hours and hours on end I guess they should try and make it as pain free as possible, right?
Some airlines have decided that the best way to keep passengers 'happy' is to keep them away from children. When I first read this I thought- oh how lovely, they're going to provide a service where the air hostess will take your kids off your hands for a few hours to entertain them while you rest. Perhaps play monopoly with them, do some colouring in or maybe get them to help out with food service?!
But NO!! What they mean is confining all the children and their parents to one section of the plane so they can all go insane together! What kind of BS is this?
Indian budget carrier IndiGo recently announced it will offer "Quiet Zones" on its planes where children under the age of 12 are forbidden. "Keeping in mind the comfort and convenience of all passengers, row numbers 1 to 4 and 11 to 14 are generally kept as a Quiet Zone on IndiGo flights," the company said in a statement. "These zones have been created for business travelers who prefer to use the quiet time to do their work. In addition, children are not allowed to sit in seats with additional leg room."
Children will not be allowed in seats with additional leg room? Are they serious? Parents with kids are the ones that need all the room they can get. We have 'stuff' that you child-free travellers don't. Like what, I hear you ask?  More like what DON"T we carry on board…games, snacks, nappies, wet ones, drink bottles, favourite teddy bear, second favourite teddy bear in case we lose the first one, headphones, iPads, change of undies, change of socks…and the list goes ON and ON!
When did we become such an intolerant society that instead of providing help and relief to parents with kids, we isolate them from the rest of the passengers?
In fact IndiGo isn't the only airline to do this. Malaysia Airlines, AirAsia X and Singapore's Scoot airline all introduced kid-free zones on their flights in recent years. Apparently this was due to consumer demand.
I call bullshit on all this because as many times as I've flown, it's never the kids that make my flight unbearable. And here's why. As parents we take extra precautions to ensure our monsters don't ruin your 'experience'. We have extra treats to bribe them with. We use threats if they misbehave. And most of all we are usually very, very apologetic if God forbid our baby is crying because it's hungry or can't get to sleep. Lord knows, I feel like crying half the time during those long haul flights when sleep just won't come to me no matter how many wines I down!
And you know who the real disruptors are on planes? The people sitting in front of you who think nothing of reclining their seat ALL the way back so their heads are basically in your lap. They usually decide to do this while your tray is still down so you end up either spilling your wine or getting stabbed in the stomach by the sheer force of the recline. How about we put all the recliners in one section so they can happily trap the person behind them without affecting 'my flying experience!'
The other people that are more of a nuisance than kids will ever be are the LOUD TALKERS THAT THINK I WANT TO HEAR EVERYTHING ABOUT THEIR LIFE. The ones that after a few drinks are laughing and telling stories like they're just hanging out in a bar. Which would be fine- if we were actually IN a bar and not sharing the same recycled air thousands of feet over the Pacific Ocean. Yeah, let's put all the LOUD OVERSHARERS in one section and they can all knock themselves out!
So you see, it makes no sense to have child free zones. Where the airlines should really be investing their money is in margarita slushie machines that are available to parents only. Because we all know that the key to a happy child is a happy parent!