Robot Vacuum Catches Outline of 'Stubborn Dog' That Refused to Move While It Cleaned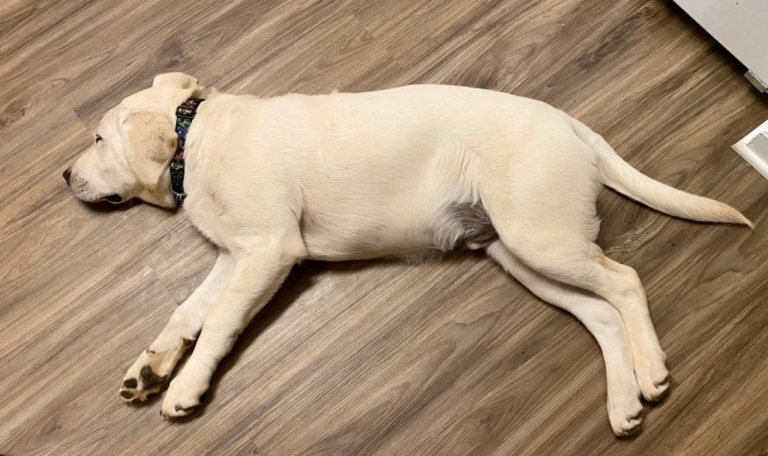 Robot Vacuum Catches Outline of 'Stubborn Dog' That Refused to Move While It Cleaned
A hilarious image of the outline of a 'stubborn dog' has appeared on social media after a family discovered that their labrador was too lazy to get up and let their robot vacuum clean the floor.
The realisation came about when they checked their Roomba's floor map only to spot a suspicious-looking dog shape in the middle of the room that had not been cleaned.
Sharing the funny image to Twitter, the pup's 'uncle' Chris Carman sparked a hilarious thread demonstrating just how stubborn his sister's dog is.
omg my sister's roomba is drawing her dog on the floor map because he won't move pic.twitter.com/2Fl5SeLufs

— Chris Carman (@ccarman602) August 13, 2021
The post quickly went viral, with people amazed at the dog's dedication to staying perfectly still.
And while the woman herself doesn't have Twitter, her brother and her daughter helped provide further updates on 'Bear' the lazy pup and the Roomba.
This is Bear, his sister's dog! He's 7 months and 75lbs. My mom says Roomba frequently runs over his tail… Bear don't care ??‍♀️ pic.twitter.com/N5zWk1PECx

— Acacia ? (@uhh_kay_shuh) August 16, 2021
Ohh look at that face!
You can tell how he was laying too ?? pic.twitter.com/opzzuTIHZE

— Acacia ? (@uhh_kay_shuh) August 13, 2021
So funny! Others piped up with some other stories about their lazy dogs.
Adorable. I cleaned houses during the summer when I was in college, and one family had a St. Bernard who would not move. "Just vacuum around him," they told me. Get right up around his back and legs."

— SpringPeeper (@RachelsBirds) August 16, 2021
Nothing out-lazies a lab

— Dotty Carman??‍♀️ (@DottyCarman) August 13, 2021
Would your dog lay this still while the robot vacuum continuously bumped into them? Mine wouldn't!
Bear really doesn't care!
Source: Twitter/@ccarman602