The Crumble Dutch Oven Review: The Cookware I Didn't Know I Needed and Now Can't Live Without!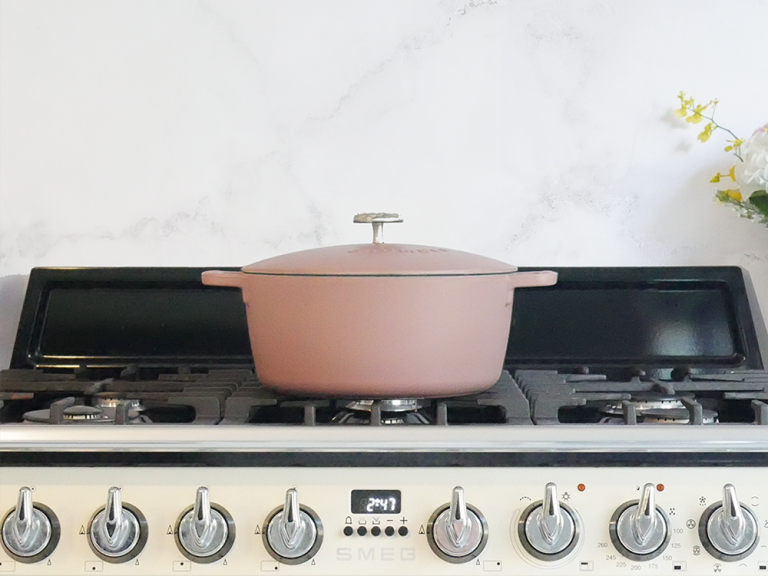 The Crumble Dutch Oven Review: The Cookware I Didn't Know I Needed and Now Can't Live Without!
Looking back on the last couple of weeks of family meal-making, (and there has been plenty) I can now wholeheartedly conclude, I have no idea how I made it to this age and stage of my life without discovering the joys of owning a Dutch oven! I'm not exaggerating when I say that, with the exception of the evening my husband made spaghetti bolognese, I have used the Crumble Dutch Oven that I was kindly sent to review EVERY. SINGLE. NIGHT! It's cooked everything to perfection, with minimal effort from me (love that!), and I'll admit I have opted for lots of one-pot recipes, so my washing up quota has been hugely downsized (LOVE that too!) So, now, I've got you hooked with the promise of effortless, but flavourful cooking and less cleaning up, let me tell you more about why the Crumble has put most of my other cookware and appliances out of a job this past fortnight!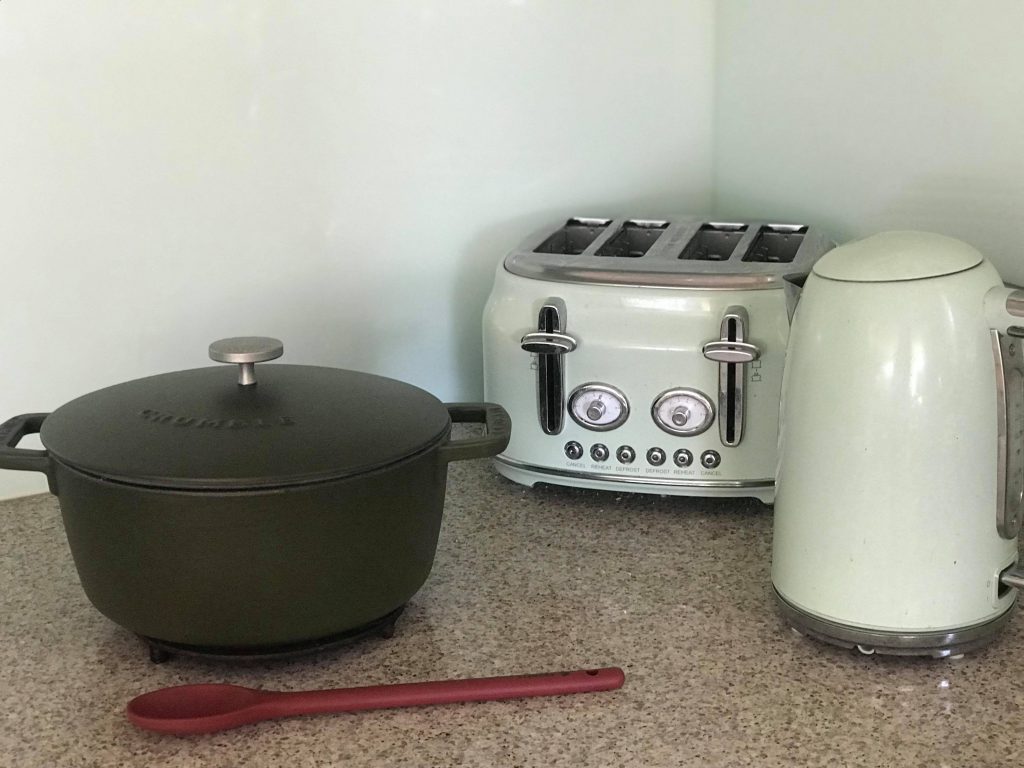 What is a Dutch Oven?
First things first, if you are anything like me, your idea of what a 'Dutch oven' is might be something entirely different and less palatable! So, what actually is a Dutch oven?
Traditionally, a Dutch oven is a heavy cast-iron pot that can be used on the stove top, oven and even on open fires, for cooking whilst camping. (Ok, one of those big black iron pots might go well for outdoor cooking, but I'm going to say my Crumble is too pretty to be taken on a camping trip and will remain in pride of place on my stovetop).  But, you do you!
They feature a tight-fitting lid, which allows for a constant, convective flow of moisture and air in a sealed environment. This gives it the ability to retain a steady heat at high and low temperatures, and are ideal for searing, baking, frying, boiling and roasting. You've got to love a pot that can do the lot, right?
The Crumble Dutch Oven
I've got so much to say about the Crumble oven, I'll break it up into points so that I don't get carried away and ramble! So, (in no particular order) this is what I love about the Crumble oven and why I think it's a stand-out Australian cookware brand.
It's the Ultimate Culinary Package
Let's start by stating the obvious. First impressions of the Crumble Dutch oven are that it is a beautiful serving piece and can fit seamlessly into your kitchen décor. There are 5 colours to choose from, pink sand, mint green, midnight grey, lavender purple and broccoli green.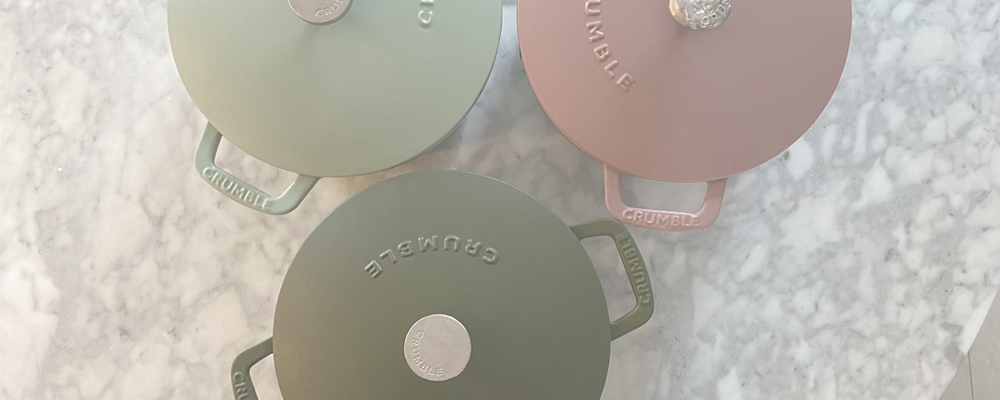 It comes impressively packaged with a number of other bonus products so you can begin your exciting new culinary journey! The ultimate Crumble pack contains:
1 x Crumble Dutch Oven
1 x Crumble Silicone Spoon (100% BPA FREE and Non-Scratch)
2 x Crumble Pasta Oven Mitts (heat-resistant and non-slip)
2 x 304-grade Stainless Steel Knobs (Classic Round and their special edition cookie knob)
Crumble Offer a 30-Day Risk Free Trial
Crumble is the only Australian cast-iron cookware range you can try at home and return if it isn't right for you. I think this is fantastic, because I had no idea how much I needed a Dutch oven in my life, or how much I'd enjoy cooking in it until I had the opportunity to try it for myself. If for some strange reason you don't fall in love with it at first sight, I think you'll be smitten once you put it to use and have a real taste of what its capable of!
It's Hugely Versatile
As I mentioned briefly above, it is hugely versatile.
The pot itself holds 5.2 litres which can comfortably serve up to 6 people (even growing teenage boys with big appetites!)
It can be used with a gas, electric and induction cooktop.
Since it is capable of frying, boiling, baking, braising, searing and roasting, there are no end to the recipes you can make in the Crumble Dutch Oven.
I've made all sorts, from casseroles, soups, a whole roast chicken and veggie, a hot pot, chicken curry, rissotto and a shepherd's pie, so far.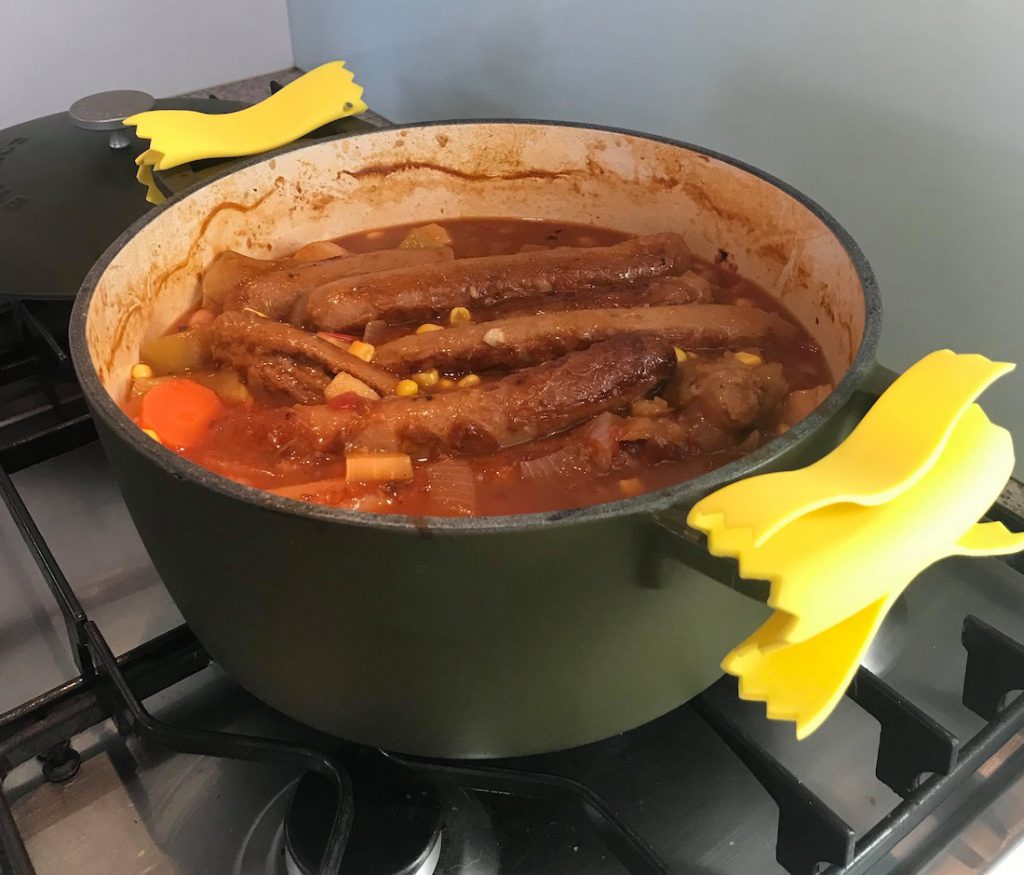 Tonight, I'm going to try my hand at a chocolate lava cake and over the weekend I want to bake a loaf of bread in it (because I saw this bread with baked brie inside it that looked sensational and I'm dying to try it!) Stay tuned for those, I'll let you know if I fail it or nail it!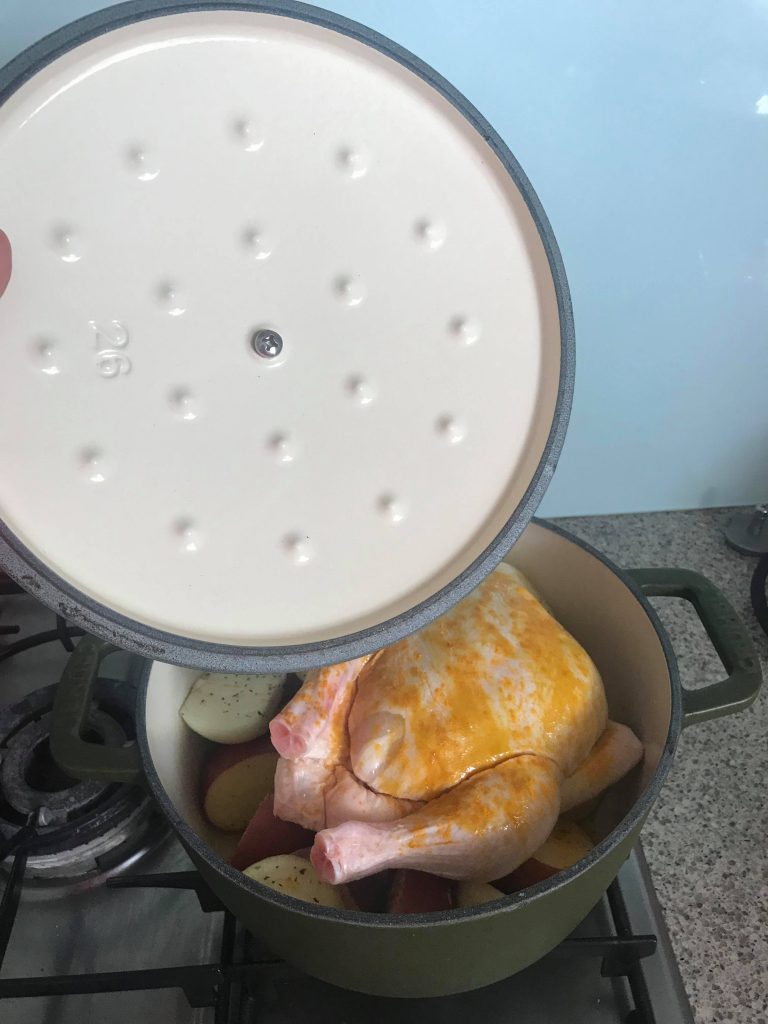 It's Easy to Clean and Non-Stick
The Crumble Dutch Oven is coated with 2 to 3 layers of premium enamel coating made by Tomatec. This allows the pot to become non-stick. As you use your pot over time, an additional layer of oil is added, which further improves the non-stick functionality.
Each Crumble Oven is Unique
Each piece of the Crumble Dutch Oven is unique and made in its own unique sand mould. The sand mould is only used once, so no two pots are ever the same.
Crumble is an Australian Owned Business That is Passionate About Making High Quality Cookware Affordable
I don't know about you, but I always find the reasons behind why a business came to be, fascinating. I love the sense that I am supporting real people and families just like mine, and not just some faceless corporate entity.
Crumble was founded in Melbourne in 2020 when Chloe and her husband became frustrated with spending so much on expensive cookware that failed to deliver the promised results. In a search for a better, more economical alternative, a recurring theme became clear – middlemen cookware companies were selling massively overpriced products that were then heavily 'discounted' to lure customers into thinking they were bagging a bargain, and making the purchase. Crumble founders decided to provide a reliable, affordable cast iron cookware alternative that was not only functional, and aesthetically chic – but offered excellent quality cookware at a fair price, by cutting out the middlemen and department stores. They believe this also enables them to provide better, direct customer care.
By providing people with the means to more easily prepare delicious and nourishing food at home, Crumble hopes not only to enhance people's health and wellbeing, but also to promote the reduction of packaging waste that is avoided when we eat more home-prepared meals. But, it's not just the buyer that benefits from good, nutritious meals when they purchase a Crumble Dutch Oven, they also support the homeless.
Crumble Provide Meals for Those in Need
Crumble have partnered with Foodbank Australia who are the biggest food relief charity in Australia, sourcing and rescuing more than 4.8 million kilos of food annually for it's network of 2,400 charity partners and 2,500 schools. For every one of their Dutch Ovens that are  purchased, Crumble donates 5 meals to Aussie's going hungry.
The Downside to The Crumble Dutch Oven?
After 2 weeks of trialling the Crumble Dutch Oven, and in the interest of providing a balanced review of both pros and cons, I've struggled to find anything negatives. But I will say this:
If you are one of those people that would rather put off the washing up and instead pretend that the pot would benefit from 'soaking overnight' this may not be for you. In order to keep your Crumble oven in peak condition it is not advisable to soak for long periods. Having said that, I am guilty on occasion of the soaking-tactic. I've found that because I am so motivated to keep this lovely piece of cookware in tip-top condition I've been cleaning and drying it straight after dinner. Not only does this mean the food debris is actually easier to remove, I also don't face the horror of waking up to a sink with a pot full of cold murky water and baked on food to start the day. So, what started as what I thought could be a possible negative, has proved to actually be a positive.
Lastly, the Crumble Dutch Oven weighs 5.9 kilos, which of course increases when you add food to it. Whilst this isn't hugely heavy, it is worth mentioning for those of you that have difficulties bending or lifting things of a certain weight.
Conclusion
The Crumble Dutch Oven is a beautiful piece of cookware that has been designed not only to last a lifetime, but to be passed down from one generation to another. There is nothing I don't like about it. It's aesthetically pleasing, functional, versatile, and cooks food to perfection with minimal effort required from me. It's also a step in the right direction to help end the cycle of manufacturing inferior products that are discarded after a shorter period of use. Hopefully my children won't only inherit a well-loved pot that brings back memories of family meal times together, but also a better-respected world with less waste. Thank you Crumble!
Visit the website for more information or to purchase or trial a Crumble Dutch Oven for yourself.
Disclosure: I was gifted the Crumble Dutch oven for the purpose of sharing an honest review. All thoughts and opinions expressed here are my own.