A Security Guard's Touching Act of Kindness Helped Give a Little Girl A Magical Christmas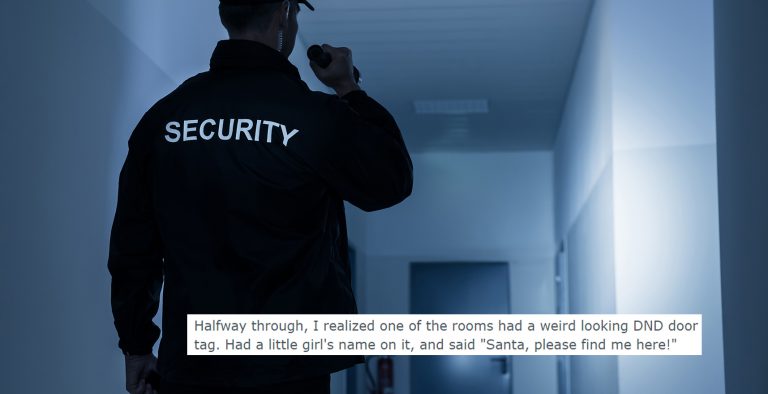 A Security Guard's Touching Act of Kindness Helped Give a Little Girl A Magical Christmas
It is important to teach our children the true spirit of Christmas — from the magic of Santa Claus and gift giving to those you love, through to showing kindness to strangers. Christmas is a wonderful time of year to demonstrate that compassion, generosity and love.
A security guard has shown some Christmas spirit of his own, spotting an opportunity to make a little girl's Christmas just that little bit more magical.
Here is his touching story:
I'm an overnight security guard with one of the huge hotel chains. I usually end up delivering the folios (the guest's bill for their hotel stay) so the night auditor can chill out and relax for an hour.
Well, we're at max occupancy tonight, it being the holidays and all. So I'm pacing like mad to deliver all the folios before people start waking up.
Halfway through, I realised one of the rooms had a weird looking Do Not Disturb door tag on it. Nope. Not a DND tag. Had a little girl's name on it, and said: "Santa, please find me here!"
Shit.
I shoved my loud keys into my pocket, ran back to the front desk, stole some paper and a fancy red pen, and I went at it. I've never written a letter from Santa before, but damn I hope I did that right. Made a little goodie bag along with it and RAN back up to that room.
I giggled the rest of my shift, like an idiot.
Happy Holidays everyone! Hoping your guests are as well behaved as mine has been so far.
The security guard posted his story to Reddit, where fellow users immediately demanded a picture of his letter from Santa. The kind guard, known only as tojkijin, happily obliged, uploading a photo he took of his beautiful gesture.
"I literally sat there for 30 minutes trying to figure out how my mum wrote them when I was a kid. Ended up going for the 'extremely wooshy letters'," the security guard explained.
"I blame my actions on working for a certain company that's famous for a certain mouse. Even after I left, I still try and make little magic moments when I can. The little stuff matters."
"I've never been so excited for someone to get something so simple."
We're sure this beautiful gesture made that little girl's Christmas morning very special indeed! And bravo to this security guard for his kindness. The world needs more people like him.
Source: Reddit/tojkijin
*edited slightly for clarity