Shoppers Slam Woolworths for 'Special Person's Day' Cake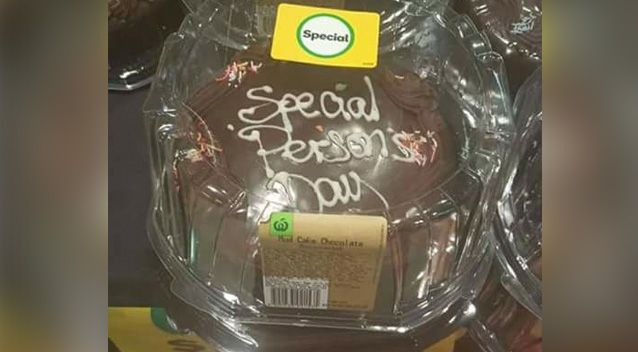 Shoppers Slam Woolworths for 'Special Person's Day' Cake
Everyone knows that supermarket chocolate mud cakes are the best. And any sort of Australian celebration isn't complete without one. Especially Special Person's Day!
Woolworths shoppers have taken to the supermarket's official Facebook page to comment about the discovery of a choccie mud cake with "Special Person's Day" iced on top of it and placed in a Father's Day display on Sunday.
The photo of the chocolate mud cake was uploaded to the Woolies Facebook page by a Queensland father on Sunday and was quickly reshared by dozens of others.
Although there appeared to be only a single cake with the "Special Person's Day" icing among several others reading "Dad," shoppers slammed the store as "absolutely disgraceful".
"This is a down right disgrace to me as a father and I won't be shopping for cakes at Woolworths anymore," the anonymous man wrote.
Some shoppers praised the store for being inclusive and said they hope the same cakes are displayed on Mother's Day.
A Woolworths spokesman responded to customers over Facebook, saying the contentious photograph had been cropped out not to show other cakes that contained "Happy Father's Day" messages.
"We're currently looking into this display with our store teams. We want to reassure you that we're helping all customers across Australia celebrate Father's Day as seen from our store displays, products and recipe ideas. Cropped out of this image are a range of decorative cakes that have different messages on them, including 'Dad' and 'Happy Father's Day'. Thanks again for sharing."
Let's just break this down for a sec:
There was a big display of delicious chocolate mud cakes available to purchase on special
Most of them were iced "Happy Father's Day", others were iced "Dad", "Pop" etc
One cake was iced "Special Person's Day"
Presumably many other cakes were iced in that fancy zigzag pattern that we've come to love, with no wording on them whatsoever, as per usual
People are upset that a $4 Woolies mud cake was iced with words that weren't applicable to them.
I have a solution, though! You want to hear it? It's really complicated, so you might have to turn the tv down for a sec…
Step 1: Don't buy that cake.
Step 2: Buy one of the dozen other cakes surrounding it in the display with icing that appeals to your liking.
Step 3: Move on with your life and don't worry about things that don't apply to you.
Fixed!
No one is forcing anyone to celebrate Special Person's Day instead of Father's Day. It's a cake. Maybe some kid bought it to take to his uncle's place for a barbecue lunch? Maybe a woman bought it for her best friend who has supported her and her children through a messy divorce?
Maybe a little boy got his mum to buy it for a neighbour who fixed his bike for him because his dad shot through before he was born and the neighbour is the closest thing he has to a male role model? Does it really matter why someone buys a cake?
Apparently, it does.
Ever tried to purchase a Father's Day card? There are different ones – "father", "dad", "daddy", "pop", "grandfather" and "grandad". You look through them to find the one that applies to you, with the wording that suits your family. My children call my father Grandad so I have to find the right card because he's not Poppy, he's Grandad.
Somewhere in that card display is always a set of cards with signage that reads "like a dad to me". They are there, and they always have been. I used to work in news agencies. Those cards have been in these displays since the early 90s at least.
This cake is the exact same thing.
You just look for the cake or card that applies to your situation, buy it, enjoy it with your loved ones and move the hell on.
That's really all there is to it. Honestly.
Source: Facebook/Woolworths