Social Media Celebrity Is Killed By Her Brother Because For 'Dishonouring' Her Family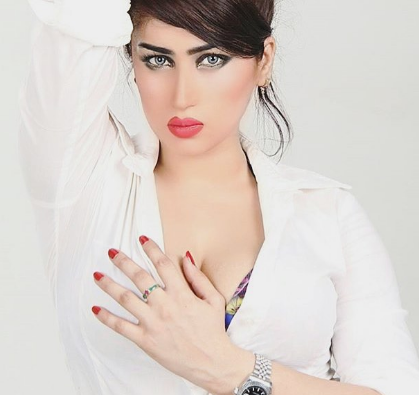 A popular model and social media personality has been killed by one of her brothers for "dishonoring" their family.
Qandeel Baloch – real name Fouzia Azeem – who was known for her provocative selfies on social media called herself a "modern day feminist." She was very outspoken against the archaic treatment of females in her country of Pakistan.
Qandeel had been at her family home visiting her parents in Multan, Pakistan, when she was strangled to death on Friday night. Her death was reported to police on Saturday morning by her parents. Police in Multan said her father, Muhammad Azeem, told them that her brother Wasim had strangled her. She was just 26 years old.
Reports say her brother had warned her several times to stop posting provocative photos and videos of herself that were shaming and embarrassing his family. Qandeel continued and had the support of hundreds  of thousands of followers who saw her as an inspiration and the voice of their generation. She had more than 600,000 Facebook fans and more than 100,000 followers on Instagram.
Many young women praised the 26 year old for not being confined by Pakistan's conservative culture, and hailed her as a role model of women's sexual freedom. Baloch described herself as a "modern day feminist."
Just this Friday she shared the following post on her Facebook page: "I believe in equality. I need not to choose what type of women should be. I don't think there is any need to label ourselves just for sake of society."
Qandeel was forced into an arranged marriage when she was 17 to a much older man. She described the marriage as violent, and that he once tried to throw acid on her, telling her 'I'll burn your face because you're so beautiful'. The relationship ended when she was 19, and she had one child with him.
"I want to give those girls a positive message who have been forcefully married, who continue to sacrifice," she said. "I want to be an example for those people. That's my aim. What about my self-worth? My identity?," she added. "I don't know how many girls have felt support through my persona. I'm girl power. So many girls tell me I'm girl power, and yes, I am."

'Honour' killings are still commonplace in Pakistan where some families would rather see their children dead than be the subject of public humiliation and scrutiny resulting from their actions. Supporters of Qandeel have organised rallies around the country condemning her killing and celebrating her life as a strong and independent woman who supported and defended women's rights throughout Pakistan. RIP Qandeel.
Photos via Instagram and Google Images.