A Stray Dog Crusted With Lesions and Stones is Loved Back To Life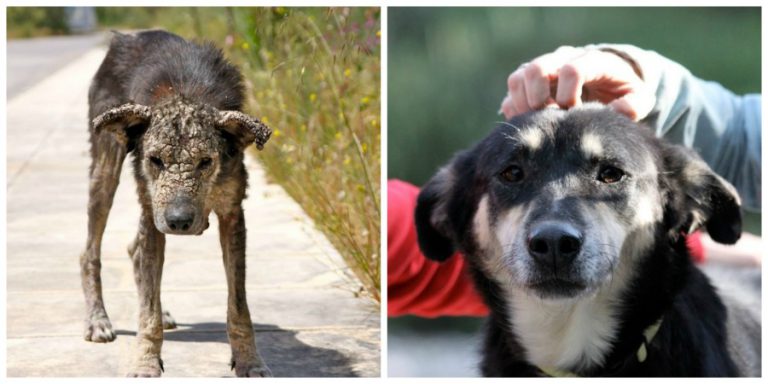 Dogs are a man's best friend, but not all dogs are treat right by their owners.
In Greece, April 2015, a stray dog had been found roaming Athens with a completely hardened face. A woman noticed the dog and took a photo of it and place it on Facebook, asking for help, hoping the right people would come forward to help the dog.
Approaching the stray dog, who was named Petra (Greek for stone), was difficult as she would run away, terrified of any human contact. The rescue mission was trying, but those that wanted to help refused to give up.
When Petra was finally captured, she was taken to Save a Greek Stray shelter in Oropos, Greece.
Valia Orfanidou, who works at the shelter, met Petra and felt drawn to help her.
Orfanidou told The Dodo, "I think she's always been a stray because she looked like she had never been around people.
"Even dogs in that condition, if they've been around people are more friendly. Petra looked like she had never been touched."
Petra was in very bad condition, suffering from mange, a skin condition that causes scabs and lesions. She was infected with leishamiasis which is an infection spread by bugs and can be deadly to dogs if not treated. This was what contributed to Petra's stone-like facial appearance.
As Petra's health issues started to get better, another problem was identified. The dog was afraid of people.
"The problem is she still didn't trust anybody," Orfanidou said. "She never wanted to leave her cage; she would hide every time she was approached and growl at the other dogs at the shelter."
The first time Orfanidou approached Petra, the dog weed in her cage. The second time she was approached, she took it slow and would walk some steps over an hour towards Petra.
Each week Petra got brave and became more willing to leave her cage. She allowed people to touch her and tolerated interaction.
To look at Petra now, you would think she was a different dog.
She is completely unrecognizable. She is no longer hard faced, terrified or skinny. She has become a beautiful dog and has the most loving nature.
Petra still hasn't got a forever home yet, but she is ready for a family to adopt her in Greece.
The change in Petra is testimony to what a bit of love and not giving up can achieve.