The No Make Up Selfie That Shocked and Inspired Women Around the World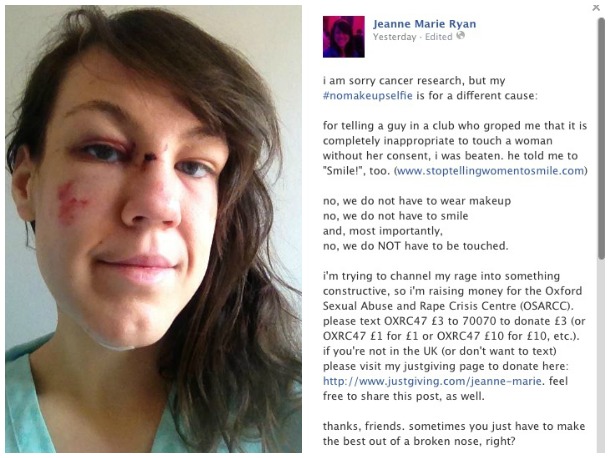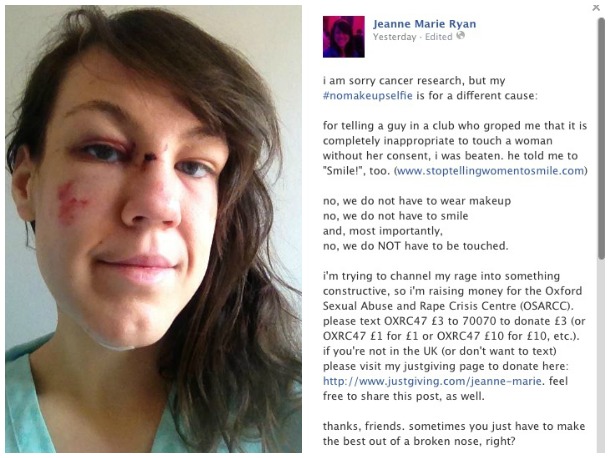 The No Make Up Selfie for a Different Cause
If you are a regular Facebook user, it is unlikely that you have logged onto the site during the course of the last week and not happened upon one of your friends posting a selfie without make-up and inviting others to do the same, in a bid to raise money and awareness for cancer research.
However, popping up in my newsfeed this evening was a #nomakeupselfie that caught my eye and for all the wrong reasons. Take a look…
29 year old Oxford University student Jeanne Marie Ryan has courageously flexed her own social media muscle to highlight another issue – namely violence against women.
Miss Ryan, on a night out with friends suffered a broken nose and fractured cheekbones after being punched repeatedly in the face by a man whom she rejected after he sexually assaulted her on the dancefloor of a nightclub.
Refusing to be a victim, Miss Ryan has put a new spin on the #nomakeupselfie campaign, saying:
"i am sorry cancer research, but my #nomakeupselfie is for a different cause:
for telling a guy in a club who groped me that it is completely inappropriate to touch a woman without her consent, i was beaten. he told me to "Smile!", too. (www.stoptellingwomentosmile.com)
no, we do not have to wear makeup
no, we do not have to smile
and, most importantly,
no, we do NOT have to be touched.
i'm trying to channel my rage into something constructive, so i'm raising money for the Oxford Sexual Abuse and Rape Crisis Centre (OSARCC). …
thanks, friends. sometimes you just have to make the best out of a broken nose, right?
To date, the charity page http://www.justgiving.com/jeanne-marie has raised 7,931.99 since being posted on the 23rd March, and the selfie has been shared 6,167 times on Facebook.
Thank you Jeanne Marie Ryan for being such an inspiration to so many women around the world. Your act of courage and defiance in the face of a deplorable act of cowardly violence leads an example to women showing that this is not something to be ashamed of, it is not something that was deserved, and that women do not have to lay down and be victims.
What do you think of Jeanne Marie Ryan's stand against her attacker?