The Mystery Bouquet and Note Left at a Bus Shelter That Brought Commuters to Tears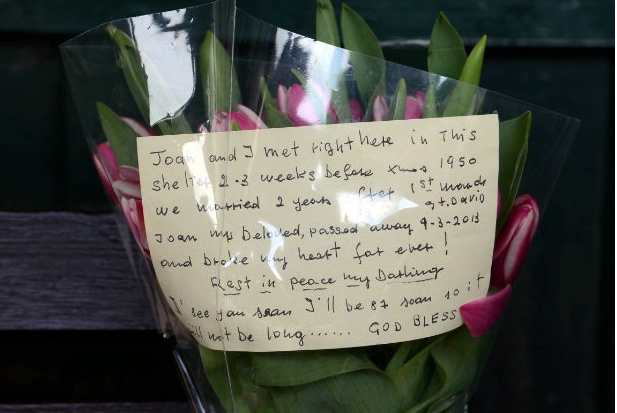 Image source: Wales News Service
Mystery Bouquet and Note Goes to Show that True Love Never Dies
Last week, commuters were reportedly moved to tears after discovering an anonymous note and a bouquet of tulips tied to one of the benches at a bus shelter in South Wales, UK.
The heartbreaking note was left by a widower and addressed to his dead wife in the spot where they met 64 years earlier.  The identity of the man was yesterday revealed as 87 year old Franco Gorno from Cardiff, when his granddaughter saw it on Facebook and immediately recognised her grandfathers handwriting.
The note reads:
"Joan and I met here in this shelter 2-3 weeks before Christmas 1950.  We married 2 years after.
Joan my beloved, passed away on 09/03/13 and broke my heart forever!
Rest in peace my darling.  I'll see you soon.  I'll be 87 soon so I will not be long…God bless."
Mr Gorno has since revealed that he makes the pilgrimage from Cardiff to Neath (approximately 63 kilometres) to the shelter where he met his wife 64 years earlier, once a month.  Which at 87 years old, we imagine is no mean feat.
Thank you Mr Gorno, for giving renewed faith in the power of love.  True love truly does never die.
How would you have reacted if you found this anonymous note and bouquet?