This Prince Harry Royal Wedding Memorabilia Swimsuit Was a Terrible, No Good, Very Bad Idea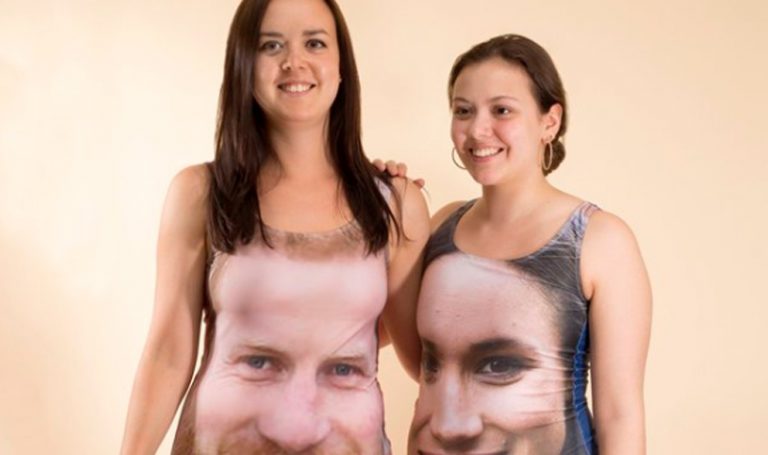 This Prince Harry Royal Wedding Memorabilia Swimsuit Was a Terrible, No Good, Very Bad Idea
I don't think you can get anything that screams "I'M A ROYAL WEDDING ENTHUSIAST!!!!" louder than a Prince Harry or Meghan Markle swimsuit with their royal faces on the front. Giant royal faces, warped into oblivion by the fabric stretching over bellies and boobs and other assorted bumps.
Aside from the fact that people are buying these things, presumably to wear, potentially in public, there is something very wrong with the Prince Harry one. And it has everything to do with his facial hair and the way it kind of sits in the middle of his chin. Resembling a crease, if you will…
Let's zoom in, shall we?
And a little more…
Oh now that is very unfortunate.
Might it have better had he shaved?
Probably not.
The peeps responsible for these frighteningly realistic togs, printing company Bags Of Love, have wisely opted to cash in on the royal wedding frenzy in order to showcase the custom personalisation service they offer.
When questioned about the dodgy placement of Harry's beard, a spokesperson for the company stood by the design, claiming that they support the body acceptance movement.
"Based here, in London, we fully support the royal heir," the spokesperson said. "We also believe our choice of placement for Harry's beard reflects our thoughts on accepting the body too, on accepting who you are," she said.
That doesn't really explain anything at all about Harry's labia, but it's good to know nevertheless.
Prince Harry is yet to comment on this pressing matter. We will be certain to keep you posted if he does.
You can purchase your own Prince Harry Labia swimsuit here for about fifty bucks plus postage. 
Source: Bags of Love