These Preschoolers Wrote A Cookbook And The 'Recipes' Are Hilarious!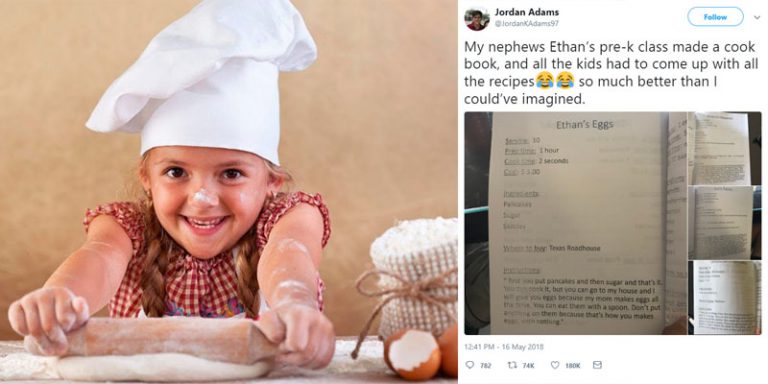 These Preschoolers Wrote A Cookbook And The 'Recipes' Are Hilarious!
Has your child's school or preschool ever written a cookbook to sell as a fundraiser? Ours has, and the books are always chock full of family favourite meals and slice recipes for everyone to enjoy, from Brody's Nanna's scones to Charlotte's mum's chicken soup. These cookbooks are always cherished and well loved by all.
One preschool has decided to do a recipe book — but with a hilarious difference to the normal ones on offer!
Instead of getting the parents involved with the all-important recipes, they went straight to the preschoolers for them instead.
Twitter user Jordan Adams posted a few of delectable recipes from his nephew's school-made "cookbook", and it is the funniest thing we've seen in a while.
"My nephew Ethan's pre-k class made a cookbook, and all the kids had to come up with all the recipes," he wrote. "So much better than I could've imagined."
Let's start with Ariana's Macaroni because I just love pasta and oh no. No, no, that's not…
Sounds great, actually! I have all the ingredients and I like telling people to leave.
Now let's check out Ethan's Eggs.
Gosh, one hour prep time for a meal that only takes two seconds to cook! And you have to buy pancakes, sugar, and Skittles but don't buy any eggs because his mum has some already. Just swing by her place and give Ethan the Skittles as payment for the eggs. I think that's how it works.
Alright, Joe, you're up next. I love me a good taco recipe.
Well, he gave it a red hot go, you've got to give him credit for that. I can see he got a little confused about the details along the way, and more than a little distracted. But that's a solid recipe that I'm going to try this weekend for sure.
Lastly, Sebastian has a tasty recipe for pancakes.
Yes, Sebastian's pancakes are just discs of salt cooked on a hot thingy. And they only cost $70. Fantastic!
These children have the best imaginations and we just love this amazing cookbook idea, so much better than the normal ones! I would buy a copy of this book in a heartbeat.
Maybe this might be a great fundraiser idea for your own preschool?
My nephews Ethan's pre-k class made a cook book, and all the kids had to come up with all the recipes😂😂 so much better than I could've imagined. pic.twitter.com/X5d0Sqzw5N

— Jordan Adams (@JordanKAdams97) May 16, 2018
Source: Twitter/Jordan Adams