'Ungrateful' Mum-To-Be Slams Husband Who Brings Her Flowers Every Day, Claiming He's Too Romantic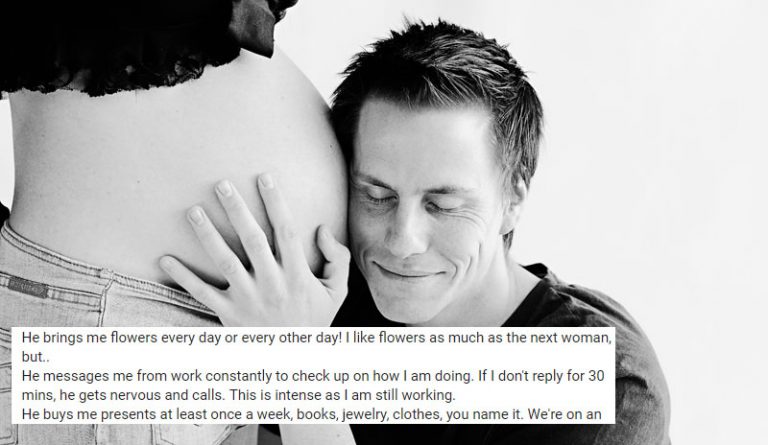 'Ungrateful' Mum-To-Be Slams Husband Who Brings Her Flowers Every Day, Claiming He's Too Romantic
While we'd all love to be surprised with romantic gifts, flowers and back rubs every now and then, there might be a point when it becomes all too much.
A mum-to-be has taken to an online forum to ask if she is being unreasonable for feeling smothered by her husband's intensely obsessive romantic gestures.
The anonymous woman, known only as "frogsinthepond" posted her question to the good people over at Mumsnet's "Am I Being Unreasonable?" board, hoping that they wouldn't think she was being an ungrateful bitch for not appreciating her husband's constant love tokens.
Whoa!! What do you think, ladies? Is she being unreasonable to feel stifled and smothered by his constant affection and gifts?
I don't think she's being unreasonable at all! They have been married for years, and suddenly now that she's pregnant he's love bombing her into submission and dialling up the intensity to unbearable levels. Does he have a pregnancy fetish? Why now, after being together for 4 years?
Pregnancy is exhausting enough without having to cater to your needy husband's every attention-seeking whim. You've got enough shit of your own to worry about. You need a partner, someone who can help you put your shoes on because you can't see your feet, not someone who has put you so high up on a pedestal that you can't reach the Tim Tams.
Plus, and here's the kicker, he's spending their money on all this excessive shit. Stuff that is ultimately meaningless if they are already on a tight budget with a massive list of baby things to buy.
Just no, dude, stop!
Commenters on the thread agreed, some even suggesting that he was raising a whole bunch of red flags with his intensive idolisation of his pregnant wife. This comment cut straight to the chase:
Constant messages at work to "check" how you are – red flag
Phoning you if you don't reply to the constant messages fast enough – red flag
Love bombing you – red flag
Intensifying during pregnancy – red flag
Emotionally manipulative when you say no to excessive sex demands for sex – RED FLAG
Not normal. Not ok.
There's good reason people will be popping up here pointing out he is controlling and coercive. Because he is.
"How is he going to be when the baby turns up? You need to deal with this pronto. Cruel to be kind I think and expect some serious tantrums," wrote one commenter.
"Until the last part, he sounded just like a love-struck teen – until the fact he wants sex several times a day and sulks and tells you that you don't love him if you don't. That is emotional blackmail and controlling," advised another.
This man no doubt didn't intend on going into this pregnancy with the express purpose of fucking shit up, but that is exactly what he is doing. This poor woman should sit him down and have a serious chat about boundaries, financial goals, and his expectations of both her and their baby when it arrives.
Sheesh! What a mess!
What are your thoughts?
You can read the full thread on Mumsnet here.
Source: Mumsnet and Giphy