This Will Make You Think Twice Before Adding Those Chicken Nuggets to the Trolley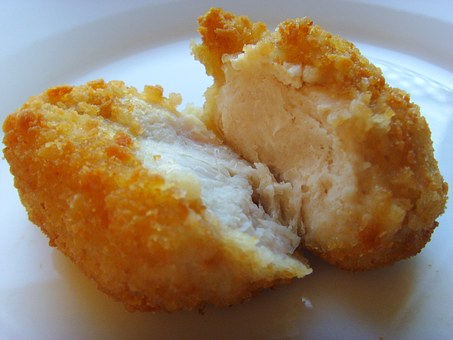 This Will Make You Think Twice Before Adding Those Chicken Nuggets to the Trolley
It is very possible that my oldest son Chris would have starved to death if it weren't for that saviour of all parents who have a fussy eater; chicken nuggets. He was literally one of the fussiest kids on the planet. Every meal was a struggle. He hated cereal, bread, vegemite, meat and vegetables but he ate chicken nuggets and fish fingers with gusto and he ate a LOT.
Of course I wanted him to eat a variety of nutritious foods, including the meal I had just slaved for the last hour over but he absolutely would have gone to bed with nothing in his stomach if I didn't cave in and feed these to him on a regular basis. They went into my shopping trolley every week without fail and I was more thankful that he ate something then concerned about what was actually in them. And now I'm glad I didn't know then what I do know now…
Sunrise recently sent their team to investigate and discovered some alarming information:
The cheapest no-name supermarket brand of chicken nuggets contains just 44% chicken.
Ingham's (one of the brands that regularly hit my basket) had only 41% chicken and the most expensive, top-of-the-range Steggle's just 45%.
So what exactly makes up the other 60+% of this freezer staple?
According to food writer Steve Ettlinger who wrote Ingredients; A Visual Exploration of 75 Additives this is what is in McDonald's nuggets; a company who brags that they only use the breast meat –
White boneless chicken
Water
Food starch – modified
Salt
Seasoning
Autolyzed yeast
Wheat Starch
Natural Flavor (botanical source)
Safflower oil
Dextrose
Sodium phosphates
Enriched flour
Bleached wheat flour
Niacin
Reduced Iron
Thiamine
Riboflavin
Folic acid
Yellow corn flour
Baking soda
Sodium acid pyrophosphate
Sodium aluminium phosphate
Monocalcium phosphate
Calcium lactate
Spices
Canola oil
Corn oil
Soybean oil
TBHQ
Citric Acid
Dimethylpolysiloxane
And Fish Fingers didn't rate any better with the cheapest supermarket brands containing just 46% of actual fish. Top ranking brands had only slightly more at 51%.
Here's a super simple three-ingredient recipe to make your own!
2 chicken breasts, cut into nugget size pieces
3/4 cup BBQ sauce
200g bag of your favorite chips (highly recommend Chilli or BBQ), crushed
Pre-heat oven to 180C/350F.
Line a large baking tray with non-stick baking paper.
Toss the chicken pieces with the BBQ sauce to evenly coat.
Put the chips on a plate and coat each chicken piece on both sides and transfer to the tray. Bake for 15 minutes. Serve with your favorite dipping sauce.