This Unfortunate Woman's Bath Bomb Warning is Going Viral for Obvious Reasons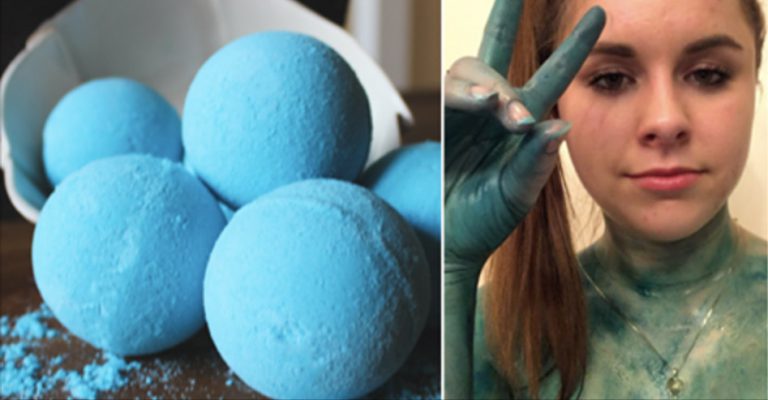 This Unfortunate Woman's Bath Bomb Warning is Going Viral for Obvious Reasons
Every now and then someone goes through an unfortunate experience to serve as a lesson for all of us. This bath bomb warning is one of those occasions.
Rebekah Butler purchased a Galaxy bath bomb from US chemist chain Kroger, which she claims inexplicably dyed her entire body after a few minutes. She took to Twitter to explain why she was now a fetching shade of blue.
"OKAYY SOO… ladies, DON'T YOU DARE BUY THE GALAXY BATH BOMB FROM KROGER. S.E.R.I.O.U.S.L.Y. I was in the bath for a solid 5 minutes and now I am a freaking SMURF. It seriously dyed my skin. So to everyone I Snapchat, enjoy looking at my forehead till I am no longer a smurf."
Not only was her skin allegedly dyed by the bath bomb, her whole bathtub got smurfed as well. She told her followers that her bathtub was "destroyed" and required hours of scrubbing to get back to normal.
After sharing her story, Rebekah's post got over 35,000 retweets and 135,000 likes.
Responding to the huge amount of comments and support, Rebekah appeared to be in good spirits despite her teal toned bod.
"I cried for a lil now I can't stop laughing every time I look in the mirror"
When people asked for an update, Rebekah shared a photo of her hand "the day later after 13 washes."
Yep, still blue.
Rebekah's public service announcement has no doubt prevented many smurf-toned bath bomb-related mishaps among the rest of us. And for that, we are eternally grateful. (And maybe a little sceptical.)
Source: Twitter/Rebekah Butler