Win 1 of 3 $100 SKEANIE Vouchers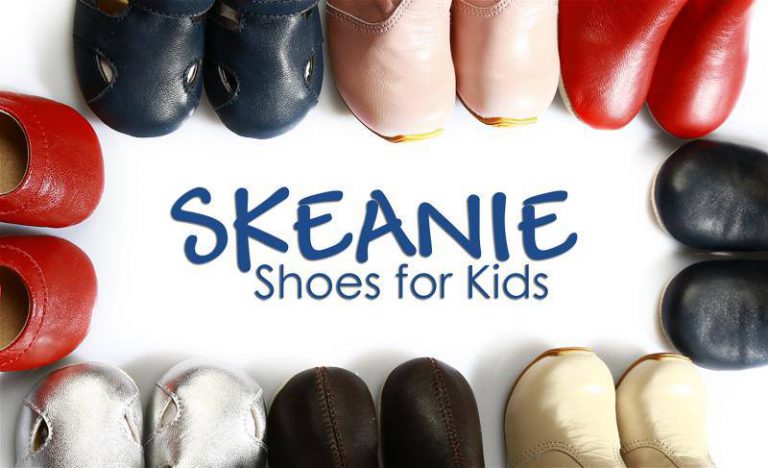 Win 1 of 3 $100 SKEANIE Vouchers
Sponsored post
How much fun is it shopping for shoes for little people? Admit it. You've picked up a miniature sized shoe in a shoe store and gushed "Oh my gosh! Just look at how little and cute this is!" haven't you? There is just something that is ridiculously cute about a teeny tiny shoe that is hard to resist, isn't there? But when shopping for footwear for babies and toddlers it is extremely important to note that not all teeny-weeny-cutesy shoes are made equal. In fact, it is believed that most foot problems and pains in adulthood stem from ill-fitting shoes or poor foot experiences during childhood.
When you consider the make-up of a child's foot it is easy to see why they would be so prone to damage from abnormal pressure such as shoes which are too small, ill-fitting, over-supportive or unsupportive. At six months of age, a baby's foot is still mostly cartilage meaning it is soft and floppy. Around the age of three the cartilage begins to harden and will eventually fuse and harden into adult bone by the age of 18. Considering that children's high activity levels mean that their feet endure about three times more stress than the average adult foot, it is essential that they wear footwear that is going to promote natural development of the muscles, tendons and bones. Unfortunately, many children's shoes available on the Australian market have been designed using bulky material, hard soles and no arch-support, which can lead to detrimental muscle and bone development.
So, how can parents be confident that the shoes that they are purchasing for their little ones are suitable?
SKEANIE is an Associate Partner of the Australian Podiatry Association (NSW & ACT), and designs shoes that allow the feet to develop without restriction.
SKEANIE pre-walker shoes are handcrafted from soft, high quality genuine leather to allow feet to breathe and grow naturally. The textured suede sole provides superior grip whilst crawling and walking. This soft sole allows the foot to grow normally and promotes the grasping action of the toes which is essential when learning to walk. In contrast heavy soled shoes act as a "sensory filter" meaning that children don't learn how to place their feet with good control and good biomechanics.
The SKEANIE Junior range, suitable for children aged approximately 1-5 years, are what they like to call their 'transition shoes.' The super soft, light design means that they are soft enough to ensure natural movement of little feet without obstructing soft bone cartilage, tissue, muscles and nerves. In fact, SKEANIE's Pre-walker shoes have been awarded the seal of acceptance by The American Podiatric Medical Association (APMA) for the promotion of healthy foot development.
So, if you are looking for a shoe that will protect the health of your little one's feet as they grow and develop, that also tick all the boxes when it comes to style and the cute-factor, look no further than SKEANIE shoes.
Giveaway
Now we have the chance for you to try SKEANIE for your little ones! We have 3x $100 vouchers up for grabs where you can spend on whichever products you like. All you have to do is fill out the entry form below and comment what style is your favourite from SKEANIE.