Viral TikTok Video Shows the Incredible Moment a Teen Girl Yeeted a Bear off Wall to Save Her Dogs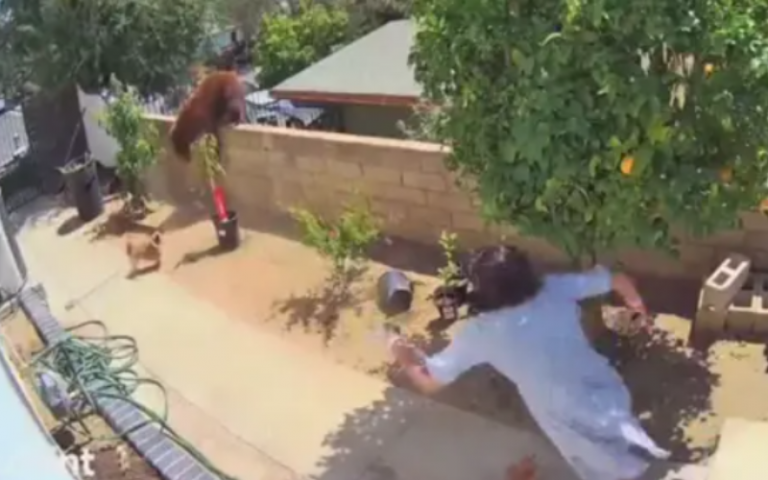 Viral TikTok Video Shows the Incredible Moment a Teen Girl Yeeted a Bear off Wall to Save Her Dogs
A quick-thinking teenager is being hailed as a bit of a doggy hero after she yeeted a large bear over her garden wall to keep it away from her dogs.
Hailey Morinico, 17, bravely risked serious injury by confronting the mother bear as it perched with its cubs on top of a dividing wall in the town of Bradbury, near the Angeles National Forest in California.
The video shows a large bear ambling along the top of a brick wall outside Hailey's family's property, with two bear cubs walking along underneath. Her four dogs come running to confront the adult bear, who then takes a swipe at the bigger dog.
The bear cubs scamper away as the bear continues to swat at the dogs before picking a smaller one up with her paw. Suddenly, Hailey can be seen rushing out into the yard and runs directly over to the bear.
She gives the huge bear a massive shove and it tumbles over the wall, buying her enough time to gather up her dogs and rush them inside to safety.
Wow. Just…. wow! What a brave young woman!
The home security camera clip was posted online by the woman's cousin Brenda, where it has racked up 9 million likes and more than 66 million views.
Hailey revealed that she sprained her finger and hurt her knee in the incident that saved her dogs from mortal danger, adding that it was really normal for these bears to be spotted in the area at this time of year.
Not normal for them to be swatting at her dogs, though!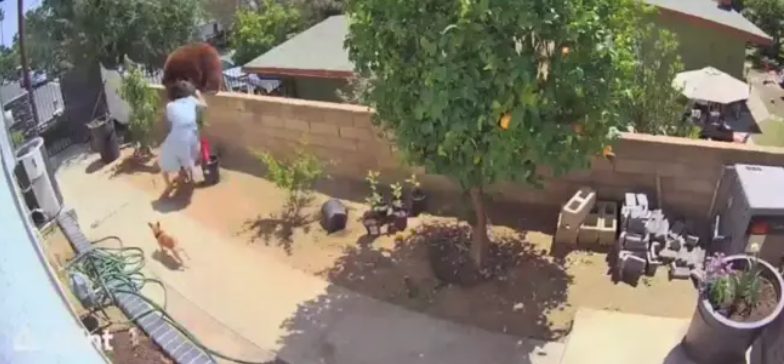 "By the time I get there, the bear is literally picking up one of my dogs," Hailey recalled in a follow-up video.
"I go over to the bear, I look it in the eyes and the first thing I think to do is push it… Push a bear, push an apex predator, man.
"And to be honest, I don't think I pushed her that hard, I just pushed her enough to lose her balance. So she drops my dog and I run out of there! I grabbed my other dog."
Amazing stuff.
Source: TikTok/@bakedlikepie