Woman Cancels Baby Shower After Discovering Guests Hate Her Chosen Baby Name!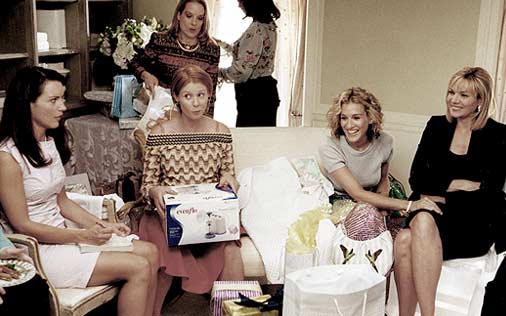 Woman Cancels Baby Shower After Discovering Guests Hate Her Chosen Baby Name!
Baby showers are traditionally a time where women get together to celebrate the mum-to-be and pamper them with gifts and lots of attention. Silly games are played and lots of champagne and cucumber sandwiches are consumed. Something we don't often hear about are baby showers being cancelled by the mum-to-be who goes online to rant about her good-for-nothing friends and family!
One woman, who has chosen to remain anonymous, did just that! She cancelled her up coming baby shower because her guests were less than impressed with her chosen baby name.
The name for her unborn baby boy was Squire Sebastian Senator which she used as the name of her party also. Well, let's just say she discovered a lot of gossip going on with people dissing her unique moniker.
In a message posted to a group on Reddit the furious mum-to-be wrote: "Dear Members of the Squire Sebastian Senator Baby shower, I have a really important announcement to make. It brings me pain to have to tell you this, but I am cancelling the event. I will text you soon if you're invited to my smaller, more inclusive party. At least here no one will judge me.
"Why? Why am I doing this? Because y'all have been talking s**t about my unborn baby. AN UNBORN CHILD. How can you judge an unborn child?? What is wrong with you??
"To say this frankly, my friends and family have treated me like total s**t. They've spread rumours and lies about my child. No, I am not crazy. No, I am not mentally unstable. No, I was not drunk when I named my child.
Her rant continued: "His name is Squire Sebastian Senator. That is that. You cannot force me to change his name. This is that name I was meant to give hime. No, that is not his full name.
"'Squire Sebastian Senator' is only his first name. This is how it will be. He will not be allowed to have a nickname, he is to be called by his full and complete first name.
"I never knew my family could be so judgemental. We come from a long lasting family of both squires and senators. If you look back in our family tree, the survival of this clan is literally rooted in squiredom. We are all related to senators too. This name conveys power. It conveys wealth. It conveys success."
The mum-to-be then added: "My baby's name WILL be a revolution. It will push people to question everything. Why name your baby boring and over-used names like Joshua, Brian, Sam, Nick, Mark, Bella, Marina, etc… when you can name it something special.
"Squire Sebastian Senator will live a powerful, wholesome life. His confidence will not dimish simply because his name is out of the ordinary. Instead, he will be extraordinary. F*** you all. Fake a** family. You won't get to be part of my baby's life and it's all because you had to judge him."
Her message was met with shock and disbelief from fellow Reddit users and not for the reason the mum-to-be expected. No they weren't up in arms about the family's gossip or her friend's reaction to her baby name they were mortified by the name choice of Squire Sebastian Senator!
One wrote: "It's gonna be fine because unfortunately this kid won't have any friends to call him nicknames. Poor kid will be picked on his whole life."
"With SSS in his initials, it would be criminal not to call him Snake."
While another added: "No one's talking s*** about your unborn baby. They're talking s*** about your poor naming choices."
What do you think of the name? Sure it's unusual but is it really that bad? And did the mum over react by cancelling the baby shower?
Images: Pixabay