Woman Dismayed to Be Excluded From Her Brother's Wedding Photos Due to Her Inappropriate Outfit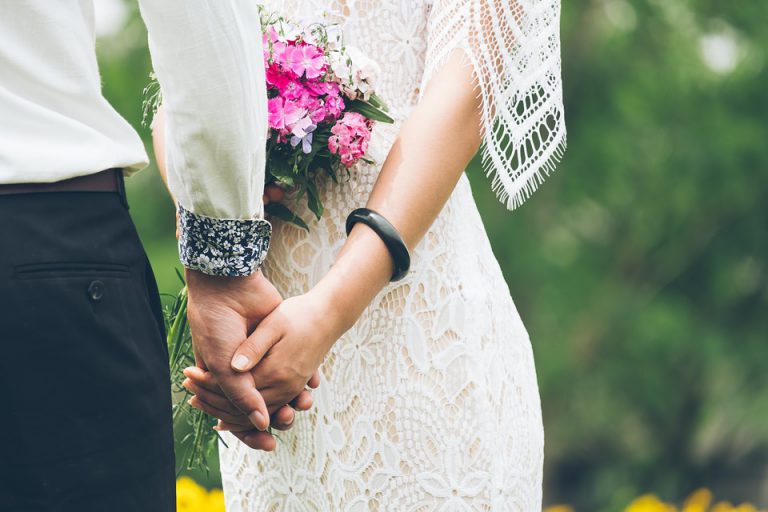 Woman Dismayed to Be Excluded From Her Brother's Wedding Photos Due to Her Inappropriate Outfit
While not very common, some couples give their guests a dress code for attendance at their wedding. Whether it is 'smart casual' or 'formal', or even 'summer dresses and sandals' for a beachy wedding, indicating a request for their guests to dress a certain way at a wedding is not unheard of.
So it wasn't that unusual when the couple in this story asked their guests to choose an outfit from two specific colour choices. Unfortunately for the groom's sister, however, this request was all too much and she was the only person who refused to adhere to the dress code, forfeiting her place in the wedding photography session.
Taking to Reddit's Am I The Asshole board to rant and complain, the woman told the story of how she was excluded and shunned at her brother's wedding due to her inappropriate outfit choice.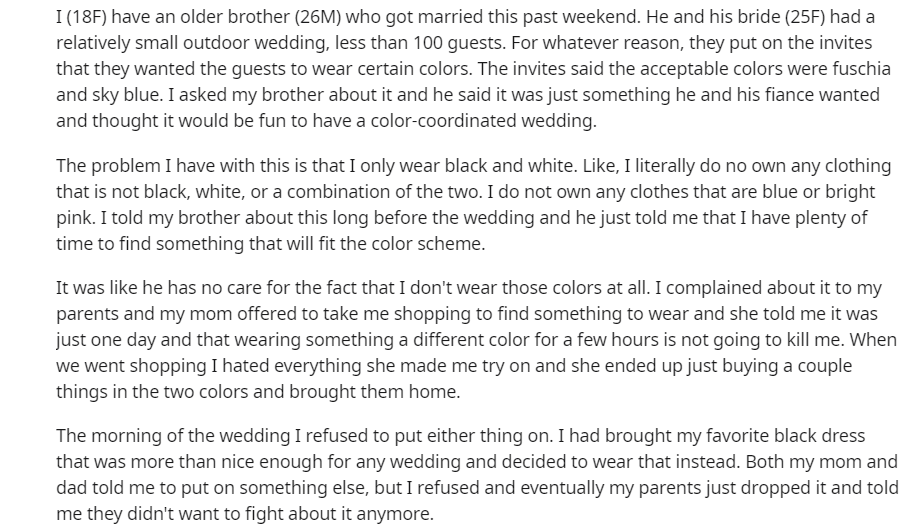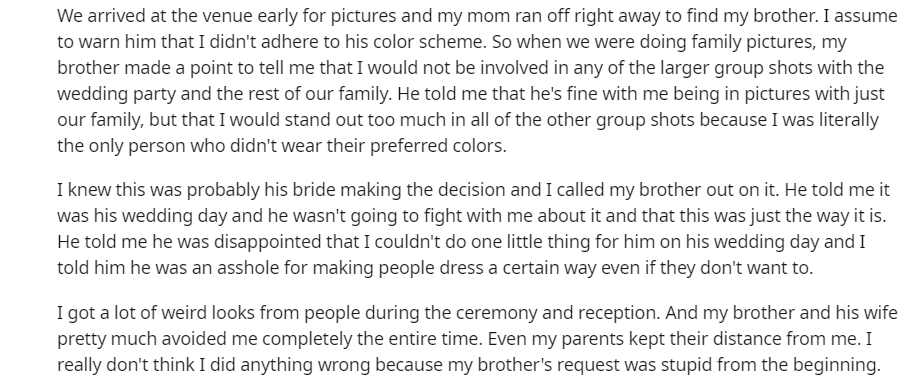 Well, if we were thinking she might be in the right at the beginning of her post, we sure as hell weren't by the end! What a brat!
This fully grown woman refused to wear anything other than black or white for one day, and not even the love for her own family would change her mind.
Boy, she sure showed them, didn't she?
Way to draw all the attention to yourself and your tantrum on a day that wasn't about you whatsoever. It's no wonder she was shunned and avoided by the bride and groom.
She says that the request to wear certain colours was stupid? But then explains that she only wears two specific colours herself. Having a meltdown over something like this when she has her own colour scheme in life is crazy.
Besides, wearing all black to a wedding is inappropriate as well. And white isn't a good idea either!
Sounds like this immature young woman has a lot of growing up to do.
Source: Reddit and Pixabay