Woman Rants About Little Children Not Having a Licence to Drive Their Toy Car in Public Park
Woman Rants About Little Children Not Having a Licence to Drive Their Toy Car in Public Park
A video has emerged of a woman loudly complaining about children playing in a toy car in a public park because they do not have a licence. Because of course, that is a reasonable thing to do.
Look, 2020 has not been a year that many of us have enjoyed but is that any excuse to allow your grumpiness to overflow onto little children playing innocently in a park?
TV writer Yesha Callahan recently shared a clip on Twitter that had people shaking their heads or, at the very least, scratching them.
In the clip, an older lady got mad at children for not having a driver's licence while driving a toy car around. Yes, that's right, a toy vehicle.
This lady is mad that the kids don't have a drivers license pic.twitter.com/QrfOvDAE8l

— Yesha (@YeshaCallahan) June 4, 2020
The short video has been watched almost 12 million times so far and has even caught the attention of Chrissy Teigen.
lmao everyone has lost their fucking minds https://t.co/5Wq4yl5HbG

— chrissy teigen (@chrissyteigen) June 4, 2020

These entitled "Karens" are getting out of control.
The children were having fun in an open space of the park when the older woman started creating a commotion over how they should prove they have a licence for their tiny vehicle.
This tiny vehicle adorably packed with confused children.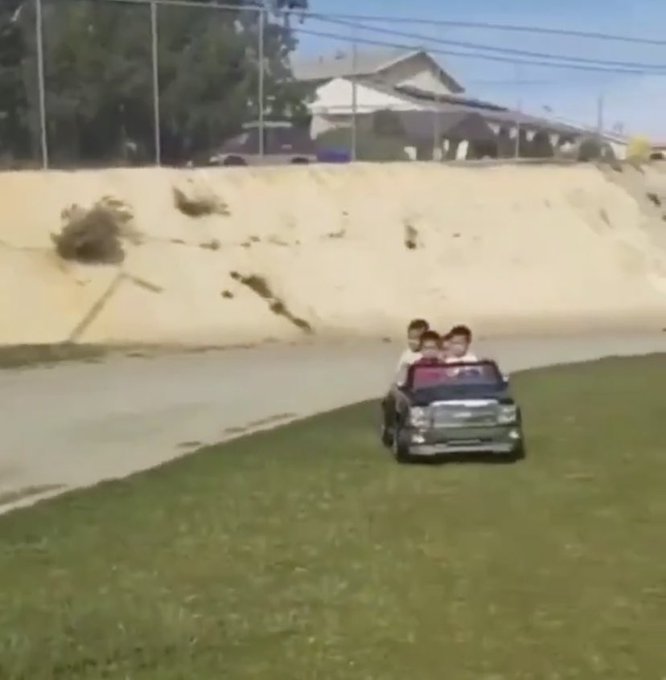 "They shouldn't be driving all over the place," she shouts, before adding that they should not be "unsupervised". To the woman that is clearly supervising them.
Look, if a tiny toy car belting along at a maximum speed of 8km an hour in a deserted public park is so aggravating, perhaps this "GrandKaren" needs to go and take a good lie down.
These children are hardly a threat to anyone and some people clearly just enjoy being miserable curmudgeon. Karens gonna Karen.
Source: Twitter/Yesha Callaghan