Woman Told to Cover up Her Swimsuit or Leave Pool in Case She "Excites Teen Boys"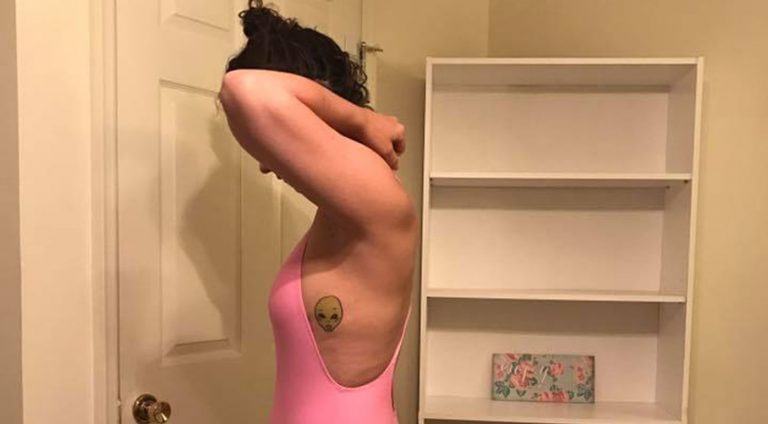 Woman Told to Cover up Her Swimsuit or Leave Pool in Case She "Excites Teen Boys"
A woman in the US has been told to cover up or else be forced to leave the pool in her apartment complex because her pink swimsuit was judged to be too much for teen boys to handle.
I bet you're thinking what we're thinking, right? That she was wearing an itsy bitsy bright yellow g-banger, right?
No, not on this occasion. This is what the woman was wearing when she was confronted and told to cover up or leave.
That is not even close to being inappropriate!
Tyler Newman and his fiance, Tori Jenkins, have hit back at her bodyshamers in a Facebook post that is quickly going viral in support of the couple.
"Today my fiancee was faced with either changing her bathing suit, covering up with shorts, or leaving the pool that we paid a $300 fee to maintain on top of a monthly rent of nearly $1000", Newman wrote.
"Tori was accused of wearing a 'thong bathing suit' and told there were complaints about the way she was dressed after roughly three minutes tops, of us arriving there."
Newman said his fiance was so angry that she followed the complex manager to her office.
"In the office, the leasing consultant insisted upon letting Tori take her picture to show "how inappropriate" her bathing suit was, and instructed her to look into a mirror at her own body.
"When my fiancée replied with "I know what I look like, I bought this myself, it's not a thong" the consultant told Tori that if she didn't have kids herself, she wouldn't understand. She was told that the leasing consultant wouldn't want her own kids around Tori.
"When Tori explained that yes, she does indeed have a larger butt than a lot of people, and that 95% of the things she wears ride up when she walks, the woman told Tori that a "normal bathing suit covers your entire butt" and again deemed my fiancée's body inappropriate.
"Tori, however, refused this because there are obviously different types of bathing suits. She was told I wasn't allowed to spray tanning lotion on parts of her body that she can't reach because the consultant insisted that she could reach them herself. She was told that her body, because it's built more curvy than others is "too inappropriate" for children to be around. She was told "there are a lot of teenage boys in this complex, and you don't need to excite them."
Newman hit back at his fiancee's treatment and summed up how it feels to be bodyshamed.
"Today my fiancée was told that she is less important than how men feel around her", he wrote. "That Tori is less important than a man's urges to be sexual towards her.
"I think she's the most beautiful woman in the world, but I also respect her. I would never make her or any other woman feel less than what she's worth because of her outfit or her looks."
This is bullshit. There is absolutely nothing wrong with this pink swimsuit and whoever took it upon themselves to complain about it to management should be ashamed of themselves.
Tori also shared a saddening post addressing how she felt after being shamed at the pool and thanking people for their support.
"There's a few things I'd like to clear up as well," she wrote.
"I'm a size medium. The swimsuit is a size medium. I tried on the large in the store and felt little confidence that my boobs wouldn't show after being hit with one good splash.
"The suit may look small but that's also after I binge cried and ate pizza. When you feel that shitty about yourself do you really think the first pose that comes to mind is happy? That I wanna have good posture and look skinny? I didn't care. And frankly I still don't care if I looked "too big" for the suit. Look at the body language: my shoulders are down, arms crossed, and so on.
"The ENTIRE POINT of this post is that no man or woman has the right to make me feel uncomfortable in my own skin. No right to police me or any other human."
Tori revealed that she was tired and "frankly a bit beaten down".
"Those of you who know me know I don't react to things much but this situation has really gotten to me."
What do you think? Do you feel that the pink swimsuit is inappropriate? Or is it just like one of the swimsuits you own yourself? Vote in our poll and sound off in the comments!
Do you think Tori should have been told to cover up, change or leave the pool?