Awesome Book Week Costume Ideas PLUS a Giveaway!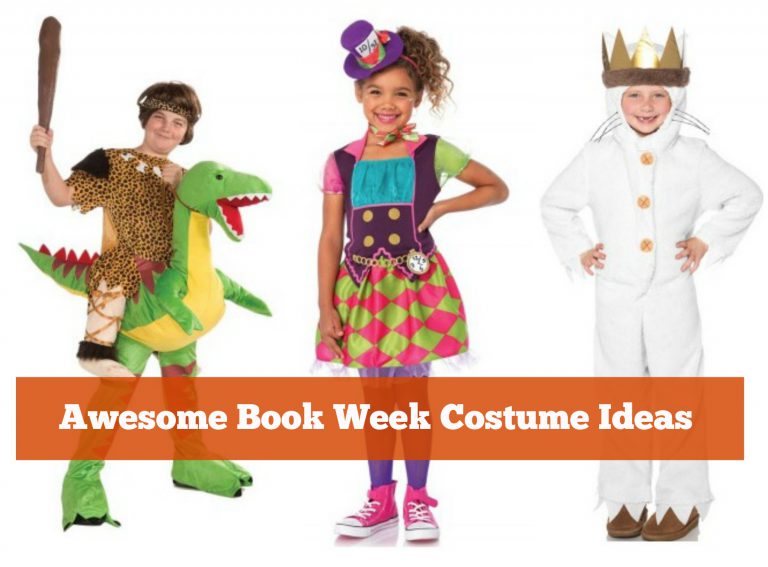 Sponsored post
One of the most anticipated events in the school calendar will be upon us sooner than you think – book week!
I'll hold my hands up and admit (as with most things) I am often guilty of leaving the book week costumes until the last minute because a) the notice to tell me about it is still in a crumpled-up ball in the bottom of my child's school bag b) I forgot and c) um…I forgot. The resulting pre book-parade panic is nothing short of stressful, as I attempt to pull something (anything!) together at the last minute. (On the flip side, I may have also sent my youngest to her kinder dress up a week early once. Really – organisational abilities are certainly not my strong point!)
So this year, as well as marking book week clearly on my calendar Saturday 22 Aug – Friday 28th August with a big thick blue marker pen, (that even I can't miss), I'm also getting the kids costumes in plenty of time. It's all part of my stress-less plan, and besides that, if I sprout one more stress-induced grey hair people will start to think I'm wearing a Cruella de Vil wig…every day!
This year's book week theme is 'Book's light up our world,' and I've pulled together some awesome kids costume ideas for bringing your child's favourite book characters to life.
The Harry Potter series features so many great characters to choose from – you'll find everything from witches, wizards, house elfs and Dementors and much more here. 
These Charlie and the Chocolate Factory characters are sure to delight Roahl Dahl fans of all ages. Find more Roahl Dahl characters here.
Wizard of Oz fans will be spoilt for choice with these costume options – seriously? How cute is that flying monkey?
Follow the white rabbit down the hole into wonderland in one of these gorgeous Alice in Wonderland costumes. 
Go crazy in these uber-cool Dr Suess costumes and accessories. 
Play hide and seek dressed as Where's Wally and Where's Wenda!
Surprise, surprise! My little Miss has her heart set on this Cruella de Vil outfit this year! You can find more 101 Dalmation costumes here. 
Avid readers of the Horrible Histories series will love the huge range of costumes available here. 
Costume Box has everything you need to bring your child's favourite book character to life this year – and with next day express delivery, even last minute shoppers are catered for. (Phew!) Shop their entire book week range here for hundreds of other costumes and accessory ideas. 
FREE EXPRESS SHIPPING ON ORDERS OVER $69!
Giveaway
Costume Box are giving you the chance to win one of 6 x $50 gift vouchers to spend in their online store!
To enter follow the easy instructions in the entry form below.

a Rafflecopter giveaway