Sea-Band – Natural Relief from Nausea: Community Review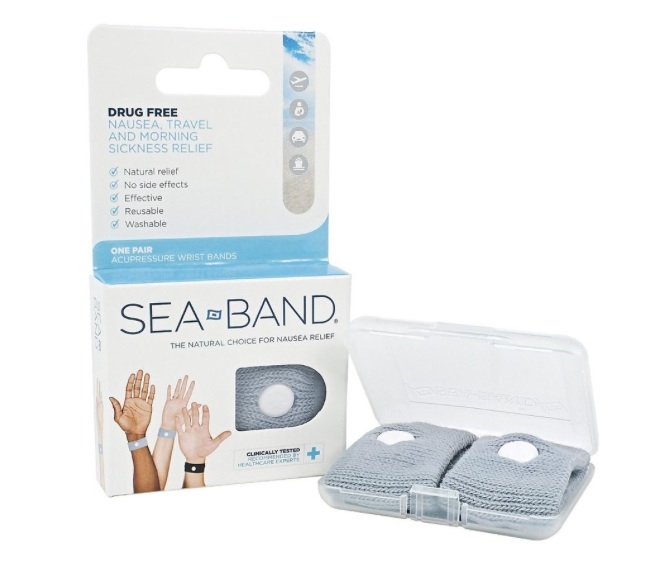 Sea-Band – Natural Relief from Nausea: Community Review
Nausea – whether it's brought on by pregnancy, sea-sickness, travel sickness or migraine– can leave you feeling utterly miserable. Fortunately there is a natural and very effective remedy available for the relief of nausea in both adults and children. Whilst anti-sickness medications can have unwanted side effects, or be unsuitable for some children or adults, Sea-Bands are a drug-free, affordable alternative that can be used by the whole family.
Scientific studies have shown that one of the most effective drug-free treatments for nausea is based upon the ancient principle of Acupressure – effectively Acupuncture without the needles!
Sea-Bands harness the natural effect of Acupressure by applying continuous pressure on the P6 (or Nei Kuan) point on each wrist using a plastic stud.
Unlike some anti-nausea medications, Sea-Bands won't make you drowsy, so you can get back to enjoying life without feeling groggy!
We invited members of the Mums Lounge community to try out Sea-Bands for themselves and share their thoughts and experiences with the rest of us.
I found the band really easy to wear and didn't notice it was on most of the time!
I have suffered morning sickness with bubs number 3 and the Sea-Bands have helped me not only with the morning sickness but also with the heartburn that I have been suffering. Highly recommend this product.
I suffer morning sickness in the afternoon and found that I had to be wearing them before I started to feel sick to be most effective. They did not completely solve my problem but I did notice an improvement. They were fairly comfortable to wear I just had to check on them regularly that they were in the correct position. I did notice after wearing for 2 weeks the material has started to pill and look a bit scruffy. They were ok to wear under a long sleeve shirt but did not look too attractive if I had to go out and wear short sleeves.
Read: Hilarious Motion-Sickness Stories to Make You Laugh Out Loud
Sea-Band made me more able to function whilst dealing with all-day morning sickness that was made worse when I was travelling in the car. Within a minute or two of putting the bands on, the majority of my nausea and ill feelings were gone. An absolute relief being able to function normally again – thank you.
I suffer from nausea most days. I liked that I could put the bands on and have some relief without taking medication. I also like that they have their own little box to keep them in which makes it so easy to take with you.
Read: Embarrassing Morning Sickness Stories to Make you Laugh Out Loud
Very happy with this product. Easy to use, and simple to understand.
I had all day nausea due to fertility medication. Wearing the Sea-Bands drastically reduced those symptoms. I did find they hurt my wrist so I would take them off a lot but overall they were great.
Great to be able to use something that isn't medicine to ease the discomfort of travel sickness.
I was quite sceptical of whether or not Sea-Band would work. While it did not completely get rid of my morning sickness nausea, it definitely made it much less severe, and made life more bearable. I was able to go out for a meal with family without feeling ill due to food smells in the restaurant, and was able to go grocery shopping without having to abandon my trolley to dash to the toilets to be sick. I would definitely say that Sea-Band helped me to some extent, and would recommend this to a friend.
I really believe that they work. I suffer badly from travel sickness – even when I am the one driving. It has really affected my holidays before, but now I have Sea-Bands, it takes away that worry. Thanks Sea-Band!
I was quite unsure about this product. I really thought that it was just another gimmick BUT no the Sea-Band actually helped with a migraine I had and also with my child's car sickness. I thought I would give it a go with her in the car as we were going on a long drive and no car sickness. Thanks.
Sea-Band can be used to prevent or relieve nausea, so wear them before experiencing symptoms of nausea or at the first sign of them.
Sea-Bands are available from all leading Pharmacies RRP $17.95 or online at www.ihealthsphere.com.au
Keep up to date with Sea-Band by liking the Sea-Band Facebook Page
Visit www.sea-bands.com.au for more information