What's Better Than Your Tap Water? Filtered! BRITA MAXTRA+ Water Filter Review and Giveaway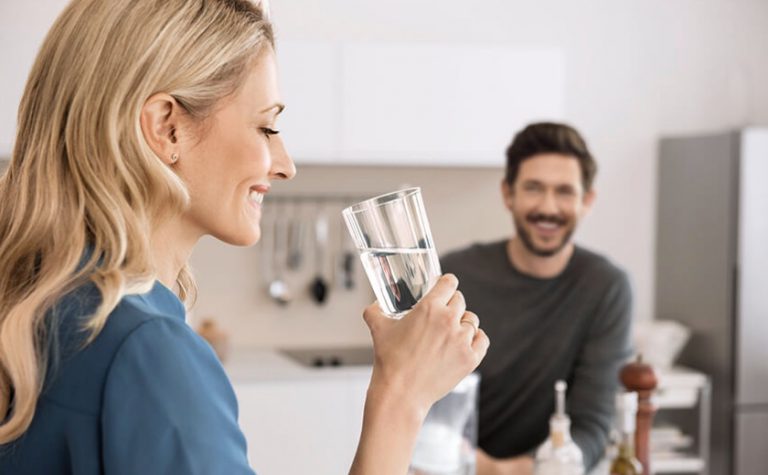 What's Better Than Your Tap Water? Filtered! BRITA MAXTRA+ Water Filter Review
Sponsored post
We all know that we need to drink water throughout the day to maintain good health, but that doesn't mean that we are all making sure that we consume sufficient amounts. Personally, I've noticed that the amount of water I drink during the winter pales in comparison to how much I drink during the warmer months…and I wonder why I'm more tired and my skin is drier at this time of year! Duh!
So, to help me to remedy this situation and up my water-intake, I decided to take up a recent offer to review the BRITA Fill and Enjoy Aluna water filter jug and the BRITA MAXTRA+ Universal water filter. Not only would having a nice cold container on hand in my fridge help me to remember to fill my glass regularly, the added bonus of having my drinking water potentially cleaner and fresher tasting was an offer too good to pass up.
4 VERY Good Reasons to Consider Using a Water Filter at Home
Of course, we live in a country where many of us take the fact that we have access to clean water in our homes for granted. You only have to travel to a popular holiday destination like Bali to know how lucky we are to be able to drink water straight from our taps. However, that doesn't mean that by the time our water travels from the water treatment plant to our taps, it hasn't picked up a number of heavy metals, chemicals and other impurities.
Better Taste
It stands to reason that filtering out chemicals from our water supply will have a positive effect on the taste. For example:
Chlorine is a chemical used in water treatment plants in Australia to reduce bacteria, viruses and micro-organisms to ensure drinking water quality. Whilst it is not harmful, the overwhelming scent makes water unpleasant to drink.
Limescale build up is a common occurrence affecting those living in moderate to hard water areas such as Perth, Adelaide and parts of Queensland. Whilst this isn't harmful to our health, hard water often results in an unpleasant smell, taste and mouth feel when drinking.
Better for Your Family's Health
Heavy metals such as lead can leach into water from pipes, solder, fixtures and faucets (brass) and fittings. Some pipes are fitted with lead-based solder in homes built prior to 1986. The amount of lead in your water also depends on a number of factors including: how long the water stays in the pipes, the age of the pipes, and water acidity and its temperature.
Filtering the water you drink can also rid your water of other impurities that are introduced between the water treatment plant and your home. For example, one of the most common issues with aging pipes is corrosion (also known as rust). Usually it forms a sediment that settles on the bottom of the pipes or by changes of pressure particularly if there has been work in the area.
Of course, the water that we drink may have none, someor allof the impurities mentioned above, and we wouldn't even know. So, investing a small amount of money into a product that can further purify the water that we drink and cook with can never be a bad idea, can it?
Prolong the Life of Your Domestic Appliances
Limescale builds up in appliances such as kettles and coffee machines. When the water is heated the minerals in hard water settle on the heating element and create a build up over time. This causes the appliance to work harder to heat the water, and eventually the heating element is destroyed and the appliance fails to work. Filtering the limescale from your tap water before you use it in your kettle or coffee machine will prolong the life of the appliance.
Environmental Sustainability
Having a water filter system at home means that you can save money on buying plastic bottles of water, and limit their negative impact on the environment.
A single use plastic bottle that makes its way into the ocean can take 450 years to breakdown!
By 2050 there will be more plastic than fish in the ocean
Every day in Australia, we use 10 million plastic bags, throw away 2.7 million takeaway coffee cups and use enough bottles and cans to stretch over 4000km (that's the whole way across the country).
The Brita MAXTRA+ Limescale Water Filter can filter the equivalent of 250 water bottles before the filter needs to be replaced, making it a more sustainable and cheaper way to hydrate.
BRITA Fill and Enjoy Aluna Jug and BRITA MAXTRA+ Limescale Water Filter Review
Although the BRITA Fill and Enjoy Aluna jug comes with a BRITA MAXTRA+ Universal water filter cartridge, I was also sent a BRITA MAXTRA+ Limescale Expert filter cartridge to review.
The new MAXTRA+ Limescale Expert filter is the premium filter in the range and is specially formulated to suit those living in areas with moderate to hard water where the quality of drinking water and appliances that can be affected by limescale build up. It promises to remove 50% more limescale than the standard MAXTRA+ filter.
The filter contains Micro-Carbon pearls that are especially designed to effectively absorb chlorine chemicals whilst Ion-Exchange Pearls protect against limescale build up as well as reducing heavy metals such as lead and copper.
I must admit, I'm not always one for reading the instruction manual before using a new appliance or device. But, in this case, I made sure I read and followed the instructions to the letter so I could be sure of getting the best result from it. It's a good job that I did too, as it wasn't as simple as popping the water filter into the jug and away you go.
The cartridge must first be immersed in cold water and shook gently to remove any air bubbles.
The filter is then fitted into the hollow of the funnel in the jug and pushed down. I really liked that this was simple and easy to do, and attaches firmly.
To activate the filter the jug must be filled twice with water and allowed to run through the filter. On the 3rd filling, the jug is ready for use.
The jug holds 2.4 litres and fits snugly in to the door of my fridge so it's ready to fill up my glass or kettle at any time, and I don't need to worry about one of the kids knocking it over inside the fridge.
I also love that I can run it through the dishwasher. A word of warning though (passed from my friend to me, and now on to you): don't wash the filter in the dishwasher with plates with spaghetti bolognese remains on them. Her filter came out looking a tad on the orange side…although she said it still worked fine.
The Verdict
I've been using the BRITA jug for a little over a week now and I love it. I'm definitely staying much more hydrated throughout the day and it has given me peace of mind knowing that the water I am giving to my family is fresh and chlorine free, and the love of my life (my coffee machine) will be reaping the benefits of being limescale free!
At just $27, it represents a very affordable and convenient solution for people who are concerned that their water supply may contain chemicals, heavy metals or other impurities.
GIVEAWAY: Win Your Family One of Four Brita Water Filter Prize Packs
Includes:
The Marella jug
A two-pack of MAXTRA+ filter
A two-pack of MAXTRA+ Limescale filter
An active bottle
A vital bottle
Total Prize Pack Value = $112
For your chance to win simply complete the entry form below!