Britax BOB Motion Stroller Review and Giveaway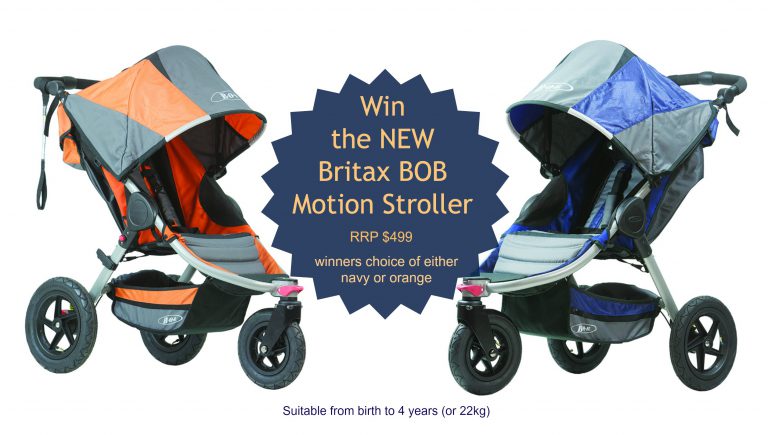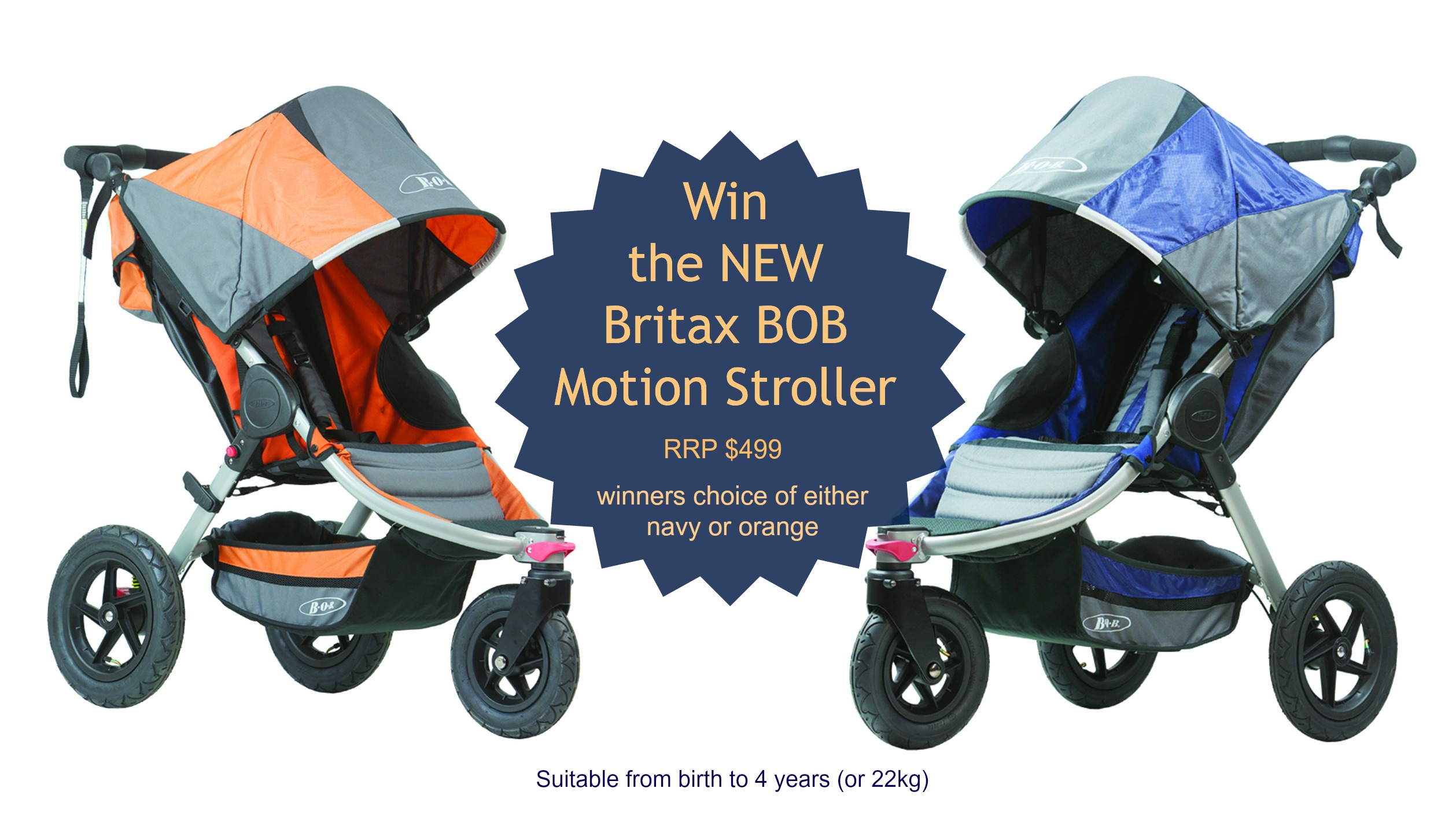 Over the past few weeks, Bubble and I have been fortunate enough to be sent a new Britax BOB Motion Stroller to put through it's paces, so I can share my thoughts on it with you. Despite refusing to go into our old stroller six months ago, Bubble was only too happy to claim her new wheeks telling her brothers in no uncertain terms that she was the only one little enough for it! Both of the boys have been keen to get out and about on their bikes over the holidays, so it has made taking them out for long walks much easier, as Bubble has been only too willing to climb into her carriage when she got too tired to walk with me.
Manouevrability
Although the Britax BOB Stroller is not designed to be used to jog with, it is great for active Mums who require a stroller that can be used across a range of terrains. We've put it to the test on grass, pavement, gravel and that horrid mulch stuff that some parks have, and the BOB Motion Stroller is still easy to manoeuvre.
The handlebar is also adjustable for comfort no matter your height.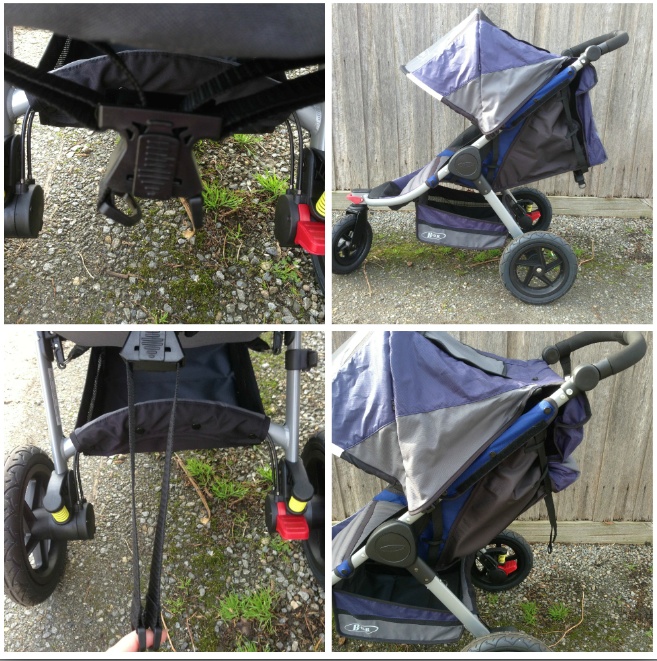 The seat
The seat is ultra – padded for your child's comfort, and can be lowered to almost horizontal, or raised to an upright position. This means this stroller is suitable from newborn up to 4 years of age (or 22kgs). As you can see from the photographs, adjusting the height of the seat to exactly where you want it is very easy.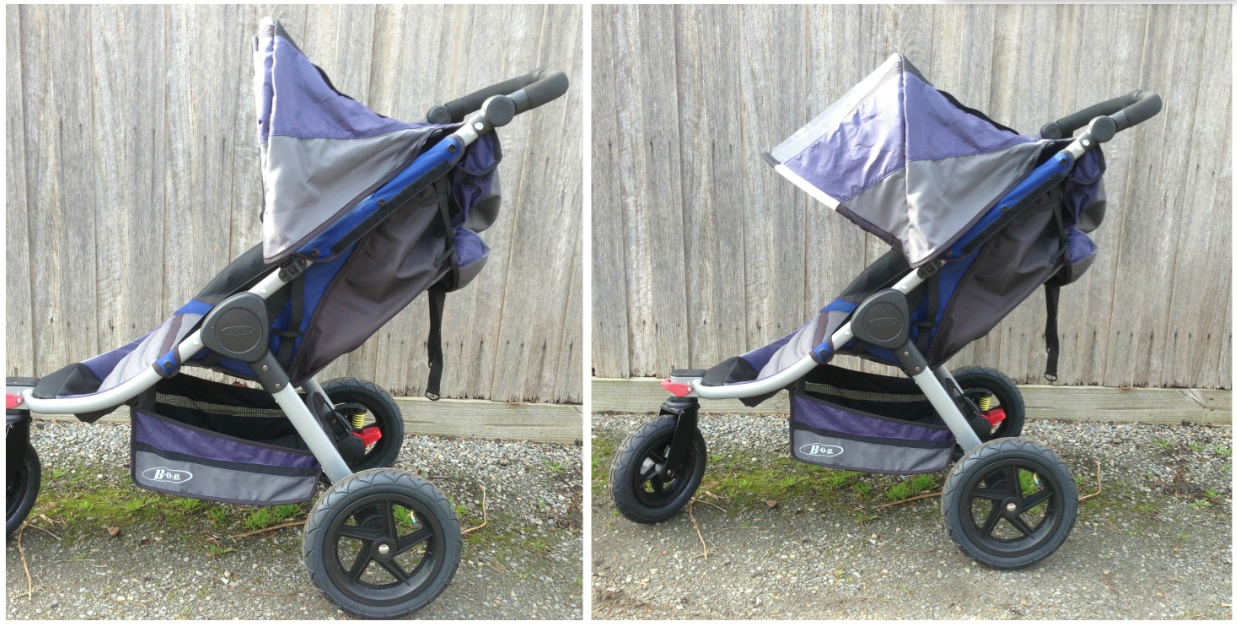 The canopy
One of the things that I really like about the BOB Motion Stroller is the lovely large canopy, that sheltered or shaded Bubble from the bright winter sun when we were out and about. It can be set in one of three positions: all the way back, half way down (which is great when you are shopping and your toddler wants to see what is going on) or down fully (which is perfect when they want to have a little nap!)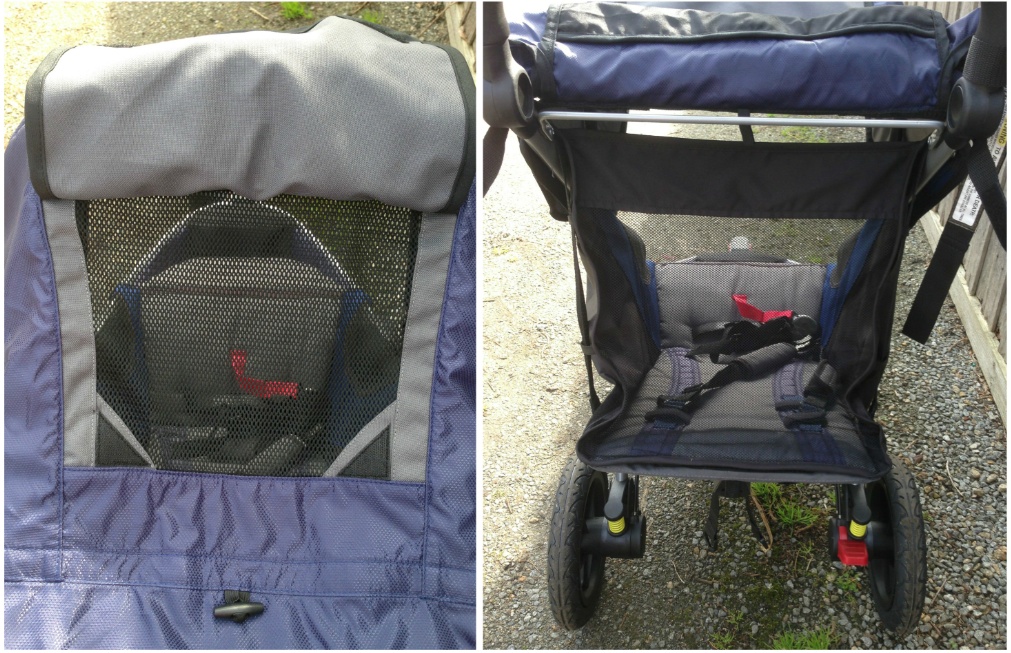 Ventilation
The BOB Motion stroller features both a mesh peek-a-boo window in the canopy, and a larger mesh window at the back – so keeping the air circulating on warm days and keeping an eye on your child is easy.

Storage
I really like the huge zipped pocket in this stroller which is great for keeping the essentials in like my purse, wet wipes, keys etc. It also features a sizeable storage basket at the bottom which is perfect for carrying your nappy bag or groceries (or if you are anything like me, drinks and snacks and other assorted pine cones, leaves and whatever else the children decide we must take home with us from the park!)
You 'll notice in the third photograph that the basket frame bends up – meaning you don't accidentally keep kicking it when you are walking (something that I did regularly with my old pram).

Folding and releasing
For me, besides safety of course, one of the main things that I have always looked for when purchasing strollers (and I have bought a few in my time!) is how easy it is for me to fold up and lift into the boot of my car, and how easy it is to get it out and put it back up again.
On this point the BOB Motion Stroller ticks all the boxes for me, and can be folded literally with one hand (which is fantastic for when you are balancing a baby on your hip, holding bags or even, if you are lucky, a hot coffee!
To fold, simply press the red button on the side of the stroller, and then lift by the handle in the seat, and voila – it folds down compactly and automatically locks. At just 10 kilograms this lightweight stroller is a breeze to lift into the car.
To release, simply press the lock located on the side of the stroller (in the far right hand image above) and pull up on the handle. The stroller locks securely into place, and you're ready to go again!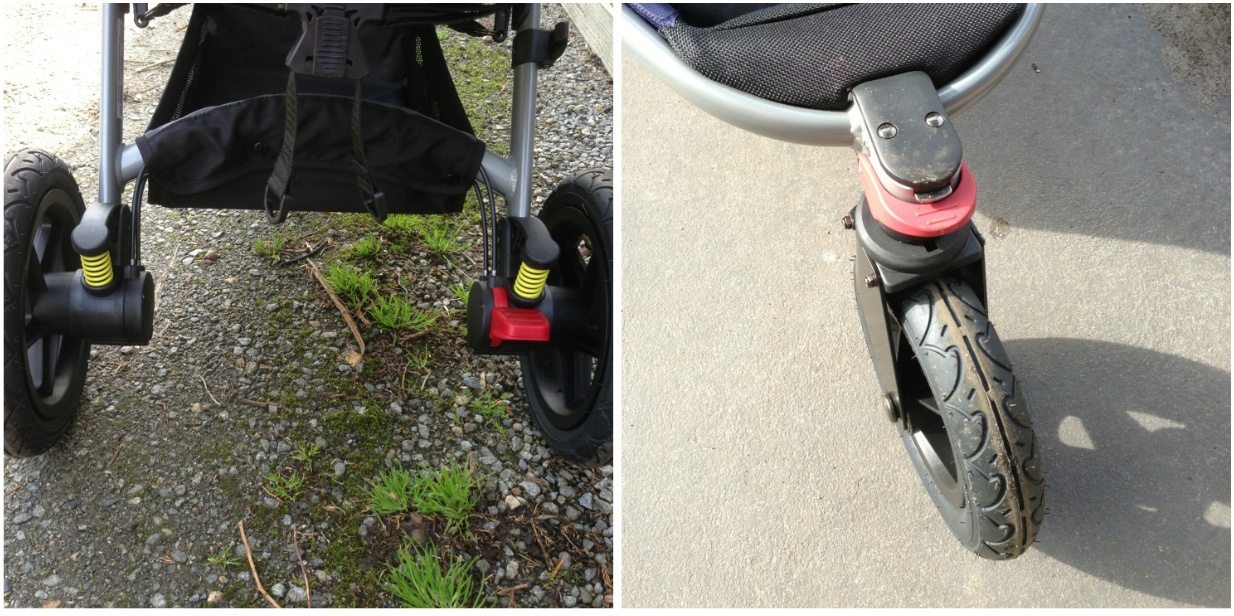 Brakes and Suspension
See those yellow springs at the back of the stroller? That is the suspension. Coupled with the air filled tyres, the BOB Motion Stroller makes for a very smooth ride even over rough terrain.
Braking is very easy too, with a sturdy foot brake at the back.
Note the front wheel can be set to either swivel, or can be locked in place for more stability over rougher surfaces.

Five point harness
The five point harness is easy to adjust to your child's height, and secures them safely in the seat. As an added bonus, I am yet to pinch my finger in this mechanism (but give me time. I have no doubt that if it is doable, I will do it!)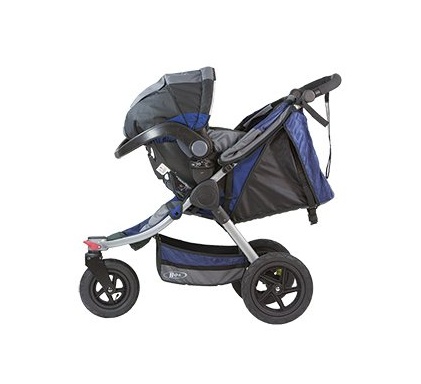 Compatible with Infant Carrier
Not that I have any intention of using mine with an infant carrier (that shop is well and truly shut), for those of you who have small babies, the BOB Motion Stroller comes with Click and Go receivers, making it compatible with the Britax Safe and Sound Infant Carrier with BOB Fashion (RRP $399 not included).
Giveaway
Click here for more details on your chance to WIN a BOB Motion Stroller (in your choice of blue or orange) RRP $499