Christmas Gift Guide: Best Educational Toys Plus Your Chance to win a Cleverstuff $150 Gift Voucher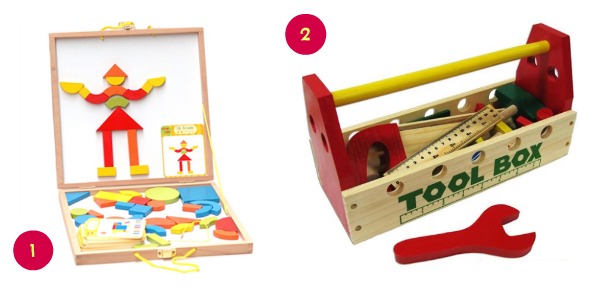 Sponsored post
Best Educational Toys Christmas Gift Guide Plus Your Chance to win a Cleverstuff $150 Gift Voucher
Whether we are ready or not, it seems that the countdown to Christmas has begun.
Festive memes have started popping up in my Facebook newsfeed, friends have told me of their relief at finally finishing their Christmas shopping, confessing that they were a little disorganised this year – how shameful to have only just wrapped and hidden all the Christmas presents in October!
And then the panic sets in. EVERYONE else has finished their Christmas shopping, and I haven't even thought about starting mine, and NOBODY in their right mind leaves shopping until the last minute when the shops are so busy with other last-minute panic buyers that it is a complete nightmare. Nobody else but me that is! And I can feel my blood pressure going up just thinking about it and…and…*takes deep breathes*
This year I'm getting organised! I'm starting now, and I'm doing the bulk of it online – leaving plenty of time for the delivery of parcels that can be hidden away while the kids are at school/kinder. Stress-free shopping from my living room!
One of my personal favourite places to shop (for my own children and my niece and nephews) is Cleverstuff.
Cleverstuff is an Australian owned store that prides itself on offering high quality, eco-friendly toys at an affordable price. You know those annoying, repetitive, noisy toys, that drive you crazy, and the plastic stuff that ends up at the bottom of the toy box broken and forgotten after a week? You won't find any of that at Cleverstuff.
Cleverstuff stock an extensive range of toys that are designed to improve gross motor development, spatial awareness, early maths and literacy; toys that expand children's imaginations, and encourage language and social skills; and they are so much fun kids will have no idea that they are learning!
The Cleverstuff website is extremely user friendly, and allows shoppers to search according to age (newborn to teens and all the in betweens),price of category (e.g. wooden toys, magnetic toys, art and craft etc). This makes for an enjoyable and time efficient shopping experience.
What's more, now is a great time to bag a bargain in their Pre-Christmas sale.
Here are my top ten favourite gift ideas from Cleverstuff this Christmas: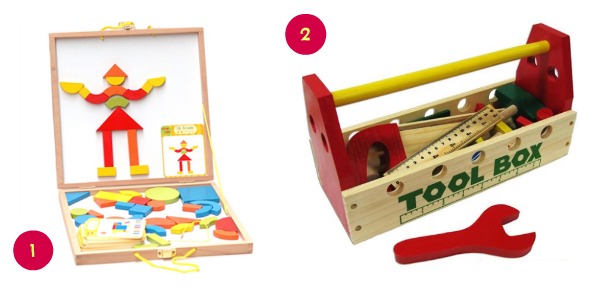 1. Magnetic Pattern Block
Children can learn about pattern making, seriation, colours and shapes with this fun and easy to use pattern block set. Includes 40 magnetic pieces, 24 guide cards and pack away into the wooden case that also has a magnetic board on the inside. Shop here
2. Tool Set with Wooden Tools
A brilliant 'first tool box.' Includes wooden box with carry handle, saw, ruler, 2 hammers, flat-head screwdriver, spanner, pegs, screws and washers. Your apprentice builder can practice their fine motor skills winding the nut and washers onto the assembly boards. Age guide 3+ Shop here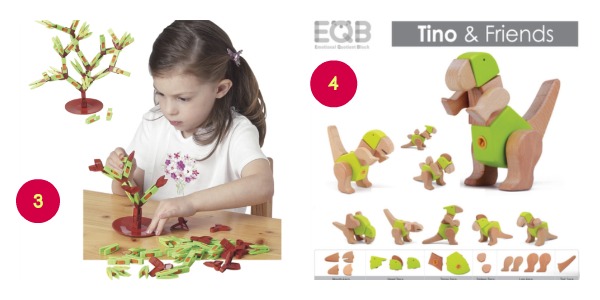 3. Tricky Tree
Tricky Tree combines the motor coordination with an understanding of weight and balance. Build a tree by adding leaves and branches – but be careful not to build it too much on one side or the tree will come tumbling down. Play by yourself, one on one or as a team. Great for encouraging communication and cooperation. Age 3+ Shop here
4 Tino and Friends
EQB Dino Series is a unique modular designer toy that transforms into various designs of different dinosaurs. A set includes a collection of hard finished, quality hardwood parts such as head, torso, legs, tails and more that are easily assembled and disassembled with a patented snap lock universal joint system . Parts from different sets can be combined to allow children to turn their imagination into reality. Kits include dinosaur educational poster and dinosaur educational cards. Shop here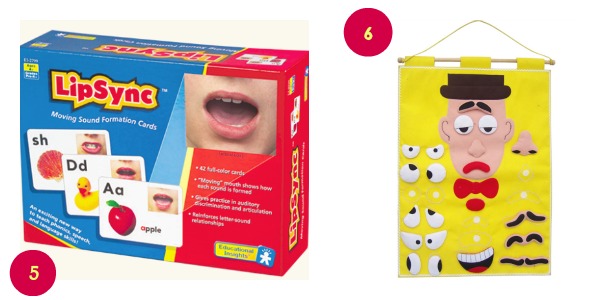 5. LipSync – Speech Development Card Game
LipSync is a fantastic resource for children with speech and language difficulties and children learning English as a second language. Each card features a mouth that actually moves as the card is tilted, showing how to form each sound. The cards represent 42 of the most commonly taught sounds in primary school. Includes a teaching guide with additional information and suggestions. Age 4+ Shop here
6. Expression Chart
Giant wall cloth chart for children to experiment with different facial expressions. Also a handy tool for children to show how they may be feeling. Shop here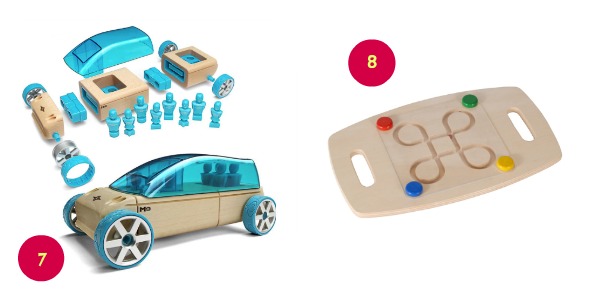 7. Automoblox M9 Sports Van
The Automoblox M9 Sports Van is a fascinating gift for a child interested in cars, and is a wonderful opportunity for mums and dads to share great quality time and fun with their child. Shop here
8. Balancing Loop Board
Stand on the board and manoeuvre the marble along the groove from one side to the other side. The wooden board features a permanently attached clear-view top to keep the marble fully contained. A great activity toy to encourage confidence and balance. Shop here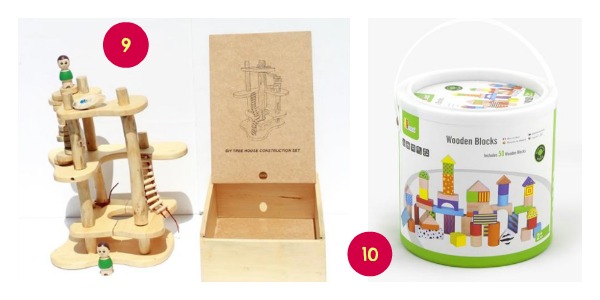 9. Treehouse Construction Set
This gorgeous tree house is made from recycled tree branches. The set is a DIY design which allows children to put it up by themselves as a construction activity. There is an instruction leaflet with 4 models built. Age 4+ Shop here
10. Wooden Blocks 100 pce
Easy for little fingers to grasp, these brightly coloured wooden blocks stimulate creativity and develop basic motor skills.
Children can build anything that they can imagine with the assorted wooden blocks. This set comes in a handy tub with lid so when not in use, blocks can be neatly stored away!
For ages 2 years + Shop here
Enjoy free freight on orders over $70 Code: FREESHIPPING14
WIN $150 to Spend Online at Cleverstuff in time for Christmas!
Cleverstuff are giving Mums Lounge readers the chance to win a $150 Cleverstuff gift voucher to be spent in their online store.
To enter complete the entry form below. Good luck!