ENJO Barbeque Bundle Review and Giveaway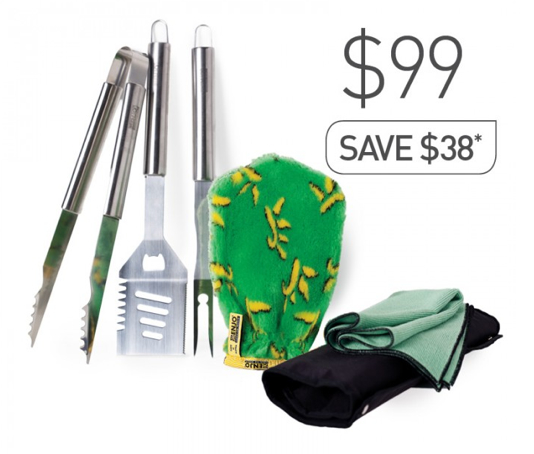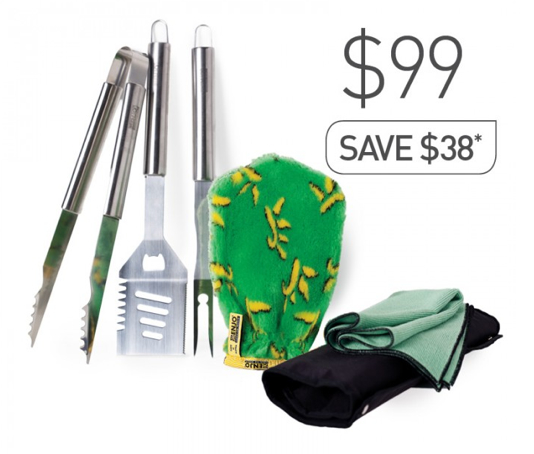 Sponsored post
At long last summer has landed here in Australia. With Christmas on the horizon and warm weather to enjoy, many of us are starting to think about striking up the Barbie, either for a relaxed family dinner, or for a larger social gathering.
But then, if you are anything like my Hubby, you realise that after a few months of gathering dust, and cobwebs, and marinating in last years grime, the humble barbeque is in need of a little TLC before you would think twice about throwing some snags on it….and let's face it, it's not a nice job!
Luckily for me, (or more accurately luckily for Hubby, as the BBQ is his domain,) ENJO Australia sent me their Chrissie Barbie Bundle to trial and review.
So, armed with his Barbeque miracle glove, and Barbeque miracle clean Hubby followed ENJO's four simple steps to easy BBQ cleaning.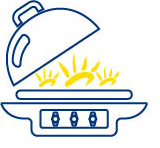 Scrape the hotplate and wet your ENJO BBQ glove with cold water. Remember, the dirtier the surface , the wetter your glove needs to be.
Using the green and black (grime side) wipe the exterior, including the side trays, lid and knobs then rinse the glove.
Use the green (grease side), wipe the hotplate.
Dry all the surfaces with the ENJO BBQ miracle.
And, Hubbster's optional step…
5. Stand back and admire your handy work and congratulate yourself with a beer.
Of course, I stood back like Mr Miyagi with a camera whilst Hubbster did a fantastic impression of Daniel-son (aka Karate kid) – wax on – wax off – only with an ENJO glove on one hand and a miracle cloth in the other. Unfortunately, my SD card has decided to corrupt for some reason and I can't retrieve the photo's (urgh!) …which can mean only one thing…Hubbster will have to do it all over again very soon so that I can add some before and after shots below! (There goes that silver lining!)
Of course, I am familar with sod's law – it is the busiest time of the year, Christmas is around the corner…i should have been expecting something to stuff up! (Iphone photo's to follow shortly!!!!)
So in the meantime, you will have to take my word for it…and Hubbster's:
'I was very dubious about the ENJO glove to start with. How was I going to clean the greasy barbeque with water?
But, I was pleasantly surprised (and Jolene was suitably smug, with that 'told-you-so' look that she has perfected!
The only downside was that the job was done so quickly and easily, I didn't even work up a sweat to justify rewarding my efforts with a beer!'
Please note: To avoid damaging the ENJO fibres, or burning yourself, please ensure the hotplate is cold before cleaning.
ENJO would like to give one lucky Mums Lounge reader their BBQ pack valued at $99.
The Chrissie Barbie Bundle includes:
1 x Barbecue Glove
1 x Barbecue Miracle
1 x ENJO Barbecue Cooking Utensils and Apron
To enter, simply follow the instructions on the Rafflecopter widget below.
You can now buy ENJO products online at www.enjo.com.au or through a personal ENJOpreneur.
Disclosure: This is a sponsored post. However, as always, all thoughts and opinions expressed are my own.