Globber MyFree Up Scooter Review (Plus Win 1 of 3)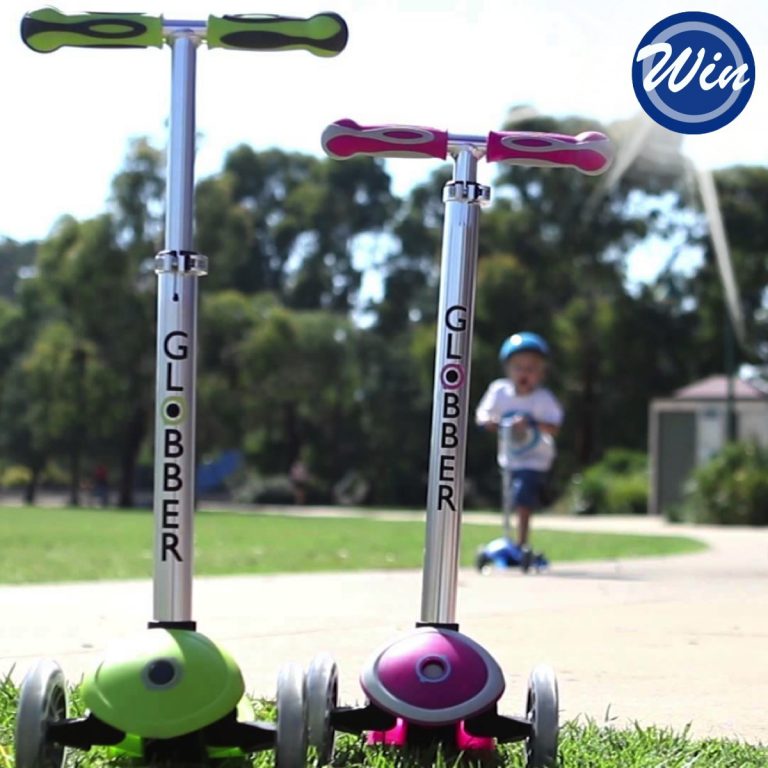 Win 1 of 3 Globber MyFree Up Scooters
My 3-½ year old twins received a rather lovely surprise recently from Globber, who sent them the MyFree Up Scooters to put to the test. The day they arrived felt much like Christmas as they walked into their room to find new scooters at the end of their beds. I couldn't help but giggle as I watched from the door as they suddenly began to squeal in excitement and instantly began to ask each other if they thought they were meant for them. They soon came running out of their room and the nagging to go out and ride them commenced! It wasn't long before the constant scooter riding around the house led me to cave in and I threw the dinner preparation to one side and took them out to test their new wheels.
We pulled up at a nearby beach and my twins almost fell over themselves in their excitement as I opened the car doors, eager to ride their new Globber MyFree Up Scooters. Within seconds they were off down the footpath and I was amazed at how easily they got the hang of it and filled the air with an infectious laughter, so much so that a few passers by had stopped to watch what all the commotion was about and enjoyed a little chuckle to themselves.
I was simply amazed at how quickly my twins learned to manoeuvre the scooters, as the design lends itself to a very instinctive approach – my little ones simply leaned in the direction they wanted to go and the scooter steers towards it. It was also good to know that there is an option to put on a steering lock on the front wheels, which helps give a new rider the chance to find their balance before learning to steer.
The Globber MyFree Up scooters have a light but solid construction and a low deck, so despite my little ones lack of experience, they were able to ride and steer without loosing their balance or their confidence. There is an X-CROSS deck design, which strengthens the deck structure and improves directional turning performance to the T-BAR handlebar, so despite being really lightweight weight the My Free Up scooters feel incredibly robust. Once my older two boys discovered that the weight capacity was all the way up to 50kg they couldn't help themselves and got in on some of the action, trying to teach their younger brother and sister all sorts of tricks. I am happy to say that despite my initial apprehension with the bigger ones hopping on, the My Free Up scooters stood up effortlessly to the older brothers testing.
Over the following weeks my little ones quickly became masters of their scooters and their confidence continued to grow with it. They picked up speed, took tighter corners, had full control of the easy to use back braking system and began making some cheeky little moves, like scooting with a leg sticking out or riding along holding hands with each other. The Globber MyFree Up scooters rapidly became an addition to our every days lives, as my little ones insisted on bringing them with us everywhere they went. I have to say that the MyFree Up Scooters have certainly made the school run much swifter and keep me fitter – the only problem I now have is keeping up with them!
The Globber MyFree Up scooters are designed to grow with your child and have 3 different positions to raise the handle height to. With my little ones only needing the handle on the lowest height, it is great to know that they still have heaps of use to gain out of their scooters.
After an afternoon riding their MyFree Up scooters around the footpaths at the local Dam, I asked my twins what they thought of their new scooters and I had a one word reply screamed at me simultaneously from both of them as they began jumping up and down …. 'AWESOME!!!!"
If you are looking for a scooter for a younger child/toddler that is well balanced, intuitively designed to make the scooting experience fun and as safe as possible, while allowing you the option for your scooter to grow with your child…or, if you have a slightly older child/pre-schooler that wants to 'go fast' and have some fun enjoying the great outdoors on a well engineered and robustly crafted scooter that will endure many days out then I would highly recommend the Globber MyFree up scooter.
Giveaway
Thanks to Globber, we are offering our readers the chance to Win 1 of 3 Globber MyFree Up Scooters worth $130 each , from the great range of colours: Blue, Green, Pink, Purple
(Colour choice subject to availability)
Written by Julie Williams
Disclosure: The author was gifted this product for the purpose of giving an honest review. All thoughts and opinions expressed here are the authors own.