Nature's Way Pregnancy VitaGummies Review & Giveaway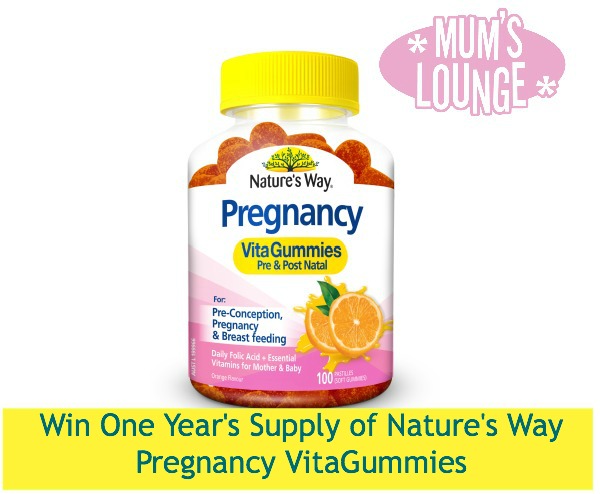 Getting the right nutrients from your diet, no matter what stage of your pregnancy you're in, is important for the healthy growth of your newborn. Helping to boost these nutrients sometimes used to mean swallowing large prenatal capsules and tablets. Introducing Pregnancy VitaGummies from Nature's Way, they're nice to take and not too hard to swallow!
Nature's Way Pregnancy VitaGummies have been specially formulated with the health of your newborn in mind. In just two delicious Vita Gummies you get 6 key nutrients which provide the daily RDI for pregnancy, plus 500mg of Folic acid. Folic acid is important for the healthy development of your baby, as it can help reduce the risk of neural tube defects such as Spina Bifida.
Always read the label. Use only as directed. Supplements should not replace a balanced diet.
Mums Lounge members were invited to trial Nature's Way Pregnancy VitaGummies. You can read their thoughts and experiences below:
I really loved the product, the taste was really nice and easy to chew (better than trying to swallow those horse sized tablets).
they tasted like a lolly which i really enjoyed. I like that they come in bottles of 100 which will last a couple of months.
I will continue to use these while pregnant and breastfeeding when my little princess is born.
Christy, 26, NSW, currently pregnant.
I am so glad I got to try Nature's Way Pregnancy gummies, as they are not only tasty, they are also very easy to chew and keep down, especially when suffering from bad morning sickness. Compared to other pregnancy vitamins I've tried, these are so much more easier to swallow, with all the same benefits. Highly recommend to all.
Debbee, 35, QLD, currently pregnant.
As a person who spent her first pregnancy chewing up and swallowing yucky tasting tablets – these pregnancy vitamins are awesome! I really like the fruity citrus flavour, and they are very easy to eat. The chewy-ness of them make them quite more-ish – so I had to remember to just have two! *lol*
I also like the fact that it has a good range of vitamins that are important for baby's growth.
The only question I have is how much sugar is in each gummy? I really like them – but the last time I was pregnant, I got gestational diabetes and wonder if these are still ok to have if I ended up getting GDM again.
Thanks for giving me a trial bottle – I'll be buying more in the future for sure.
Cindy, 32, NSW, currently breastfeeding and trying to conceive.
Loved the taste of the product and the fact that I can chew it and now have to try and get it down with water. The only problem I have is that is doesn't contain iron and I need to have iron in my pregnancy multi. I believe most of the others do contain iron.
Apart from that its great!
Tina, 35, NSW, currently pregnant.
Easy to chew, pleasant texture and flavour, no after taste, easy to fit into my day. Quantity seems great in the container and good that you can see when supplies are getting low. Definitely let my friends know about the gummies. Thank you.
Rose, 40, QLD, currently breastfeeding and trying to conceive.
I found the gummies great, they settled my morning sickness, and I felt a lot better after I started taking them. The taste wasn't the best, but I could handle that as I was feeling sick or running to the toilet. And the coating took the edge of the slight bitter taste.
I will be continuing to use these
Jodie, 30, VIC, currently pregnant.
I can't say enough how much I love this product!! During my current and previous pregnancies I have been unable to swallow the pregnancy multi vitamins without gagging. These are so tasty and easy to take the trouble is stopping at the recomended dose! It's all about the little things that help make pregnancy that little bit easier, and this is one of them.
My only suggestion would be to include iron, and possibly omega 3&6 other than that the product is fantastic!
Erin, 29, NSW, currently pregnant.
I have found the pregnancy supplements to have a great flavour that makes them very easy to take when not much agrees with my stomach in the early stages of pregnancy. They remind me of the orange jubes that you used to get as kids. If sweet things turn your stomach then they might not agree with you. I love the price of the product too.
Rose, 32, QLD, currently pregnant and breastfeeding.
As I struggle to take vitamins because they are so large the gummies were a god send so easy to take and didnt taste horrible at all. Only downfall was my 2 year old thought they were lollies lol so I had to learn not to take them in front of her lol!
Katie, 29, QLD, currently pregnant.
I love that they tasted great & so easy to take. The one thing is found was they made me very dry in the mouth and thirsty.
Leah, NSW, 30, currently trying to conceive.
For the first time in my life, I actually found myself remembering to
regularly take my "tablets"! The taste reminded me of an orange jube so I felt like I was sneaking some lollies! These were great & I would highly recommend them!
Trudi, 34, NSW, currently trying to conceive.
The taste is lovely, they are very easy to eat plus I never forget to take them because I have quite a sweet tooth and look forward to them!
In saying that, I'm quite health conscious and would probably go for a sugar-less chewable next time, even if they didn't taste as good.
I had no problems with reflux due to big gulps of water with whole capsules and had no nausea from them as with others I've tried!
Overall, an excellent product!
Jess, NSW, currently pregnant.
I loved the gummies!! So easy and convenient , I give my girls vitamins daily (also a gummy) and sat my new gummies with theirs so I didn't forget to take them, which I tend to do with pregnancy vitamins. I felt I had alot more energy after taking the gummies for a few days and will continue to do so!! They are great tasting only negative is they leave a slight after taste but it doesn't last 🙂 would highly recommend to anyone pregnant or breastfeeding!
Shirralee, 24, Outback NSW, currently pregnant.
Nature's Way are giving Mums Lounge readers the chance to win 1 of 5 year's supply of pregnancy Vitagummies.
To enter, simply follow the simple instructions on the rafflecopter widget below. Good luck.