New Dyson Cinetic DC54 Animal & DC59 Digital Slim Review (PLUS 2 Week Reader Trial!)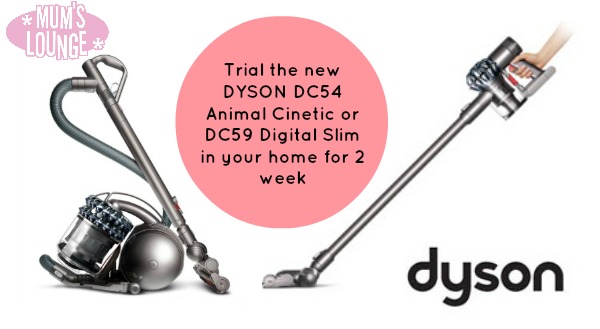 When was the last time you cleaned the filter in your vacuum?
If you are anything like me, then the answer is probably something along the lines of "Um…when it stopped working properly and I asked my Husband to take it apart and fix it!'
If you do in fact clean your filters regularly. I applaud you…and am ever so slightly envious of your domestic goddessliness. (And if that is not a word, it should be!)
I've never made any bones about the fact that housework is not a strong point of mine. In fact, I would go as far as to say I loathe it. So if there is ever even the slightest smidgen of a chance of making it less labour intensive and time effective, I am there! So when I was offered the opportunity to trial the new Dyson DC54 Animal vacuum, and the DC59 Digital Slim, I waved my hand to be a very willing guinea pig….you know, for the greater good of course!
Dyson Cinetic DC54 Animal
Although this thing looks and works like a beast, the 'Animal' in the name actually refers to the fact that it is great for pet owners. With 2 dogs, (border collie x blue heeler) and a long haired grey cat in my home, cleaning up pet hair is a constant battle. Any one that has pets, particularly those with long hair will know that those hairs have a way of somehow weaving themselves into the fabric of the carpet, and even with daily vacuuming, can be tough to completely remove.
I have absolutely no hesitation in telling you that the Dyson DC54 Animal is better than any vacuum I have ever owned or trialed, for not only cleaning pet hair, but lifting all kinds of irksome hidden dirt and dust out of my carpet. I was actually impressed and a little mortified by how much dirt came up with the Dyson DC54 Animal when I vacuumed my 'clean' carpet with it. It looked clean, and I could actually feel the difference when walking on it in bare feet. But, when pushing the vacuum head around, it really leaves you in no two minds about the power it is packing. The suction is incredible!
So you are probably wondering, what is so different about this model to previous Dyson models, right?
Dyson, famous for getting rid of the bag, has now gone one step further and done away with the filter too – to produce what is hailed as the only vacuum in the world that will never ever lose it's suction, and it captures more dust than any other cyclone technology to date. Impressed? The clincher is that not only does it move from carpets to hard floors seamlessly, giving an incomparable clean, it requires absolutely no filter maintenance (or associated costs) offering the ultimate no fuss cleaning experience. That gets my tick of approval!
For those with allergy issues, you'll also be pleased to know that Dyson is part of the Asthma and Respiratory Foundations Sensitive Choice Program, so their vacuums are designed to capture allergens in the air, giving you a fresher atmosphere in your home.
I could go on and on about what I love about this vacuum, but I'm keen to get to the bit where I tell you that you can trial this model (or the one I am about to tell you about in a moment) and if you love it, like I do, you can get 20% off your purchase. Perfect if you are in the market for a new or more effective vacuum cleaner.
So, I'll finish up by telling you that this model is made for day to day family living, and made from ABS polycarbonate material (used in riot shields and crash helmets) so you can even enlist the kids' help without worrying that they'll damage it. Although, having said that, if you are anything like me, you are likely to guard your new baby jealously. Back away from the Dyson guys! That's Mummy's toy!
The Dyson CineticTM is the only machine with no bags, no loss of suction, and no filter fuss. RRP: DC54 Animal Pro (RRP$1099), DC54 Animal (RRP$999), DC54 Allergy (RRP$899), DC54 Multi floor (RRP$799). Find the new Dyson CineticTM at www.Dyson.com.au
Dyson DC59 Digital Slim
Unlike the Dyson DC54 Animal that has been having a good workout in my house over the last few weeks, the DC59 Digital Slim hasn't ditched the filter. But what it does have, to it's credit, is a brand spanking new, super powerful V6 motor, making it, making it a cordless vacuum that is as powerful as a larger vacuum without the bulk, or the inconvenience of being tethered to the wall by a plug.
With one and a half times more power than it's predecessor (which I currently own…and am considering packing back up in the box to send back to Dyson in the hope that they don't notice) it is hard not to love this portable and convenient handheld vacuum. Perfect for smaller areas, spot cleaning, and giving the car a spruce up, the floor tools have been designed to be lighter and offer improved pick up, making cleaning your house from top to toe effort free. The DC59 for such a powerful unit weighs an impressively and easy-to use 2 kilo! (No more cobwebs in the corner of my living room ceiling thank you very much!)
The docking station for me, is also a huge bonus. Having it charged and ready to go, as and when needed (which is often with three young children) takes the drudgery out of prepping to get cleaned up, and my children are only too keen to help clean up the mess they have made. Winning!
The latest Dyson Digital SlimTM DC59 vacuum is lightweight, cordless, and packs the same power as a mains vacuum cleaner. RRP $649 for the Animal model and $599 for the Multi floor. Find the new Dyson Digital Slim at www.Dyson.com.au
Trial a Dyson vacuum in your home for two weeks
So…if like me, you are a bit keen to get your hands on one of these new Dyson models, you'll be pleased to hear that Dyson are offering Mums Lounge readers the chance to trial one of the above models for a two week period. If after that time (like me) the successful participant is reluctant to part with it, they will be offered the chance to purchase the model at a 20% discount.
Keen?
You can express your interest by following just one simple step on the rafflecopter widget below (which makes it easy for me to contact you is you are the successful candidate. Please note, this is a game of skill. The most creative answer will be chosen by the Mums Lounge team.
Disclosure: The Dyson vacuums were provided for a two week trial period, for the purpose of review. I have been offered a discount if I would like to purchase one of these models. All thoughts and opinions expressed here are my own.