Say Goodbye to Wrinkles? Newa Skin Rejuvenation System Review (& Giveaway)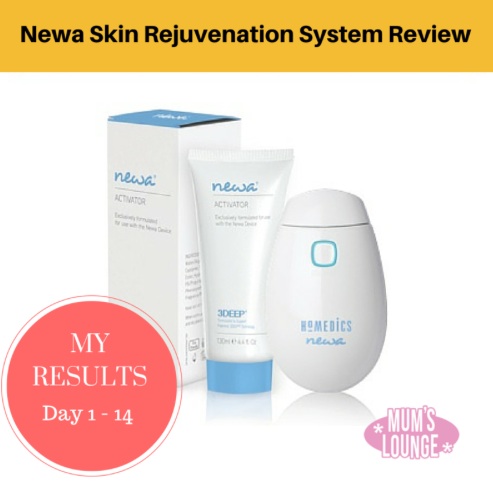 Newa Skin Rejuvenation System Review
It's only 19 days until my birthday!
Let's not dwell on how old I will be, shall we. Suffice it to say that I will officially be closer to 40 than I will be to 30.
There is nothing quite like another impending birthday to suddenly make you reach for the anti-wrinkle creams, and frantically start googling weird and wonderful skin treatments, in an effort to slow down the effect of time.
Fortunately, I was recently given the opportunity to trial and review the Newa Skin Rejuvenation System. Phew! No leeches, bee venom or placenta facials for me just yet, thank you very much! *Screws lid back on the jar of nightgale poo*
What is the Newa Skin Rejuvenation System?
As we age our skin begins to lose collagen, which is what gives the skin its shape. This is the cause of fine lines, deep wrinkles and sagging skin (which it's pretty safe to say, no of us want!)
Newa is clinically proven to reactivate your skin's natural ability to produce collagen. More natural collagen means your skin is lifted and plumped up, so genuinely reducing wrinkles and fine lines around the eyes, face and neck.
The most efficient way to produce new collagen is by bringing heat to the deep levels of the skin which keeps the skin tight.
Newa works by delivering energy 3 layers deep into your skin, reactivating the natural collagen producing process to lift and smooth wrinkles naturally.
Nothing else can do this – no skincare cream can reach these cells and fillers and chemicals can't achieve this.
Newa Skin Rejuvenation System Review
HoMedics gifted me the Newa Skin Rejuvenation System for the purpose of an honest review. This review is the first of two. I will share my thoughts and results with you again at the end of the 40 day period.
I have been using the Newa Skin Rejuvenation System for 20 days now, (3 times a week) and despite my initial scepticism, I'm pretty impressed with the results so far.
But let's not get ahead of ourselves. Let me show you what the system includes:
The Newa Skin Rejuvenation System is really easy to use and takes just 20 minutes to do your entire face. (I tend to do it either at night whilst watching TV, or in the morning while the kids are eating their breakfast).
To use, it has to be plugged in. Apply the activator gel to the metal nodes, turn it on – and away you go! Full instructions are included with the product of course, but basically you divide your face into 6 areas, left cheek, left jaw, left under chin area, and also the corresponding areas on the rights.
Making circular motions with the Newa on your skin, you massage the area on your face. There are two heat settings, low and high. I use the high one and it feels like a warm massage and not painful or uncomfortable at all. After 4 minutes the Newa vibrates, letting you know to reapply the activator gel and move to the next area of your face.
I notice a difference in my skin immediately. It actually feels tighter.
Although it does cause some redness to the skin after treatment, (see image below) it is very short-lived, and you can apply your usual moisturiser and make-up immediately after treatment.
From red to ready in 20 minutes!
And don't worry, the Newa has a built in temperature sensor to prevent too much heat being applied protecting the most sensitive skin.
So, my results so far?
These aren't the best photographs so you'll have to bear with me, but I'm pretty certain that those itty-bitty fine lines around my eyes are less obvious than they were 14 days ago.
Tell me you can see it too!!!
I can't wait to see what it might have achieved at the end of the trial period! Watch this space!
For anyone that is interested though, maybe Santa might bring you one for Christmas if you've been good!) the Newa is available now from the Shaver Shop for $499.
Newa is a Skin Rejuvenation System that reduces wrinkles naturally. Clinically proven to firm, tighten and lift skin by reactivating your skin's natural ability to produce collagen. Newa reduces wrinkles by up to 45% in just 12 weeks all in the comfort of your own home. For more information visit www.homedics.com.au
The Giveaway
HoMedics are giving Mums lounge readers the opportunity to win this Gym Essential Pack valued at $49.95 – including,
A travel hairdryer
An FM radio/pedometer
A pair of earbuds
A personal towel
To enter, follow the instructions on the entry form below.