Spicy Chocolate Truffles Recipe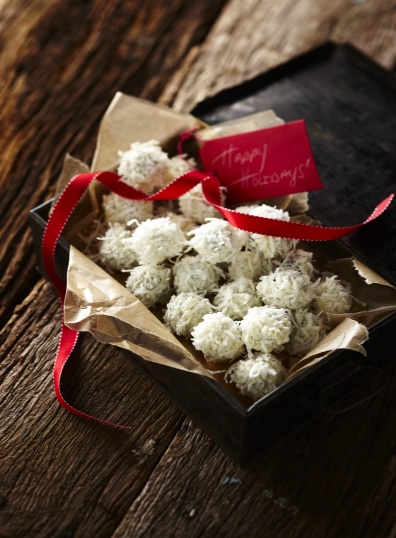 Spicy Chocolate Truffles
Preparation time: 15 minutes plus 1 hour refrigeration
Cooking time: 5 minutes
Makes: 30 small balls
Spicy Chocolate Truffles Recipe
Ingredients
200g plain cooking chocolate
50g butter
2 medium egg yolks
2 tsp Allspice Ground
1 tsp Cinnamon Ground
1 tsp Vanillin Sugar
250g White chocolate melted
200g shredded coconut
Instructions
Melt chocolate and butter together then stir in egg yolks and spices. Mix well. Beat until the mixture thickens. Place in a refrigerator until the mixture has hardened slightly (roughly about 1 hour)
Shape the mixture into small balls
Dip set truffles in melted white chocolate and coat with shredded coconut.
https://mumslounge.com.au/lifestyle/food/spicy-chocolate-truffles-recipe/
Additional thoughts:
Add the zest of ½ orange to truffle mix for added zing.
Adults only – add 2 tbsp dark rum to mixture at step 1 before refrigeration.
Place finished balls into sweet cases and put into a pretty box and give as a gift.
Dianne is a mother of two young children, freelance writer and founder of food website www.thesassycook.com featuring full bodied but attainable recipes and everyday cooking inspiration. Dianne is also an avid "organiser" and takes great pleasure in helping families and individuals reclaim their space and simplify their lives. Dianne's organisational tips have been featured on Good Morning New Zealand, Today Tonight, numerous National radio stations and news publications.