The Benefits of Teaching Your Child to Read with ABC Reading Eggs: Sign up for a 30-Day FREE Trial Today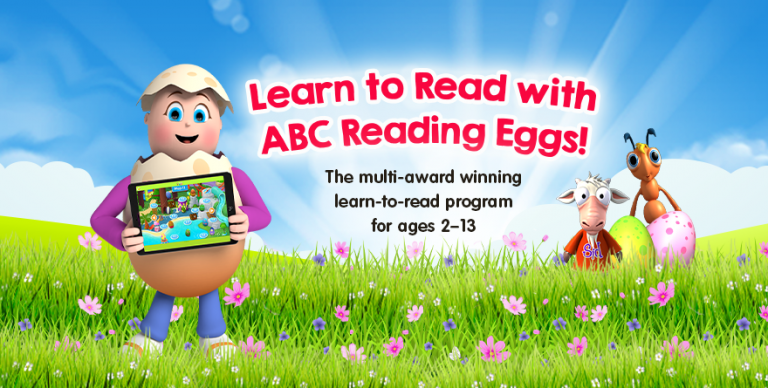 The Benefits of Teaching Your Child to Read with ABC Reading Eggs: Sign up for a 30-Day FREE Trial Today
If you are a parent, you no doubt experienced some level of concern when the OECD Programme for International Student Assessment (PISA) revealed last year that Australian students are years behind the rest of the world in reading, maths and science. According to the PISA report, which is carried out every 3 years and assesses 15-year-old students, there are now 10 countries with significantly higher results in reading than Australia, 23 in maths and 12 in science.
Why Teaching Children to Read Early and Well is Important
Fortunately, there are things we can do as parents to support our children academically and give them the best foundation for a life-long love of reading. In fact, I believe that one of the most significant and fundamental ways we can influence our children's school years for the better is to teach them to read early and to make it fun. A child that loves to read will find all of the subjects they'll do at school much easier to comprehend than a child that struggles with or avoids it.
When you think about the development of a child's brain, it is easy to see that teaching them to read early has a multitude of benefits. During the first 6 years of life, children learn at a much faster pace than they will at any other time in their life. The vital connections and neural pathways are being formed, which is why children under 6 often find it easier to learn a second language.
Knowing how to teach your little one to read though can be the tricky part. Many of us start by teaching them the alphabet, for example, but have little idea how to proceed for the best after that. That's why we recommend enlisting the help of the experts.
What is ABC Reading Eggs?
ABC Reading Eggs is the multi-award-winning online reading program for ages 2–13, which is aligned to the Australian Curriculum. With 10 million kids using the program worldwide, you can feel confident that screen-time spent with your child on the Reading Eggs app or website will be time well spent. In fact, they'll have so much fun with it, they won't even know that they are learning!
The great thing about ABC Reading Eggs is that it is a reading program you can use from the comfort of your own home, and is a great way to ensure that your child is school-ready. In many cases, children who use ABC Reading Eggs start school way ahead of their peers. The ABC Reading Eggs program gives them the ability to learn to read in a leisurely, pressure-free environment at home when they are most receptive. They have the option to stop when they get tired or proceed when they are enjoying it, which is a luxury not found when trying to learn to read for the first time in a crowded classroom!
Regardless of how little or how much your child has already learned when it comes to reading, ABC Reading Eggs can be hugely beneficial in improving their skills in a really fun and engaging way. We recommend getting your child to take a placement test – which is a fun, interactive way of assessing their current literacy levels. The placement test is optional – although we can't stress enough how important we think it is to complete it. Starting your child in the program in the correct stage for them ensures that they get the most from it. If the lessons are too easy, they could become bored and if the lessons are too hard, they could become overwhelmed. Taking the Placement test allows Reading Eggs to match the lessons to your child's ability so that they can get the most from the program.
ABC Reading Eggs lets children progress through the program at their own pace, building on their skills and knowledge as they go.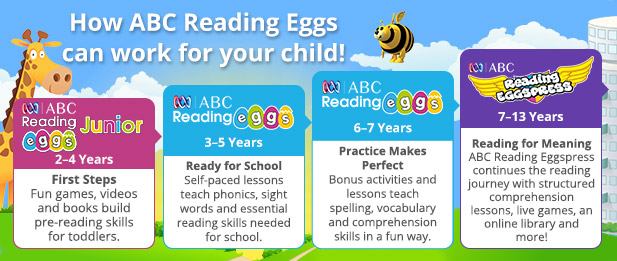 ABC Reading Eggs Junior for 2–4 years
First Steps – Fun games, videos and books build pre-reading skills for toddlers.
ABC Reading Eggs for 3–7 years
Ready for School – Self-paced lessons teach phonics, sight words and essential reading skills needed for school.
Practice Makes Perfect – bonus activities and lessons teach spelling, vocabulary and comprehension skills in a fun way.
ABC Reading Eggspress for 7–13 years
Reading for Meaning – ABC Reading Eggspress continues the reading journey with structured comprehension lessons, live games, and online library and more!
How Does it Work?
ABC Reading Eggs tracks your child's progress using easy-to-follow maps, which are a great way of giving your child the visual sense of moving forward. By completing fun lessons and engaging with games, songs and books, children can earn rewards (in the form of golden eggs) and move through the maps while unlocking different learning areas in a logical and structured way.
Parents can easily monitor their child's progress by signing into the Family Dashboard and accessing the progress reports.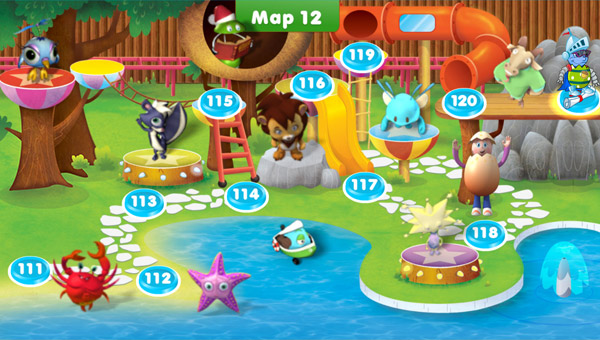 ABC Reading Eggs recommends starting with 15 minutes a day, and you'll quickly see a difference in your child's reading ability. Of course, smaller children or those with attention deficit issues may struggle to play for this length of time, so it's important to be guided by your child. The last thing you want to do is make it feel like a chore. My children loved the app so much when they were small that it became a very handy bargaining tool. Oh, the vegetables they ate in exchange for 15 minutes on the iPad to play Reading Eggs!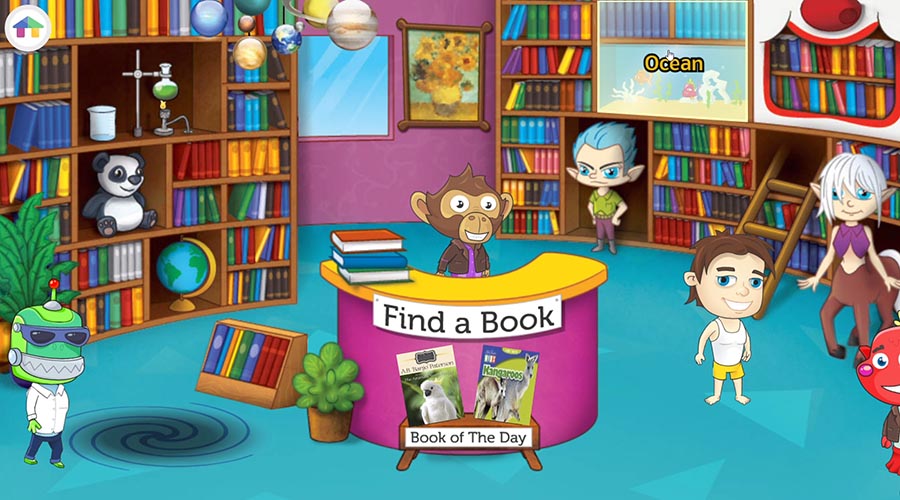 One of the other things we love about the Reading Eggs app is the extensive library of over 2,500 ebooks that are also available to you and your child to read. This allows children to pick books based on their interests and skill level, and is a fantastic way to nurture that all-important love of reading in them. After all, they are much more likely to enjoy reading when the material interests them, and with such a huge range to pick from, finding something to their taste is pretty easy!
Sign Up for Your Free 30-Day Trial
We can't rate ABC Reading Eggs highly enough – it truly is a fantastic program for teaching children of all ages to read, and read well. But don't just take our word for it – sign up for a 30-day FREE trial and see for yourself. Signing up is easy and you don't need to provide any credit card details, so you don't need to worry about being charged if you don't cancel in time.
The trial allows up to four children to use the program and also includes ABC Mathseeds, a program that teaches kids aged 3–9 core maths and problem-solving skills. So you and your children will have plenty to explore over the free 30 days.