The Fallout by Rebecca Thornton is the Page-Turner You Need to Add to Your Must-Read List This Summer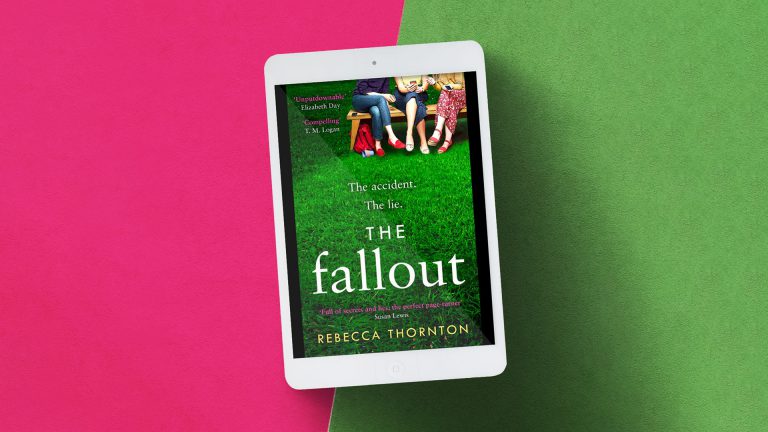 The Fallout by Rebecca Thornton is the Page-Turner You Need to Add to Your Must-Read List This Summer
If you enjoyed Liane Moriarty's 'Big Little Lies,' our hot tip for you this summer, is to get your hands on a copy of the newly released book 'The Fallout,' by Rebecca Thornton.
At the school gates, there's no such thing as yesterday's news . . .
When Liza's little boy has an accident at the local health club, it's all anyone can talk about.
Was nobody watching him?
Where was his mother?
Who's to blame?
The rumours, the finger-pointing, the whispers – they're everywhere. And Liza's best friend, Sarah, desperately needs it to stop.
Because Sarah was there when it happened. It was all her fault. And if she's caught out on the lie, everything will fall apart . . .
'A fizzing, unputdownable, gripping read' Elizabeth Day
'The perfect page-turner' Susan Lewis
'Secrets, lies, suspicion and betrayal: THE FALLOUT has it all – and then some' T M Logan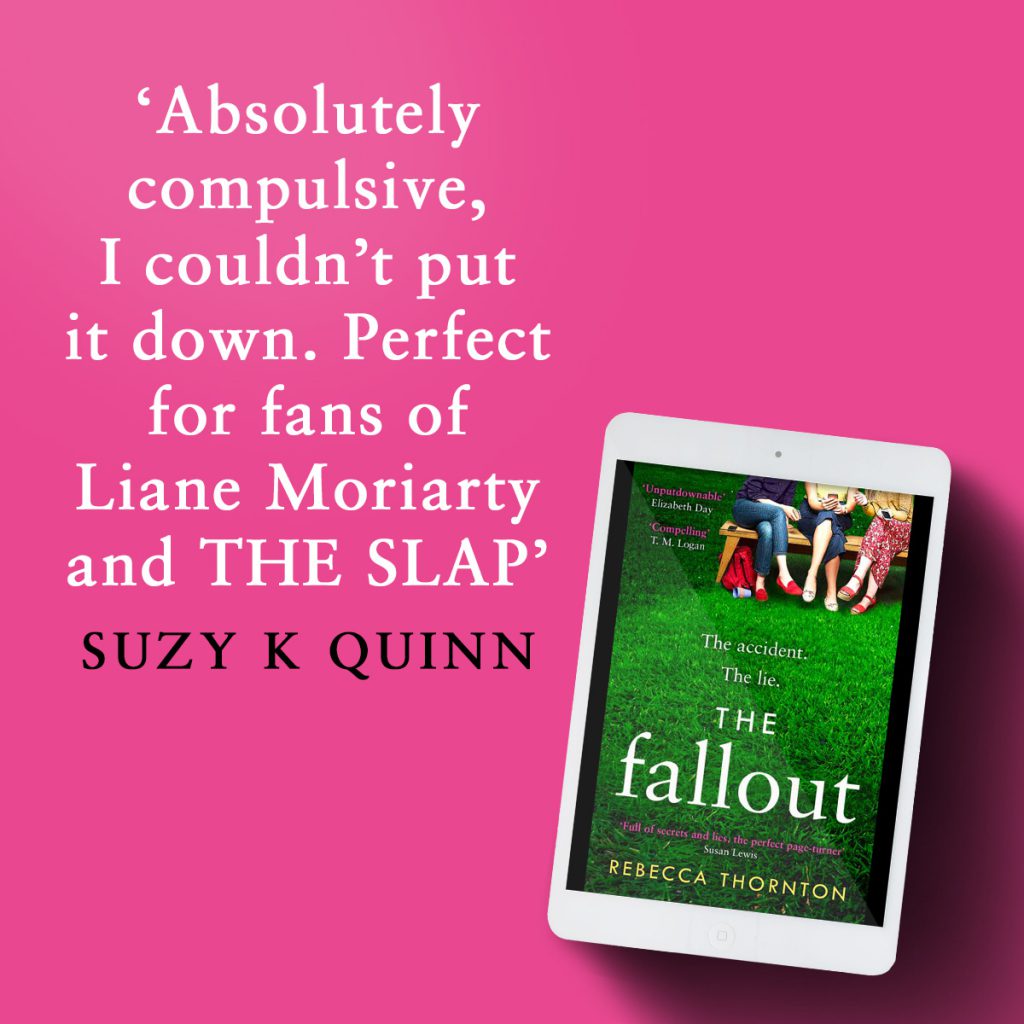 Excerpt from 'The Fallout'
SEPTEMBER 2nd 2014
WhatsApp Group: NCT West London Ladies Group Admin: Victoria Stuart-Brown Members: Victoria, Liza, Sarah, Miranda, Ella, Camilla
Victoria: Hi guys. We are absolutely delighted to announce that Otto Arthur Stuart-Brown was born yesterday to a very proud Mummy and Daddy. Hit the September baby mark. Phew! Weighed 6 pounds and 5 oz. We are totally in love. Oxytocin, ladies! It's the stuff of dreams.
Camilla: Lovely news, Victoria. Elodie was born too, yesterday. Whopper at 9.9oz.
Miranda: Ah congrats everyone. I'm still waiting for my little bundle to arrive.
Sarah: Me too
Liza: Me three
Victoria: Oh you ladies will be absolutely fine. Just remember.
Breathe, let nature work its magic. Nothing to be worried about. And remember – they're sensations. NOT contrac- tions.
Liza: How was it? We're all dying to hear.
Victoria: Good thanks! Bit tricky trying to type with one hand
whilst I feed. Just enrolling him into schools!
Miranda: Oh god. Schools? Really? Do you think I've missed
my chance already? Where did you put him down?
Victoria: @Miranda – I'll ping you separately. Yes. I'd get on it. Got to do it now ladies, or you'll miss the boat!
Ella: Typing…
***
New WhatsApp group: Renegades Group Admin: Liza Members: Liza, Sarah
Liza: @Miranda, I'll ping you separately – in our newly-named WhatsApp group. SMUG MUMS.
Sarah: Hahaha I know!
Liza: Shit I thought I sent that to the wrong group.
Sarah: I'm so tired I think I might die.
Liza: You're tired now? Wait till you get this fucker out. THEN
YOU'LL KNOW THE MEANING OF TIREDNESS.
Joking.
Sarah: Oh God. Wtf is with that school thing btw? Is she for real?
Liza: Yup. She's been banging on about it since the first step she took into our NCT class. Thank god you were there.  And normal.
Sarah: I'd have to sell a kidney first. Not that they'd be worth much at the mo.
Liza: Me too.
Sarah: £6k a term or something for the one she's been talking about. Ps Ella keeps typing then dropping off.
Liza: Sure she's fine. We would have heard by now if not. Think she's just…not into socialising too much.
Sarah: *with us*
Liza: Yup.
Sarah: haha.
Liza: Coffee later?
Sarah: Mella's? Half an hour?
Liza: See you there. I'm bringing plastic bags to sit on.
Sarah: Ping me if you hear anything from Ella before then?
So weird she hasn't been in touch. I've WhatsApped her separately but nothing – she's read it though.
Liza: Yeah will let you know. Although she'd have pinged you
before me anyway. She's a bit of a mystery that one.
Sarah: She is indeed. Do you think we did anything to offend her? She's posting on Facebook. Just seen pics of her and Christian from this morning!
Liza: Weird. Must be us then. Something someone said, or did.
Like I said, Ella Bradby is a total mystery.
Sarah: Hmmm. She sure is. Ok see you in thirty, yeah? X
Liza: Yeah X
What We Loved About 'The Fallout'
Thornton propels the narrative forward at a pace that matches modern life, switching between the two main characters, Sarah and Liza's points of view, newspaper clippings and snippets of Whatsapp conversations. The result is an unputdownable novel, that explores the minefield of motherhood, the school gate politics and the judgments that women navigate on a daily basis, often at the hands of one another. Thornton also explores the deeper themes of friendship, post-partum depression, loss, post-traumatic stress disorder and complex marriages in this fast-paced page-turner that is sure to strike a cord with many readers.
We don't want to say too much, and risk any spoilers! Just mark our words –'The Fallout' is the book that everyone will be talking about in 2020. So, grab yourself a copy and prepare to let the laundry pile mount up – because once you start, you won't want to put it down!