Dad Asks If He Was Right to Be Angry at His Wife for Being "Unhelpful" During an Emergency, Sparking Furious Responses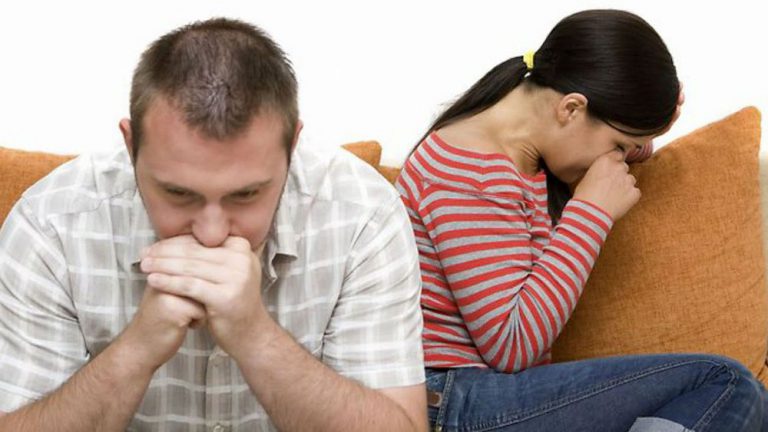 Dad Asks If He Was Right to Be Angry at His Wife for Being "Unhelpful" During an Emergency, Sparking Furious Responses
It is not very often that the internet speaks as one firm voice of concern and indignation but this man's story did just that. He asked if he was right to be upset and angry at his wife after she was absolutely useless during a family crisis.
He recounted his experience on Reddit's Am I The Asshole forum, explaining how his wife failed to do anything useful when their young son broke his arm. At first, it can be assumed that she was generally unhelpful during the ordeal, but the angry dad goes on to explain that his wife completely abandoned her parenting obligations to the point that she didn't even bother to pick up their other child from school while he was at the ER with their distraught son.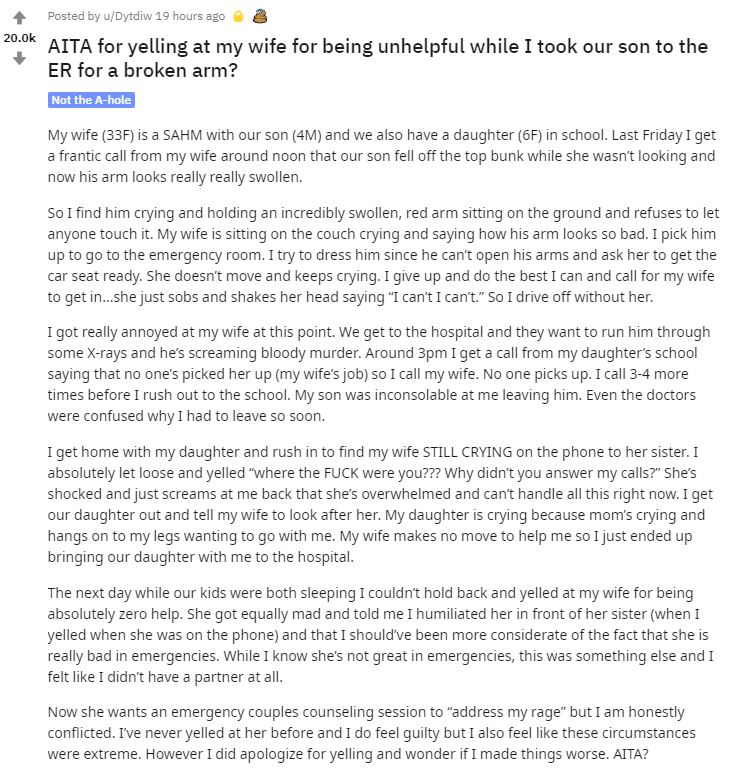 The dad went on to explain that his wife opted to cope by spending time posting on social media while he was tending to his son in the ER.
"In total, I called her more than 30 times that day. She answered 4 of those calls. She was also posting on Facebook between 3-6pm when I was still in the hospital but calling her repeatedly to have her bring our daughter home because she was getting tired and hungry. I ended up getting our teenaged babysitter to help drive my daughter home, cook, and put her to bed in the end. I was mad that a teenager was ultimately more dependable than my wife. My wife says social media and talking to her sister were her coping strategies but I feel like as a parent in an emergency you don't have the luxury of self-soothing when your kids are still in pain."
Racking up tens of thousands of upvotes and comments, the anonymous dad's story united the board with feelings of anger at the mum's neglect, concern that she may have serious psychological issues, and shock that a mum would react in such a way when her children were in pain and desperately needed her.
"This kind of response is really extreme," wrote one concerned Redditor. "Your wife may really have some kind of PTSD you just don't know about that got triggered. It's her responsibility to figure it out. And yours to help her. This is the thick and thin part. But most importantly to make sure she has a safety plan for what happens she something else scares her."
"Thank god it was a broken bone and not anaphylaxis!" added another.
"What sort of PTSD requires someone to post on Facebook for hours while their child sits abandoned at school while the other sits in pain at the ER?" contributed a third, making a fair point.
We can only hope that every member of this family gets the help they need to heal from this traumatic event.
Source: Reddit/Am I The Asshole