Want to Know How to Ditch the Dinner-Time Dread and Support Your Local Farmers? Of Course You Do!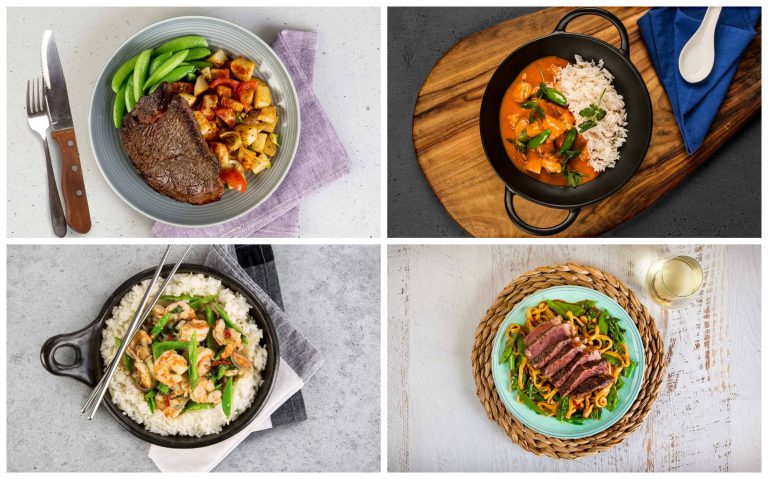 Want to Know How to Ditch the Dinner-Time Dread and Support Your Local Farmers? Of Course You Do!
One of my personal pet peeves is having to decide what to make for dinner each day. I don't know why, it just does my head in! We always seem to have the same old family favourites meals on high rotation too. The same meals week after week just in a different order. Urgh! When did my cooking get so predictable and boring? Even when I look though a recipe book for inspiration I'm likely to scan the list of ingredients and talk myself out of it if there are more than a handful ingredients or a selection of herbs and spices. There is no way I want to spend EXTRA time in the supermarket hunting for red miso paste, or Tamari, so before I know it I'm dishing up Spaghetti Bolognese again and the recipe book lays forgotten and gathering dust!
So when I was offered the opportunity to review Thomas Farms Kitchen meal-kits recently you'd better believe how excited I was! Seriously! How did I not know about this sooner?
Basically, you choose from the menu options on their website which meals you'd like to cook (there is a new menu each week) and then they deliver the fresh, locally sourced ingredients with easy to follow recipe cards to your door so you can whip up a delicious healthy meal in around 30 minutes! No preservatives, no additives or any of that other crap – just good wholesome farm-fresh ingredients directly from the producers. (And we all know how important it is to support our local farmers!)

What is there not to love about a) not having to go to the supermarket to gather your dinner supplies, b) adding new and exciting meals to your repertoire c) using preservative free meat and farm-fresh produce sourced directly from the producers? It's perfect!
Each week there are 11 recipes to choose from including 3 red meat, 3 white meat, 3 vegetarian and 2 seafood options at $12.50 per serve.
Deliveries arrive on Tuesdays and come packed in a foam esky with ice packs so even if you aren't home and it needs to be left on your doorstep it'll stay fresh and crisp for up to 8 hours.
The thing I loved about this trial was how easy the recipe cards were to follow and how quick it was to create a really delicious meal from scratch with all the necessary herbs and spices included. You just can't beat real fresh flavour!
The first meal I cooked was the Green Chicken Curry. (We are a bit mad on curry in my house, so I was excited to be able to cook a proper one myself!) As you can see from the image above it literally took 27 minutes to whip this up and EVERYONE loved it! Better still, I didn't cook enough rice for 74 people like I usually do. I love that the meals come perfectly portioned (so no wastage or temptation to overeat either!)
The Pork Bolognese topped with Pecorino was equally delicious! (I seem to have left out the tinned crushed tomatoes in the top image (whoops) but they were included. The only thing that I needed to use from the pantry for each meal was a splash of olive oil, and salt/pepper.
This meal went from my kitchen bench to my family's plates in just 24 minutes (so no longer than if I'd gone my usual short-cut and added a jar of sauce from the pantry) and totally do-able even on an evening when we get home later because of sports training. But of course because of all the beautiful fresh ingredients there was just no comparison when it came to taste. It's a good feeling too knowing you are only feeding your family good food, without any preservatives, or artificial colours or flavours etc.
The Chicken and Sundried Tomato Meatballs with Spaghetti were a huge hit! I had kind of expected it to take much longer than the recipe card suggested (20 mins Prep and 20 minutes cook) having to make the meatballs, so I was pleasantly surprised when it actually took just 37 minutes from start to finish! And it tasted amazing!
Instead of looking at mealtimes with dread (why must they be fed EVERY DAY? Lol) I actually really enjoyed creating these meals! It's given me back my mealtime mojo!
Although these meal kits were gifted to me for the purpose of this review I will definitely be ordering from Thomas Farms Kitchen in the future. The quality of the produce was excellent, the meals were scoffed down by everyone and I, like many Australians, am keen to support our farmers.
Visit Thomas Farms Kitchen and check out the recipes they have available for this week, and give them a try yourself. I promise, you won't be disappointed!