Mississippi Mud Pie Recipe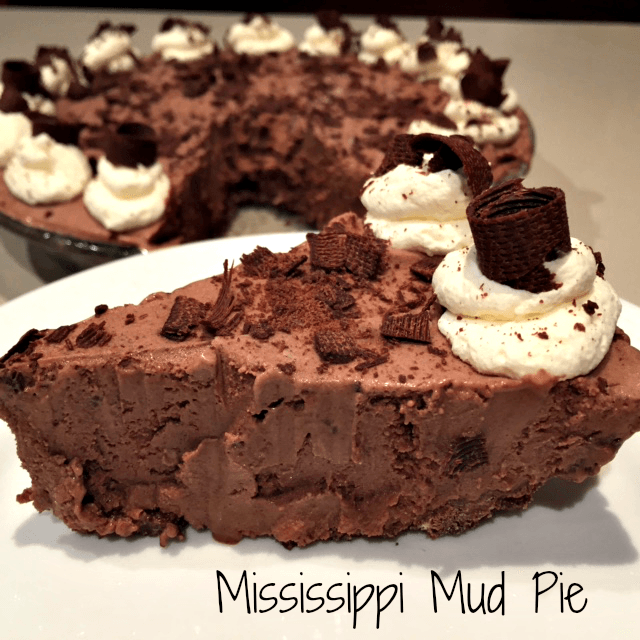 Mississippi Mud Pie Recipe
When I was a kid I lived in Calgary, Canada and there was a restaurant on one of the main drags in town called Smugglers Inn. It was a steak house; big slabs of Alberta beef, baked potatoes and an all-you-can-eat salad bar. And for dessert we ALWAYS had a piece of Mississippi Mud Pie. It was so good that we even sometimes used to call them and ask if they could put aside an entire pie and my dad would drive down there and pick it up and we would pig out on it at home.
This is basically a chocolate ice cream pie (and sorry but you do need an ice cream maker for this recipe) on top of a chocolate base with some simple piped whipped cream on top and some chocolate shavings. It is simple, it is delicious, it can be prepared any time and stored in the freezer until you are ready to serve and don't invite anyone for dinner because you are going to want to eat this all by yourself.
Mississippi Mud Pie Recipe
Ingredients
Base
1 1/2 cups (185g) plain chocolate biscuit crumbs
100g (3 1/2 ounces) unsalted butter, melted
2 tbsp brown sugar
Filling
8 large egg yolks
1/2 cup (100g) caster sugar
1 3/4 cups (430ml) heavy cream
1 1/2 cups (375ml) milk
250g (8 ounces) dark chocolate, coarsely chopped
Topping
1 cup (250ml) heavy cream
1 tbsp icing sugar
60g (2 ounces) dark chocolate, grated, to decorate
Instructions
Base: Pre heat the oven to 180C (160C fan-forced, 350F). Place the cookie crumbs, butter and brown sugar in a small bowl and stir to combine. Press into the base and up the sides of a 9-inch (23cm) pie pan. Bake for 10-12 minutes, until lightly toasted. Remove from the oven and set aside to cool.
Filling: Beat the egg yolks and sugar in a medium bowl with an electric mixer on medium-high speed until pale and thick.
Place the cream and milk in a large saucepan over medium heat and bring to a boil. Gradually pour half of the cream into the yolk mixture, stirring to combine.
Place the chocolate in a small heatproof bowl and pour in the remaining hot cream, stirring until melted.
Add to the egg mixture and stir to combine.
Return the chocolate mixture to the pan and simmer over low heat, stirring constantly, until thickened enough to coat the back of the spoon.
Do not allow the mixture to boil. Remove from the heat, transfer to a medium bowl, and refrigerate until cooled.
Pour the cooled chocolate custard into an ice-cream machine and churn according to manufacturer's instructions until almost frozen. Spoon the ice cream into the prepared pan.
Cover with plastic wrap and freeze for 2 hours (or you can leave this until you are ready to serve for the next bit):
Topping: Beat the cream and icing sugar in a medium bowl with an electric mixer until soft peaks form. Place the cream in a piping bag fitted with a star-shaped nozzle. Pipe cream around the border of the pie and decorate with grated chocolate. Cover and return to the freezer for at least 8 hours. Slice and serve.
https://mumslounge.com.au/lifestyle/food/mississippi-mud-pie/