Weehoo 2016 IGo BLAST Review and Giveaway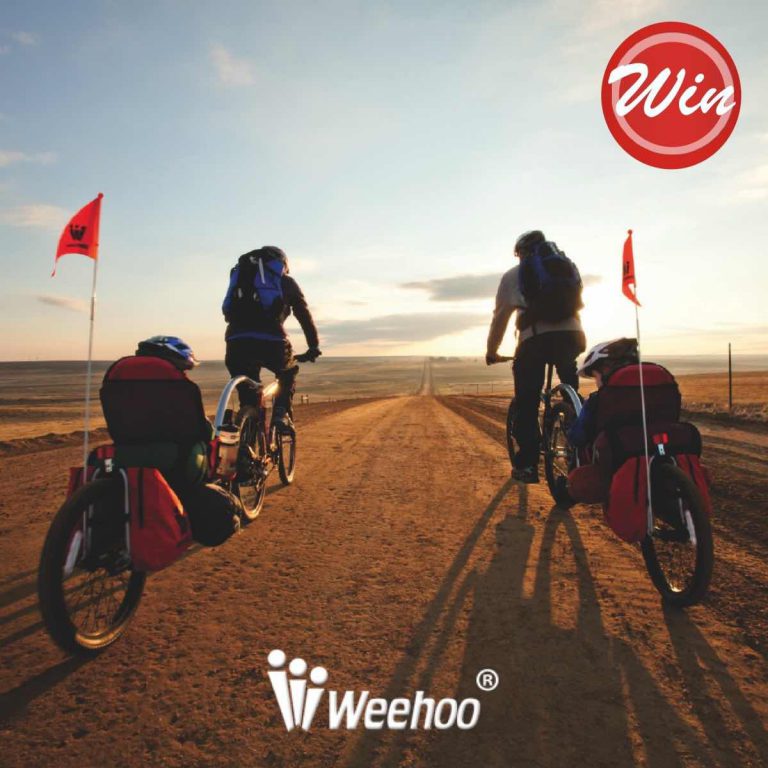 Weehoo 2016 IGo BLAST Review and Giveaway
As a family we have always enjoyed being active and getting out on our bikes and, until recently, this was pretty easy, with our 6 and 7 years olds both being pretty good on their bikes and our younger twins sitting comfortably in their seats on the back of bikes. We could go almost anywhere. However, all this changed when our twins decided it was time for them to become big kids. The challenge was, despite their best efforts, the littlest ones just couldn't keep up with their older brothers (which drove the big two mad), yet and trying to get them to stay in the 'Baby seat' a little longer was proving more difficult (which drove the little two mad). Luckily for us, Weehoo have created a fantastic bike trailer that looks far more exciting than the traditional bike seat and so we put it to the test.
The IGo Blast is the latest in the WeeHoo range, with a few changes to make it a little more compact and a little more affordable for families. The main difference being that instead of the pedals, as on the other versions, there are footrests to keep those little feet safe and secure.
On removing the WeeHoo 2016 IGo Blast from its box, it wasn't long before we were all set up and ready to go. My youngest son's first words on seeing the trailer was 'Wow this is so cool' and so the scene was set…riding on the back of Mums bike has suddenly gone from being 'something that only babies do' to being 'so cool'…ah ha success and we hadn't even left the garden yet! Needless to say that little Mr 3 was all strapped in and ready to go quicker than I could get my helmet on.
At first I was a little nervous about how the trailer might affect the handling of my bike and how I would manage the extra length it adds to the bike but it only took a couple of good rides out to get to grips with the change. The IGo Blast felt really well balanced and was certainly must easier to control than I had anticipated, with its streamlined design that could easily handle more rugged single tracks. I felt quite in control and quickly got used to taking corners a little wider until the IGo Blast was just an extension of my bike that I hardly consciously noticed anymore. The world was now our oyster and more family adventures were laid out before us!
The WeeHoo 2016 IGo Blast's seat has been redesigned, so that the seat can now be adjusted without the use of tools, making a quick change of rider or adjusting for a growing little one nice and easy. …just a few twists and slide then we are ready to go again.
Safety has really been thought about with the IGo Blast and aside from the well-engineered design there are plenty of extra features that help keep my little ones safe on route. The seat has a weight limit of up to around 36kg, so it more than comfortably holds most 4 year olds, which is its age limit. The harness clips in easily and securely and my little ones were able to do this themselves and so I merely checked and adjusted them once they were in.
When it comes to packing away the IGo Blast it's made really quick and easy by simply removing the snap pin and sliding out the push bar, which makes it nice and easy to pop into the back of the car and take on some bigger adventures exploring the great outdoors. The snap pin design means that the trailer can easily be switched from one bike to another, using a clever sleeve (that come in a range of sizes for a perfect fit) that slots straight onto the seat post, so my husband got to unhitch and hit some more off road tracks on his mountain bike.
The WeeHoo 2016 IGo Blast has provided us with the means to continue enjoying our adventures out and about on our bikes with the family…the squeals of excitement have filled the air on every occasion. I am sure that by the time our youngest ones have grown out of their IGo Blasts, their little legs will be quick enough to keep up with their brothers, but for now they have a great and exciting way to travel and enjoy our family adventures together.
The only trouble that we have had with the IGo Blast is that we only have one!! This has caused a few 'discussions' and tears between our twins to iron out who's turn it is to ride in it, so it's looking like we might be in the market to purchase a second one.
The IGo Blast looks great, is loads of fun and is an exciting way to enjoy the outdoors with your family. The design is well engineered to be balanced and streamlined, making for a safe and comfortable ride. When I asked my twins what they thought of the IGo Blast, Mister 3 said 'It's epic! I am like superman!' And Miss 3 said 'I like it cos it goes super-fast like a unicorn'…so there you have it Superman crossed with a unicorn, who could want more!!
Written by Julie Williams
Thanks to WeeHoo  we are offering our readers the chance to WIN a super fun WeeHoo 2016 IGO Blast of their own worth $225. Simply enter below and good luck!
Disclosure: The author was gifted this product for the purpose of giving an honest review. All thoughts and opinions expressed here are the authors own.
Win a Weehoo 2016 IGO BLAST