Win a Safe n Sound Maxi Rider child car seat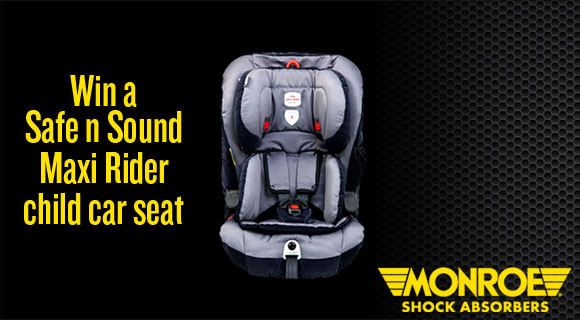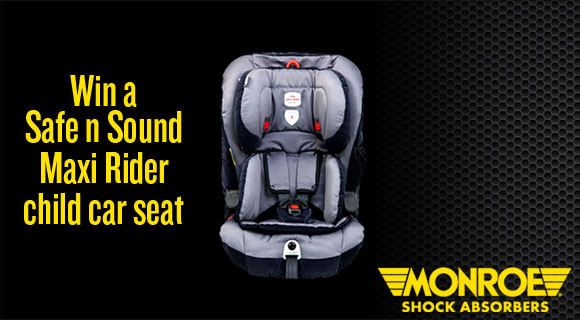 Is your family's car safety important to you? It is to Monroe Shock Absorbers, and to prove it they have a Safe n Sound Maxi Rider AHR Booster Easy Adjust V12 Garnet (rrp $529) to give away.
Sure, they're not the most exciting of purchases but shock absorbers can affect your steering and brakes significantly and they need to be checked regularly.
What are Shock Absorbers?
Shock Absorbers…not the most exciting of purchases, but they're essential to car safety. And because mums are forever dropping off here and picking up there, car safety is uber-important.
Like most people you probably weren't aware that shock absorbers are vital to the overall safety of your vehicle. They should really be checked every 20,000 km to see if they need replacing. The problem is that checking shock absorbers isn't always part of a routine service check – you have to specifically ask for them to be looked at.
Your steering, tyres and brakes can all be severely impaired by worn shock absorbers. Let me explain (without all the technical jargon). Shock absorbers are hydraulic (oil) pump-like devices that help control the impact and rebound movement of your vehicle's springs and suspension. When you are travelling over uneven surfaces it is the shock absorbers that smooth out the bumps and the vibrations and keep your tyres in contact with the road surface at all times. This ensures both passenger comfort and safety – any time that a tyre's contact with the road is broken or reduced, it also severely compromises the driver's ability to steer and brake.
Signs that your shock absorbers need to be checked
If you're experiencing the following, your shock absorbers may be worn and it's time to get them looked at:
Trouble braking – Worn shock absorbers can add as much as 20% to your stopping distance. This can be fatal and requires immediate attention.
Nose-diving and swerving – The bonnet of your car dips when you brake or slow down or your vehicle swerves when you brake.
Vibration – Uncomfortable steering wheel vibrations
Side slide – Your car veers in side winds (particularly if they are not very strong)
Shake, rattle and roll – Does your car rock and roll over bumps, railway tracks and uneven surfaces? Not hugging bends?
Uneven tyre wear – (particularly if there are bald patches.)
Remember, it's much better to be safe than sorry. If you've noticed any of these signs, ask a mechanic to check your shock absorbers immediately. Check here to find your local Monroe Shock Absorbers dealership.
Giveaway
In keeping with Monroe Shock Absorbers' car safety message they are giving you the opportunity to win the Safe and Sound AHR Maxi Rider Easy Adjust, suitable from 6 months to 8 years, (RRP $529)
Features of the Safe and Sound AHR Maxi Rider Easy Adjust Child Seat:
The AHR (active head restraint) is designed to be adjusted as your
 child grows with deeper, foam-lined side wings that shield and contain your child's head in a side impact crash
Converts from a Forward Facing Seat with In-built Harness to a Booster Seat.
In Booster seat mode use the exclusive Safe-n-Sound SLIDEGUARD clip to prevent slumping and the lap belt rising onto your child's abdomen.
In Booster seat mode the AHR Headrest features a sash guide which ensures that the sash part of the seat belt is across the shoulder correctly restraining the occupant.
Protecta PLUS Harness compatible with exclusive Versa Tether connection (sold separately).
Speakers in headrest.
2 position recline offers additional comfort for a sleeping child.
2 rotating cup holders.
Pivoting arm rests.
Accessories include- reversible padded insert, shoulder pads & high back car seat messy mat.
Suitability:
 – Toddler Mode – 6months to 4 years old (approx.)
 – Child Mode – 4 to 8 years old (approx.)
You can read the Mums Lounge full review of this child safety seat here.
To enter for your chance to win, follow the instructions on the rafflecopter widget below. Good luck!