Are We Raising Our Kids to Be Self-Entitled Brats?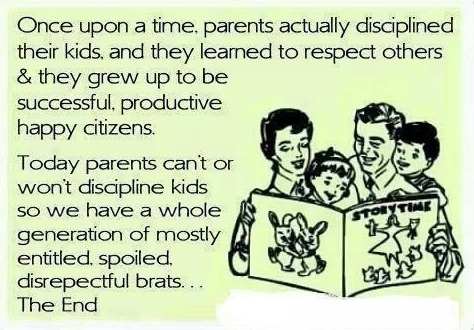 Are We Raising Our Kids to Be Self-Entitled Brats?
I was the opposite of athletic as a kid but it was compulsory to compete in the end of year athletics' carnival and I dreaded it. I was the slowest, the clumsiest and the most awkward on-ground as I failed to negotiate the high jump on the lowest rung, tripped over hurdles and came in last in every race. I never once came home with a ribbon, medal or trophy.
These days I bet there isn't a kid under 18 who doesn't have a swathe of them on a shelf in their bedroom because everyone is a winner. Here you go honey; here's a prize just for participating. Because God forbid a child should have to feel bad for losing.
Recent studies are saying that kids born after 1993 are self-entitled, self-absorbed, over-indulged and have no clue how to form meaningful relationships and guess what? It's not their fault. It's their parent's fault.
I watched this video with Simon Sinek regarding the millenials and was absolutely fascinated by his thoughts and words. It's kind of long but it has been shared far and wide on social media and I've noticed that the ones who are sharing it the most are in their 20's so it's obviously resonating with them too.
What he says in a nutshell is that instead of teaching our kids morals, values and the meaning of a hard day's work, we pampered them by providing them with pocket money they didn't earn, propped up their precious egos by handing out prizes they didn't deserve and failed to teach them the social skills of interacting with other people by allowing them to receive instant gratification and "friends" on social media. They were told they could be or do anything. An AFL player, a world-class ballerina, a physicist or a super model despite the fact that they had no ball-handling skills, no talent, no mathematical skills and were short and stout.
And how did this teach them and prepare them for the real world when you DO have to be the best to get the job or the promotion?  It was a shock to the system when they were rewarded for just turning up and it was a disincentive for the ones who practiced, sweated and worked hard to be the best.
We now have an entire generation of unhappy, disenfranchised young adults who are dissatisfied with anything less than instant gratification. They quit jobs months after starting them because their boss "hasn't seen their true potential." Suicide rates for kids in their 20's is at record levels.
And as for forming meaningful relationships? They are addicted to using filters to post perfect photos on Facebook and Instagram to achieve likes and followers. They spend more time flicking through their phones than in conversations with the people sitting next to them at the table. There's no need to work hard to impress a potential partner by striking up a conversation and going out on a date when you can swipe right on an app. They aren't forming healthy, meaningful relationships face-to-face and everything they know about their "friends" is learned on social media.
We fucked up and we need to fix this. Kids need to know that the world is a competitive place to live in and that they can't be anything they want to be. They're not always going to come first and they're not going to be good at everything. Let's delay the technology for as long as possible and go back to basics. Don't worry about being your kid's best friend. Our jobs are to prepare them to face the world head-on armed with all the skills and knowledge to live an independent life by working hard, exhibiting patience and learning how to interact with other people in a healthy and meaningful way.