Salad Servers Direct Home Delivery Meals Review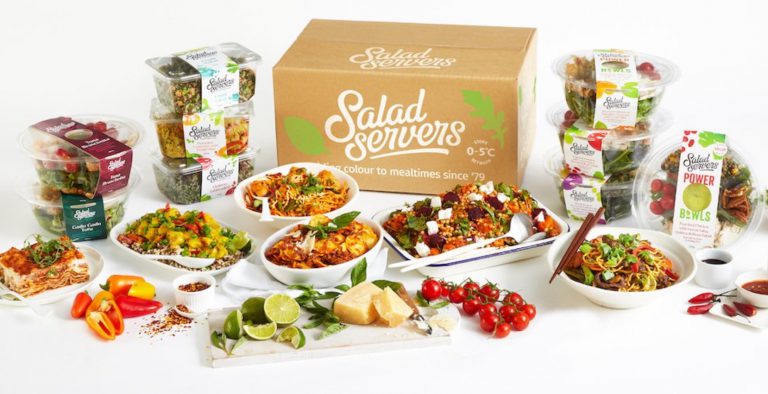 Salad Servers Direct Home Delivery Meals Review
When I was at University, I had a boyfriend who used to tell the story of the cake his mum would bake every Sunday when he and his brother were out playing sport. As they walked through the door, tired from the game, with dirty knees, their mum would be in a flour-dusted apron, wiping the last of the flour off the kitchen bench. She'd tell them to jump in the shower and she'd have a nice piece of homemade cake waiting for them when they were clean. This Sunday ritual continued for years, until one day, as their mum was cleaning the flour off the surfaces, one of the boys accidentally discovered the packaging for a store-bought cake in the bin! She'd been spending her Sundays wisely, with a good book in her favourite chair and would fling flour around the kitchen before the menfolk returned home, to make it look like she'd been baking all day!
As a 19 year old, I thought this story was hilarious. Her husband and sons would tease her about it good-naturedly often when they got together and the topic of cake came up. At the age of <cough>…well, let's just say a little older…with children of my own, her evil genius resonates with me so much more. The truth is, sometimes you've got to cut yourself some slack, and outsource some of the work to someone else. Considering how many times a day mums often end up preparing meals and snacks for our loved ones, who can blame her for taking a much more convenient option? I don't care how much you love cooking, a night or two off from the kitchen is always a good idea!
Disclosure: I was gifted meals from the Salad Servers Direct range for the purpose of providing an honest review. All thoughts and opinions expressed here are my own.
Having said that, I'm not really one for eating takeaway meals, so when I was recently offered the opportunity to trial a healthy, home delivery meal service that offers meals big enough for the whole family, you betcha' I was up for it! Who knew – with the extra time I'd gain, I might even discover a good book on my favourite chair, hidden beneath the mountain of washing waiting to be put away! A girl can dream!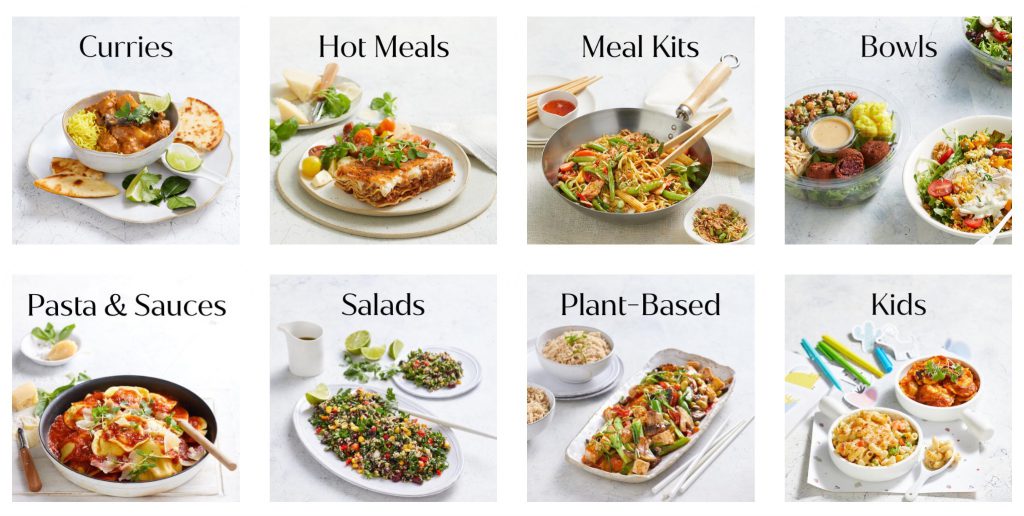 I know! How good does this food look?
Salad Servers Direct
Salad Servers is one of Australia's leading salad and meal producers and has been operating since 1979. Historically, they've supplied salads, soups, sauces and risotto primarily for big retailers, supermarkets, airlines, restaurants and caterers, and now are finally going direct to homes, saving you time and money.
The first thing I noticed when I headed to their website to check out their menu and make my selections, was how colourful, fresh and healthy the meals look. Exactly the kind of food that I like to eat and serve to my family. They've got everything from curries, stir-fries, pasta, risottos, bakes, soups, salads and more.
Salad Servers Direct source from their approved suppliers and from local farmers with whom they have longstanding relationships. Meals are prepared at their Sydney-based facility close to your selected delivery time, to ensure you receive fresh meals with maximum shelf-life. For example, their pesto sauce is made using fresh basil picked that very morning straight from the farm. You can't get fresher than that!
My Order
After much deliberation, I finally ordered:
Butter Chicken 1.5kg
Saffron Basmati Rice 750g
Classic Caesar with Poached Chicken 240g
Beef Lasagne 1kg
Hidden Veggie Mac & Cheese 750g
Chicken, Cashew & Snow Pea Stir Fry Kit 1.5kg
Bean Medley w Lemon Zest 900g
Gourmet Thai Noodles 900g
Beef & Veg Mini Ravioli 2kg
Basilico Sauce (Tomato & Basil) 1.5 kg
It arrived during the early hours of Saturday morning, in cardboard boxes with an insulated silver lining and frozen ice packs to keep it chilled.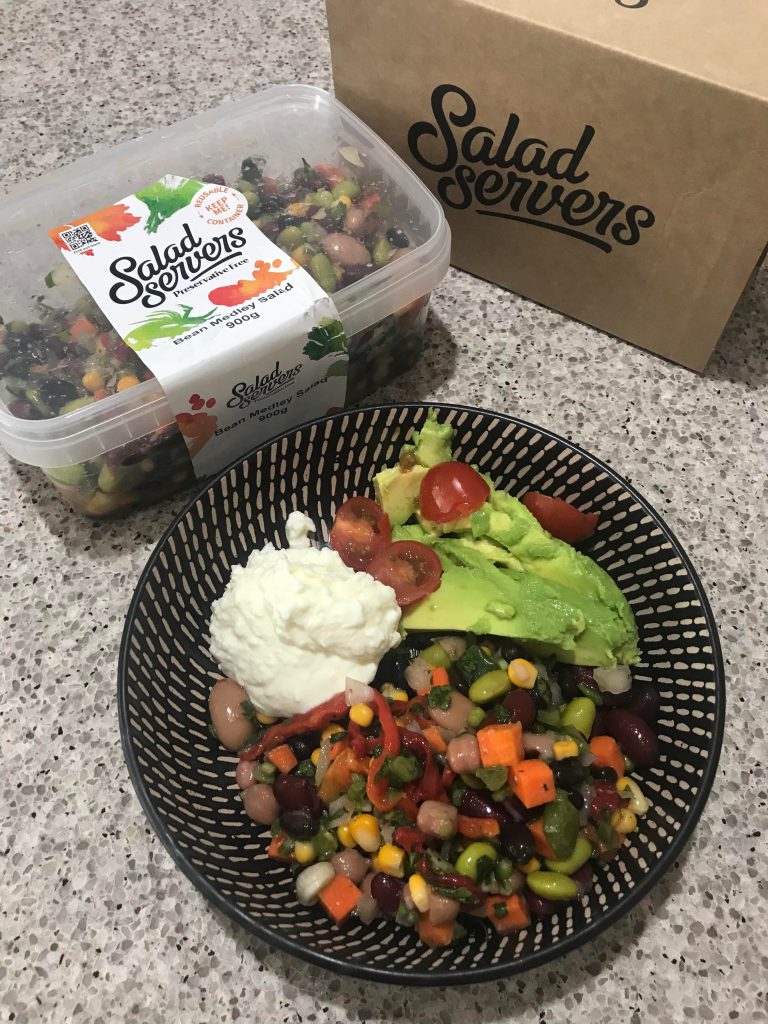 The Bean Medley Salad
The family-sized Bean Medley Salad serves 5, and although my daughter did take one serve to school for lunch with her one day, I managed to savour this one for my post-workout meal. All that lovely plant-protein was the perfect pick-me-up, coupled with half an avocado and a dollop of cottage cheese after a hard exercise sesh. Although I'm keen to try some of the other salads (as they are perfect for having in the fridge for lunch or as a side to the main meal), I can see me having this particular salad on the reg.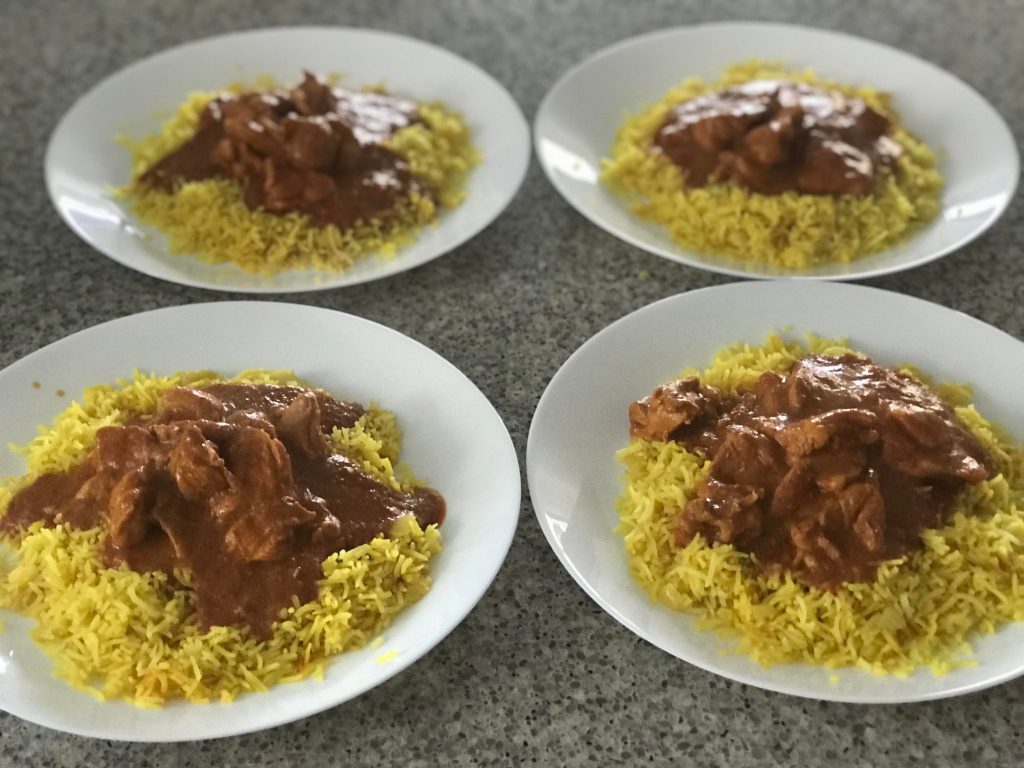 The Butter Chicken and Saffron Rice
I've only managed to fit four plates into the photograph, but there was enough for 5 very generous sized portions. My teenage boys are both in the midst of another growth-spurt, and have insatiable appetites at the moment, so I served this meal with a mini naan bread each, and we were all full to the brim!
The butter chicken is flavourful but mild, so even my daughter, who is not a huge fan of foods with spice, enjoyed this meal.
The preparation was incredibly easy, and simply consisted of me emptying the bag of curry into a saucepan and heating it, and popping the rice into the microwave. From the time I took the Salad Servers meals out of the fridge, to the time I placed them on the table in front of my family was around 10 minutes!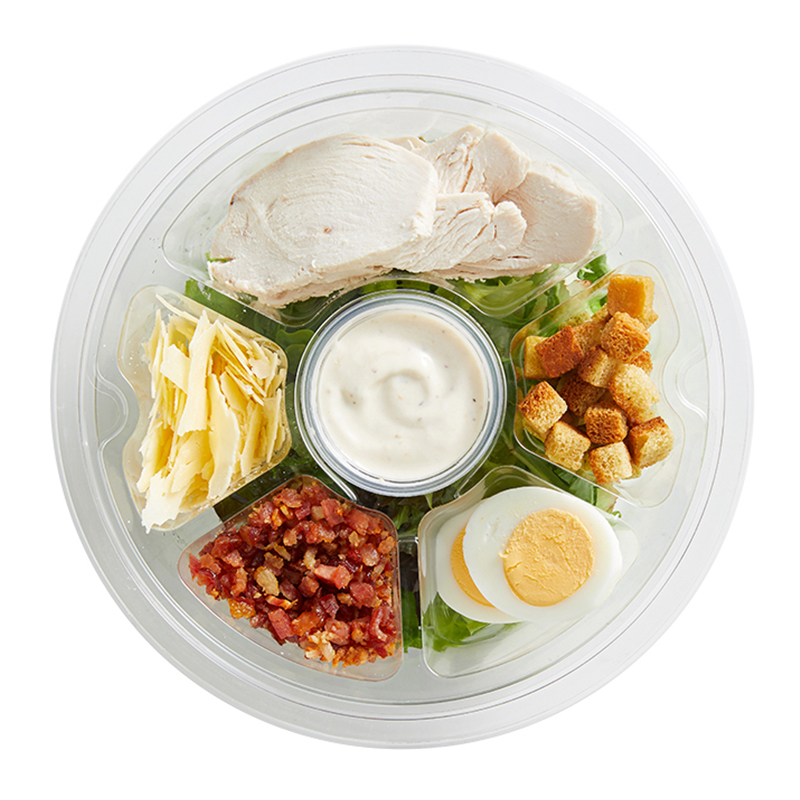 The Caesar Salad with Poached Chicken Bowl
My daughter, drawn by the cute bowl, with its separate sections had her eye on my Caesar Salad bowl the minute she spotted it in the fridge. Now, whilst I admit to hiding in cupboards occasionally to savour a piece of chocolate that I don't want to share with my offspring, when they want the good stuff, I'm not going to say no.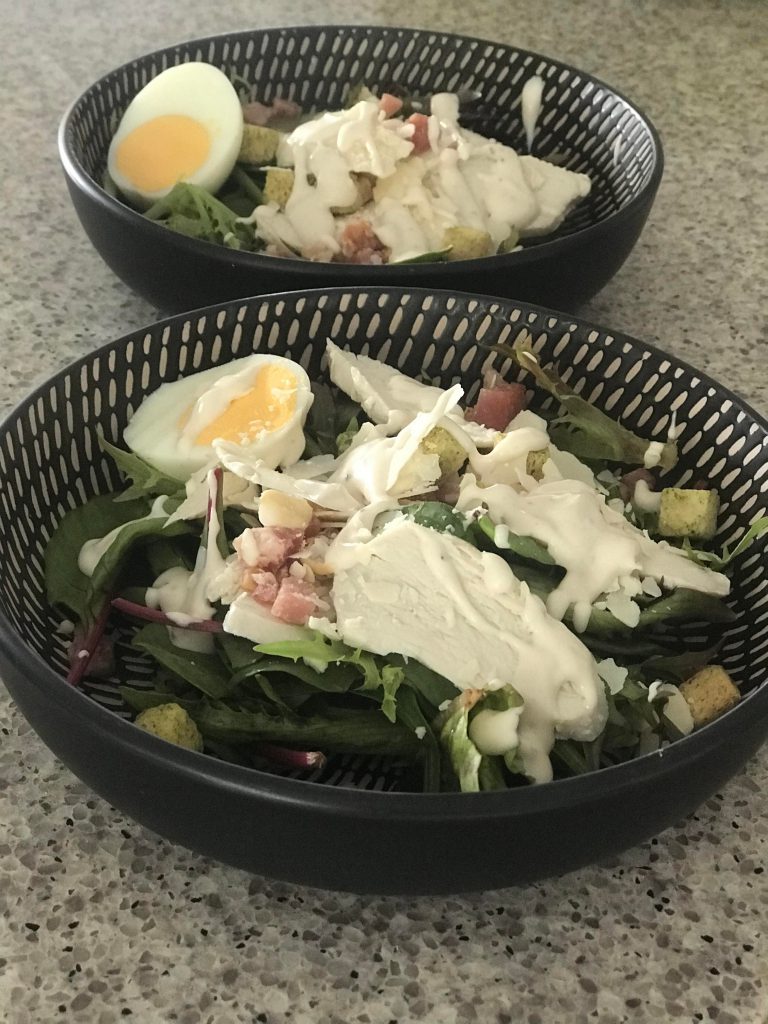 Fortunately, there was more than enough included in the bowl for two of us for lunch – even with hubby stealing a couple of bites from me! It was fresh and delicious!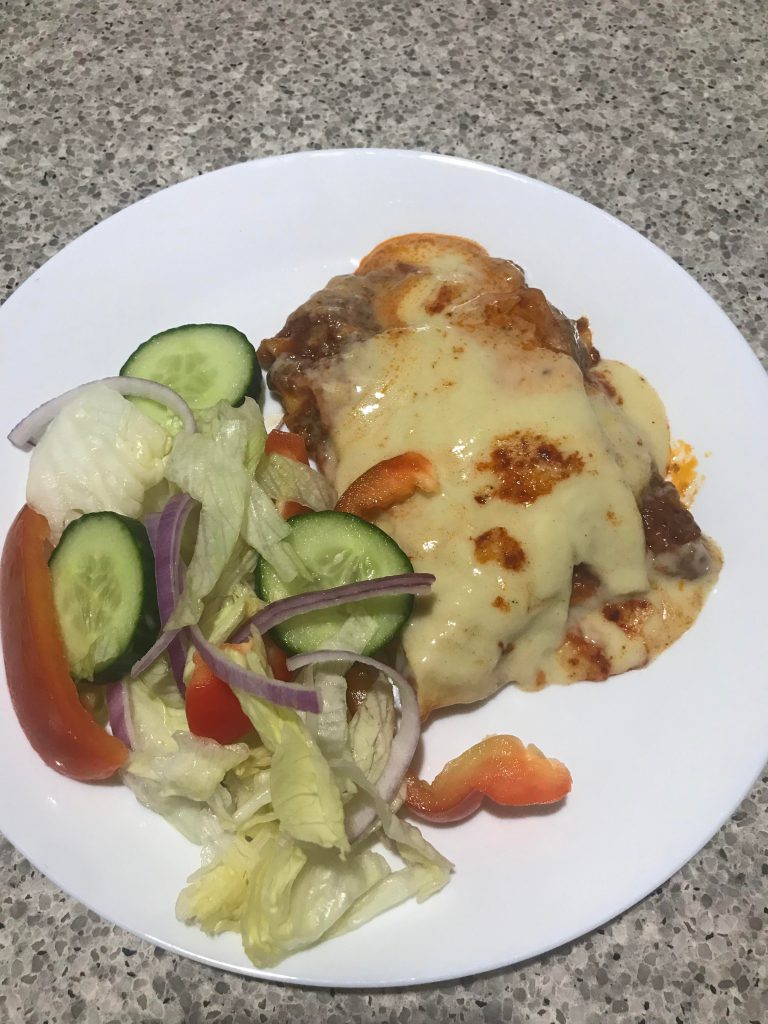 The Beef Lasagne
The kids and I had the lasagne for dinner on one night when hubby was out, as it's a 4 person serve. All I needed to do was pop it in the oven to warm and brown on the top for 30 minutes, and it was ready to be served with a side salad and some garlic bread.
My kids and I love lasagne, but I'll admit to only making it maybe once a fortnight, because as much as I love the prep, and the eating, I absolutely loathe scrubbing the lasagne tray with the food baked on at the end of the day. (Who am I trying to kid. I totally let that pan soak and tackle it the next day!) So, whilst the kids didn't get lasagne leftovers the next day because the lasagne was split evenly 4 ways, I did get the pleasure of screwing up the foil container, putting it in the bin, and reclaiming what would have been 10 frustrated minutes of pan-scrubbing. Winning!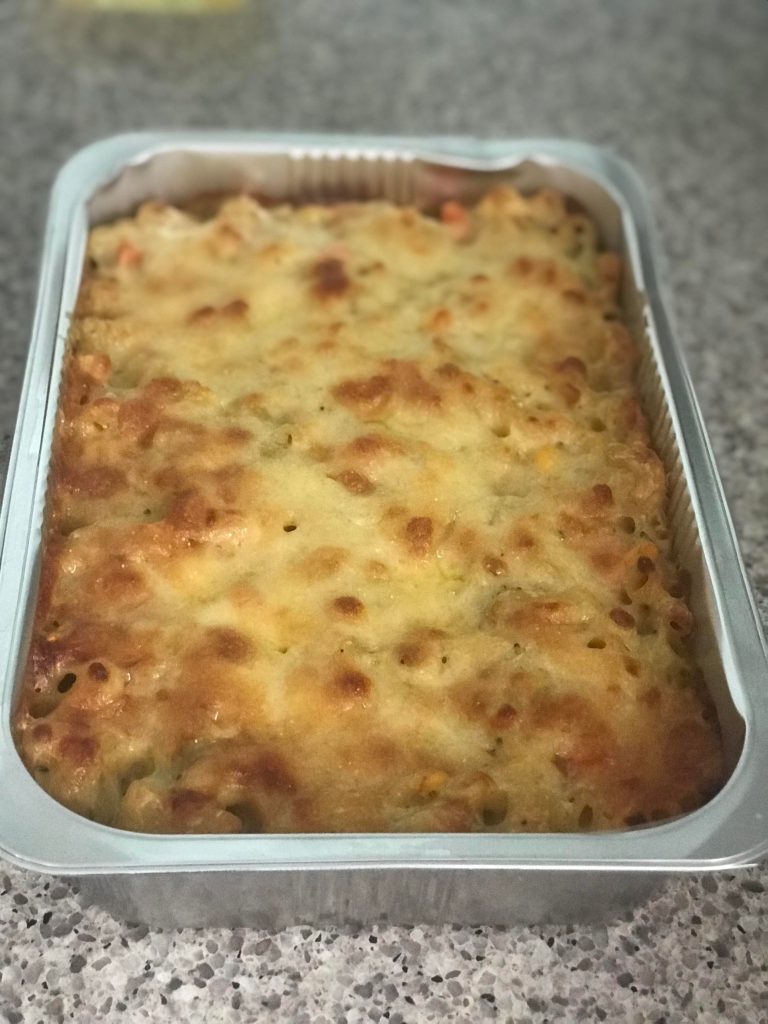 The Hidden Veg Mac n Cheese
Having the Salad Servers Mac n Cheese in the fridge, turned out to be a godsend one night when, after finishing work later than normal and having a yoga class booked, I had to rush out before making dinner! After setting the timer on the oven to 30 minutes (plus a 2 minute warm time), I was able to leave my teens to 'fend for themselves.' Thank goodness for oven timers, is all I can say. I was able to relax into Savasana without worrying if my house was burning down! But of course, the smell coming from the oven drew them out of their rooms anyway, and my eldest took it out of the oven when it was ready and they all helped themselves. Surprisingly, they even left their Dad some!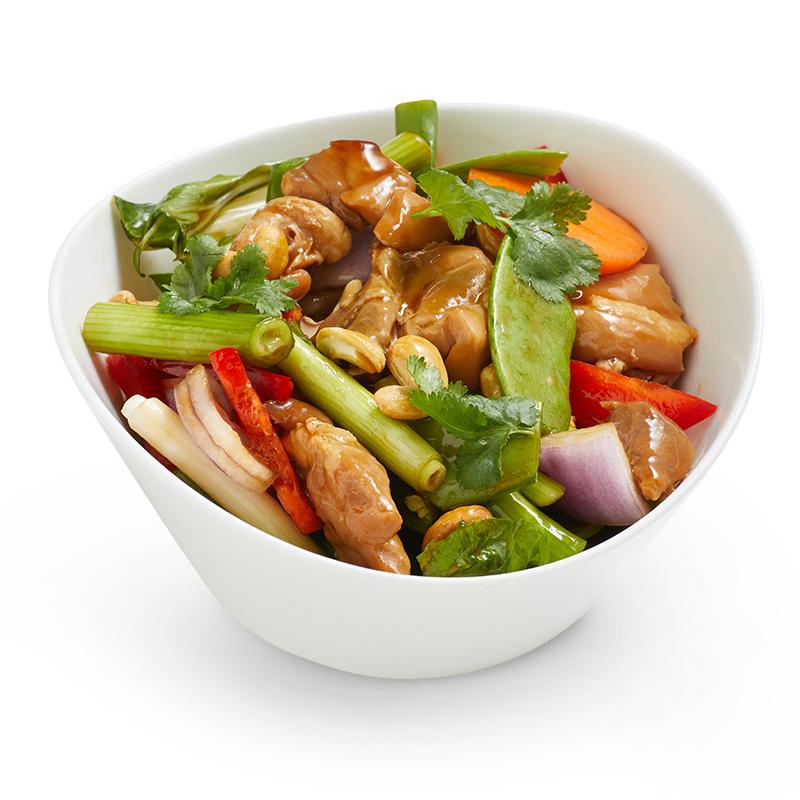 The Chicken, Cashew & Snow Pea Stir Fry Kit
Whilst I did take a short video of the chicken, cashew & snow pea stir fry cooking in the wok (to share on my stories), I completely forgot to take any photographs before we sat down to eat. By the time I realised my mistake, there was very little of it remaining in anyone's bowl. It was insanely tasty, and at $29.50 for 1.5kg (5 portions) was a fraction of the cost of buying takeaway for 5 of us! I loved that all the fresh veggies I needed came in the kit, as well as the meat and sauce which just needed to be heated through in the same wok. The least washing up the better, right!? We'll definitely be trying other Salad Servers meal kits in the future.
The family-sized salads come in reusable plastic containers that you can wash and keep after use.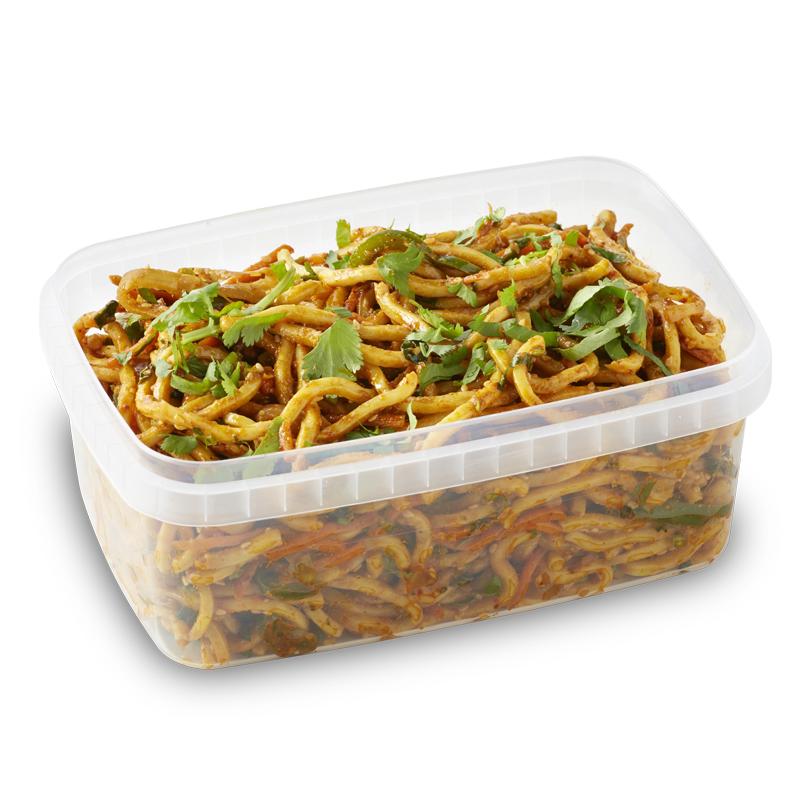 Gourmet Thai Noodles
Apart from one lunchtime, when I mixed some of the Thai noodles in with my Bean Medley Salad (yum), I didn't get much of this salad at all!
Why just have one salad for lunch, when you can have two mixed together?
They were there one day, gone the next! You've got to be quick in this house when there is food around! I loved having this in the fridge for them to help themselves to though. You know what kids are like, when it comes to getting themselves something to eat, they'll always reach for the quickest easiest option. So, instead of heading to the pantry for a packet of chips, they dished themselves out a bowl of noodles.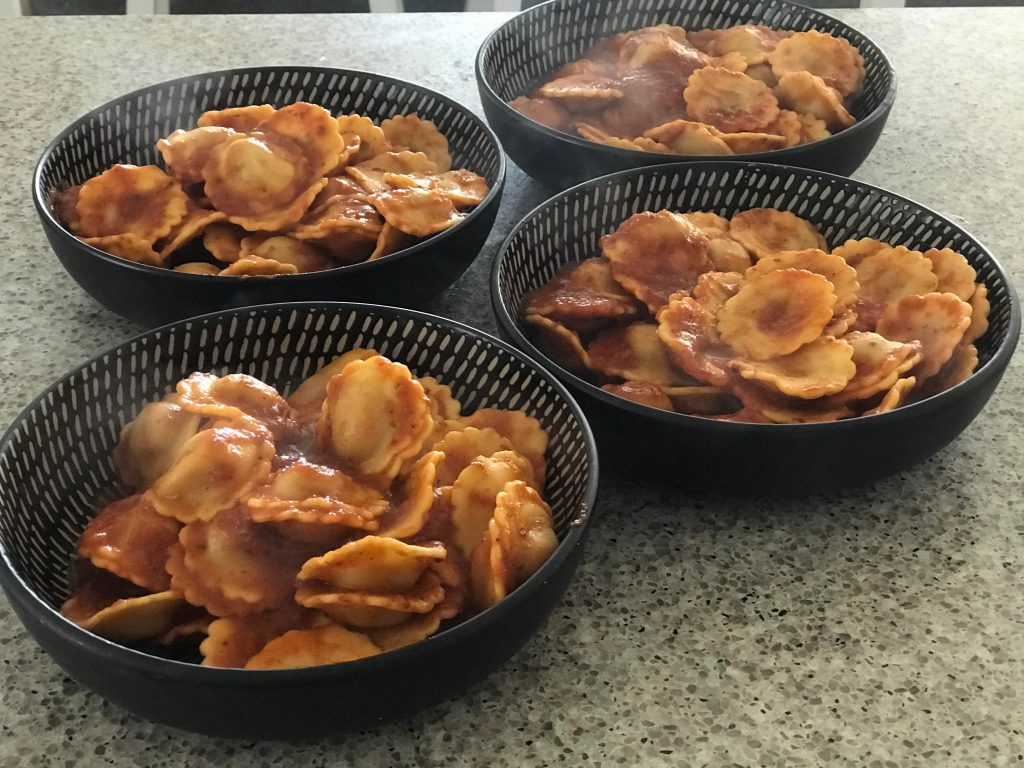 Mini Beef and Veg Ravioli and Basilico Sauce
Pasta is always a popular meal in my house – the kids love it and I love that it can be whipped up quickly. The beef ravioli was ready in record time though. It just needed to be heated in boiling water for 3-4 minutes, and added to the heated basilico sauce, and WHAM! Dinner was done.
The 1.5kg bag of ravioli was enough to feed my family of five, and my friend's family of five! So, it's a really convenient meal option, that's also great value for money. Perfect for a busy evening when you might be rushing between school, work, sports training etc and don't have the energy or the inclination to cook!
Conclusion
My family and I have loved the opportunity to try the Salad Servers Direct meals for ourselves, and intend to order more in the future. I've particularly loved having fresh ready-to-eat salads in the fridge that I can dish out for my lunch, or the kids can help themselves to when they come home hungry from school. They are hugely convenient, well-priced and taste delicious and fresh. It's like having one of the amazing looking salad bars you see in cafes, sitting waiting for you in your own fridge. I love that!
As I also mentioned previously, we also have plans to work our way through the curries and the meal kits, as it's like having a healthy takeaway night, but without the huge bill! The best part is that I can choose when and if I want to order, depending on what plans we have that week. I might order nothing one week, and enough food to cater for a party the next week – it's totally up to me. There are no subscriptions to worry about.
Click here to check if Salad Servers deliver to your area.
Interested in trying this delicious meal delivery service for yourself? Salad Servers Direct are giving Mums Lounge readers 20% off their first order! Use Code MUMSLOUNGE at the checkout.