Toys R Us Returns to Australia – Relaunching with a 20% Sale Off EVERYTHING!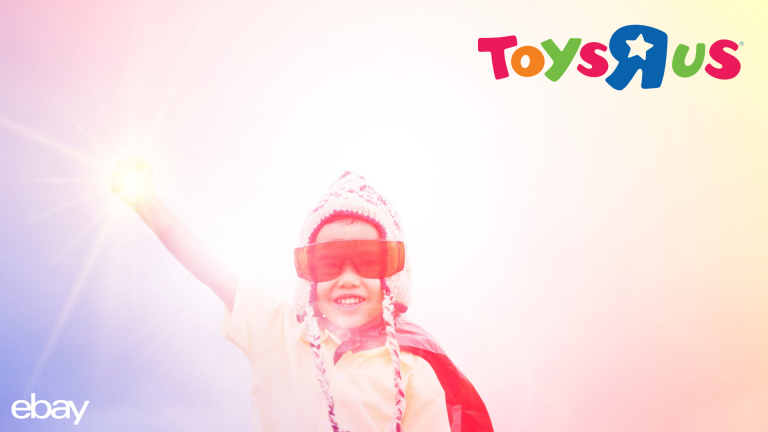 Toys R Us Returns to Australia – Relaunching with a 20% Sale Off EVERYTHING!
After closing its doors almost 12 months ago, the iconic toy store 'Toys R Us' has reopened its stores in Australia, this time with its focus on online shopping.
Toys R Us is amongst a large number of big Australian brand stores to expand its online presence by opening a store on the ever-popular shopping platform, eBay. In fact, they've added more than 40,000 items to the marketplace and until Monday 8thJuly 2019, they are offering shoppers 20% off everything storewide! To take advantage of this fantastic discount and get ahead with your Christmas and birthday shopping, simply use the code PLUTO at the checkout!

Of course, we highly recommend you head over to the Toys r Us eBay store for yourself to bag yourself some bargains, but we've put together a list of just a few of our favourite toys you can find there.
Fisher Price Think Learn Code-a-pillar $98
Code-a-pillar inspires little learners to be big thinkers by encouraging preschoolers to arrange (and rearrange) the easy-to-connect segments in endless combinations, sending Code-a-pillar on his path. This learning toy encourages experimentation while developing important skills like problem solving, planning & sequencing and critical thinking. There's no end to the combinations kids can make a mix up the segments and put them back together to send Code-a-pillar in a different direction every time!
Every time kids change and rearrange his segments, Code-a-pillar takes a different path. Every time a with cool sounds and lights wherever he goes! Includes 1 sound segment, 3 straights, 2 right turns and 2 left turns to send the learning fun in endless directions! Kids can even configure the segments to make Code-a-Pillar reach targets they set up throughout the room.
Code-a-pillar is one of the new Think & Learn toys from Fisher-Price that goes beyond ABCs and 123s to help children learn how to think independently. Each toy fosters 21st century skills like curiosity, experimentation and problem solving in ways kids haven't seen before. They're engaged in hands-on, open-ended discovery that helps them become lifelong learners.
Enchantimals Baking Buddies Doll Set $26.40
The baking buddies storytelling pack, inspired by the world of Enchantimals, is positively enchanting – a six-inch Petya Pig doll, Streusel pig figure, a second pig friend and accessories to create a friendly kitchen scene. The bakery pieces are colourful and have fun details to inspire storytelling. Kids will love a pig-shaped oven decorated with a heart-cut out in the door – open it to "cook" the plate of cupcakes inside. A spoon and spatula help to serve up fun! Petya Pig doll is ready to get cooking in a brightly coloured outfit with a floral print on her removable skirt, pink shoes and polka dot apron. A white baker's hat is pretty her rooted hairpin, and her pig's ears are so cute. Her two pig friends – one medium and one small – are adorable. Streusel pig figure has a dynamic pose and expression, and the smaller one comes with a removable chef's hat and furry hair of its own. Kids will love recreating the wonders of nature and celebrating a world where Caring Is Our Everything. Collect them all to build a world of Enchantimals and tell enchanting stories of your own
Hasbro Furreal Ricky the Trick-Lovin' Pup $147
Ricky, the Trick-Lovin Pup pet is eager to perform tricks, and is sure to amaze everyone who watches him. He's full of surprises and affection, and responds with 100+ sound-&-motion combinations that keep kids guessing. He's all about tricks, licks, and treats!
He can balance his bone toy on his nose, and with a voice command, flip it into his mouth! Reach for his paw and he'll raise it for a friendly handshake.
When he's excited, he'll shuffle his paws and bark happily. And he's very affectionate, so get ready for lots of doggie licks!
Reward him with an included doggie treat, then pet his back for toots and poops!
Barbie Mix n Color Barbie Doll Blonde $37.90
Create fabulous hairstyles — and custom hair colours — for Barbie doll with colour-mixing fun! With Barbie Mix n Color doll, young stylists can create unique colours with ease. Simply choose your hair colour cards, add water and mix it up! There are 36 colour cards included — six hair colour cards for each of six different colours: pink, purple, yellow, blue, strawberry blonde and brown. Mix different hair colour cards — up to two at a time — to create completely custom colours! Add water to the hair colour cards with the spoon end of the tool and mix with the brush end. Use the same tool to apply the colour to Barbie doll's long hair. Use one colour or many. Go all over or add streaks. Then use the included hair elastics to style even more creative looks, adding braids, ponytails and up-dos. Enjoy the look and play out a story, then start all over again. Simply wash out the colour and comb the hair out (a comb is also included) to begin anew. Barbie doll is ready for anything in a stylish outfit with black top, print skirt, bright pink sash and cool black shoes. Create a fabulous hairstyle to express your style or mood, make a fashion statement or tell a story. There are endless possibilities because with Barbie, you can be anything! Includes Barbie doll wearing fashions and accessories, 36 hair colour cards, one palette, one spoon/brush combo tool, one comb and three hair elastics.
Mega Bloks Thomas and Friends $17.50
Your little engine driver is in for excitement at the mines with Thomas by Mega Bloks Thomas & Friends! Everyone's favorite blue engine is helping at the Sodor Mining Co., but when he finds his path is blocked, he'll have to clear the way! Build Thomas and construct the tunnel entrance, using the sticker sheet to add detail to the set. Then send Thomas chuffing boldly ahead to knock away the wooden plank barrier and burst through to the other side! Your little one will be up for anything when they build lots of brave adventures with Thomas!
Disney Moana 14 inch Singing Adventure Doll with Friends $67.85
Moana is an adventurous, tenacious and compassionate 16-year-old who is struggling to find her true self. While her father, the Chief, pressures her to follow in his footsteps and lead their island on day, Moana is drawn across the reef to the open ocean, the only place she feels like herself…and the only place the people of her village are forbidden to go. But when her island is threatened by a mythical darkness, Moana breaks the rules and sets sail on an epic adventure to save her people and find the answers. She's been searching for her whole life.
Relive the story and adventure again and again with Moana, her loyal pet pig Pua and her rooster friend Heihei! Push Moana's shell necklace to hear her say actual movie phrases and sing her song as her iconic necklace magically lights up!
HSP Monster Truck Special Edition Red 2.4GHz Electric 4WD Off Road RTR RC Truck $174
With it's realistic monster wheels and tyres you will be crushing other RC cars and tearing up your favorite patch of dirt with all the ferocity of a real wheel standing off-road competition machine, all in 1/10 scale.
Dreamworks Trolls PODular Troll Tree $74.95
Welcome to the vibrant town of the DreamWorks Trolls, where a song can lift anyone up, and it's encouraged to let your true colours shine! Kids can build and explore their own version of this magical village with the DreamWorks Trolls POD'ular Troll Tree! It's over 16 inches tall for tons of trolltastic fun. Customize the tree's look by rearranging the movable pods. There are 4 different hanging pods, including 1 with a lounge area for the DreamWorks Trolls Poppy figure. Send Poppy and her friends (additional figures sold separately) zooming from the top to bottom by clipping their hair to the zipline. That's not the only way down — the tree also has a slide for getting down in a hurry. Pretend the Bergens are near…kids can help Trolls seek refuge in the tree's hiding places. With so many ways to play, it's a hair-raising good time!
Paw Patrol Zuma's Hovercraft $30.50
Whether you float or hover you'll discover the action-packed PAW Patrol adventure of Zuma's Hovercraft! Save the day with this articulated pup and vehicle combination! It's loaded with real working wheels and snap-fit fans that spin when you activate them! Race to the rescue with Zuma and the rest of the PAW Patrol by collecting the entire line of PAW Patrol vehicles! Together, your child's imagination will be lit up with pup inspired rescue missions full of friendship, teamwork and bravery. Choose from Chase, Marshall, Skye, Rocky and Rubble, each with their own unique transformation! With PAW Patrol there's no job too big and no pup too small. If danger is near just give a yelp, the PAW Patrol is here to help with Zuma's Hovercraft!
Meccano John Deere 380G Excavator with Working Hydraulics $131.20
The sheer power of a John Deere 380G Excavator is now replicated in a build-your-own-machine set from Meccano (formerly Erector.) Constructing this piece of equipment, licensed by John Deere, requires a precise hand and curious mind. If you know a young thinker, challenge them to tackle this building project solo, or go in as a team and bond over the exciting process of building something new. Either way, prepare for a tough task. The John Deere 380G Excavator is set at a complexity level of expert, with a build time between 3-5 hours. While difficult, curious minds will learn how rewarding it is to construct something as impressive as this model. The excavator comes with 3 working hydraulic cylinders and pistons, and an arm with three points of articulation that showcase the power of pressurized water. Just like the real thing, the treads on this excavator move and the cab rotates a full 360°. The John Deere 380G Excavator is not only impressive in function but also size. This machine measures 2 ft. long! Created by Meccano, formerly Erector in the US, this model is a S.T.E.M toy. Building it requires kids to use their knowledge of science, technology, engineering and math. Introduce budding engineers, innovators and creatives who feel like they've built it all to their newest challenge: the John Deere 380G Excavator!
Air Hogs official FPV Race Drone for High Speed Flying – DR1 Racing $116.90
Race through the skies with the Air Hogs DR1 Official FPV Race Drone! You're in the cockpit with First Person Viewing (FPV)! Download the free app to a smartphone, place it in the headset, and start piloting like a DR1 drone racing professional with a livestream from the camera on the drone. Auto-take off/land, barometric pressure height lock and beginner/advanced modes make flying effortless for any level of pilot.
Boxer Interactive AI Robot Toy Blue $98
Meet Boxer: your real robot pal! This plucky little bot comes to life right out of the box and is raring to go – no assembly required! With a love for fun, your new buddy is ready to play! To start, place one of the 10 activity cards (included) in front of Boxer. Once he rolls over the card and scans it, the fun begins! Play games like Bot Bowling, Paddle Bot and Go Kart, or use the interactive ball accessory (included) to play a fast-paced game of soccer! As you play with this loveable bot, you'll get to know his quirky personality.
Sometimes happy, sad, grumpy, or even sleepy, Boxer displays a full range of emotion. Interact with him in multiple ways: use the included remote control to race Boxer around and do tricks; download the free app to your phone to discover brand new games; or get hands-on! Equipped with multiple IR sensors, an internal rechargeable battery and more awesome tech features, Boxer responds to your hand movements and interacts with you in silly ways.
With real-life responses, funny expressions and sounds, this little guy makes one hilarious sidekick! Discover Boxer: Enormous Play. Tiny Bot.
Join eBay Plus today to take full advantage of eBay's amazing deals all year long.
Disclosure: This article contains affiliate links. This means that should you make a purchase we may receive a small commission, at no extra cost to you.