Why Paradise Resort on the Gold Coast is Now Even Better Than Ever!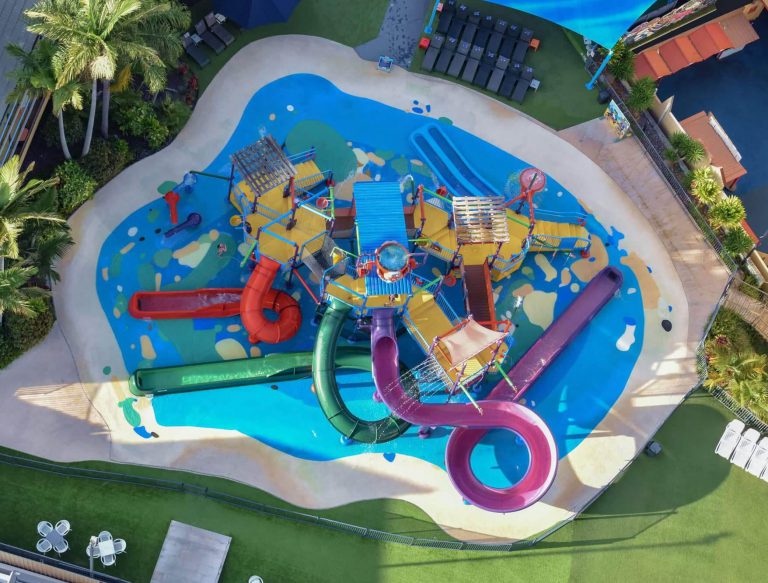 Why Paradise Resort on the Gold Coast is Now Even Better Than Ever!
Sponsored post
After what has felt like an extremely looooong summer school holiday, my family and I were very grateful to head to Paradise Resort for the weekend to check out all of the improvements that have been made since our last stay 5 or 6 years ago. Having stayed there twice already in the past, we've always recommended it to friends and family as an awesome place to take kids, so we'd been devastated a couple of years ago to hear that there were plans to demolish the resort. If you've ever been there with your family and have fond memories of long days of family fun in the sun, you'll know why it's been voted Australia's favourite family resort and you'll also understand what a travesty this would have been! Thankfully though, Dr Schwartz came to the rescue, and instead of getting bulldozed, the iconic family resort has had a multi-million dollar facelift, with even more improvements planned!
Back in March I shared with you 7 awesome reasons why you should consider staying at Paradise Resort for your next family holiday, including details of the incredible Stay and Play package. Today, I want to move away from the awesome local attractions and tours you can enjoy on the beautiful Gold Coast, and focus more on the resort itself. There is a reason it's been likened to a cruise ship on dry land, and why it's referred to as 'heaven for kids, paradise for parents.' There is so much fun to be had at the resort itself, if you didn't step foot outside of the property during your stay you wouldn't feel like you'd missed out on anything.
So, without further ado let's launch into how Paradise Resort is even better, because I know those of you who have stayed in the past can't wait to hear what they've done, and those of you who are new to Paradise Resort are intrigued to hear more!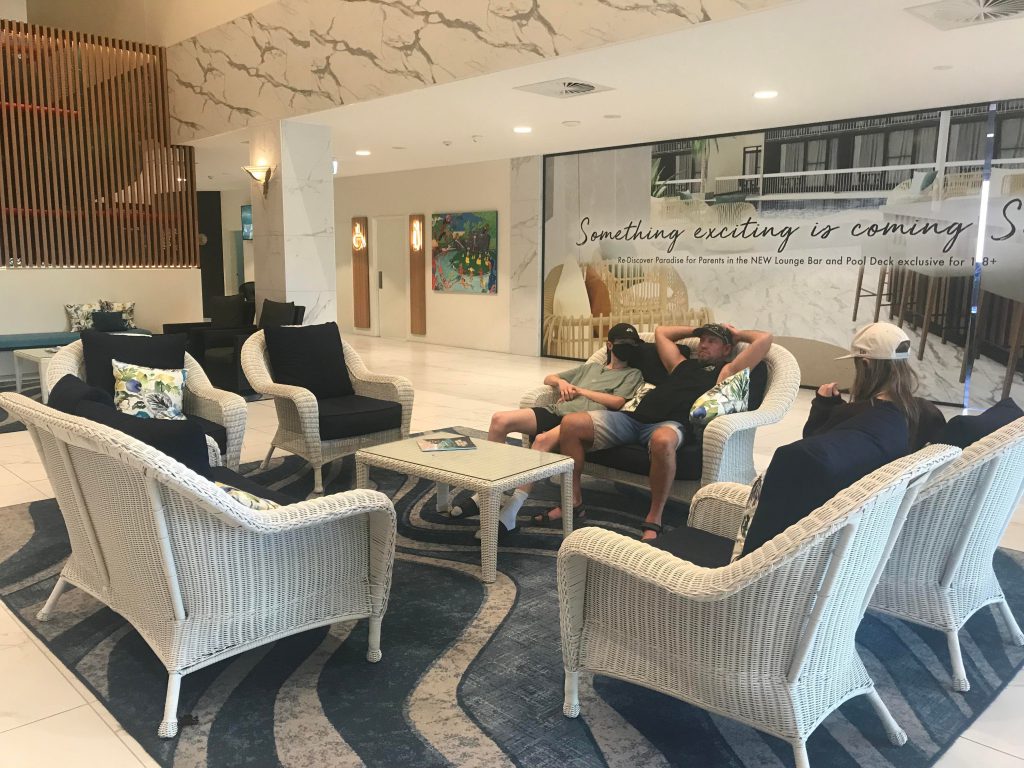 New Lobby and Reception
From the outside, Paradise Resort looked exactly the same as we remembered it, but as soon as we walked through the entrance into the lobby the improvements were clear. It's bright, airy coastal theme is the perfect vibe to start your family holiday, and the staff were warm and welcoming. The large aquarium in reception adds both colour and tranquillity to this beautiful airy space. But buckle your seatbelts– because it's all fun from here on in!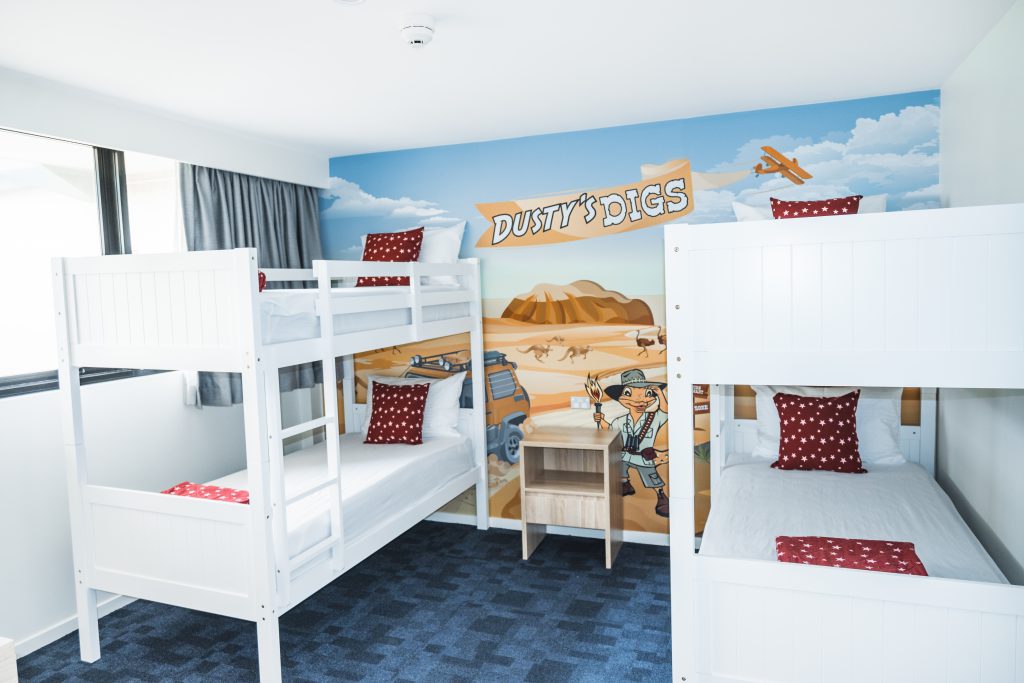 Rooms
Paradise Resort used the COVID lockdown to deep clean and repaint their rooms and generally replace and refresh everything that needed to be. On our recent visit we were very fortunate to stay in one of the newly renovated Dusty Digs Deluxe Family Rooms – and we were not disappointed.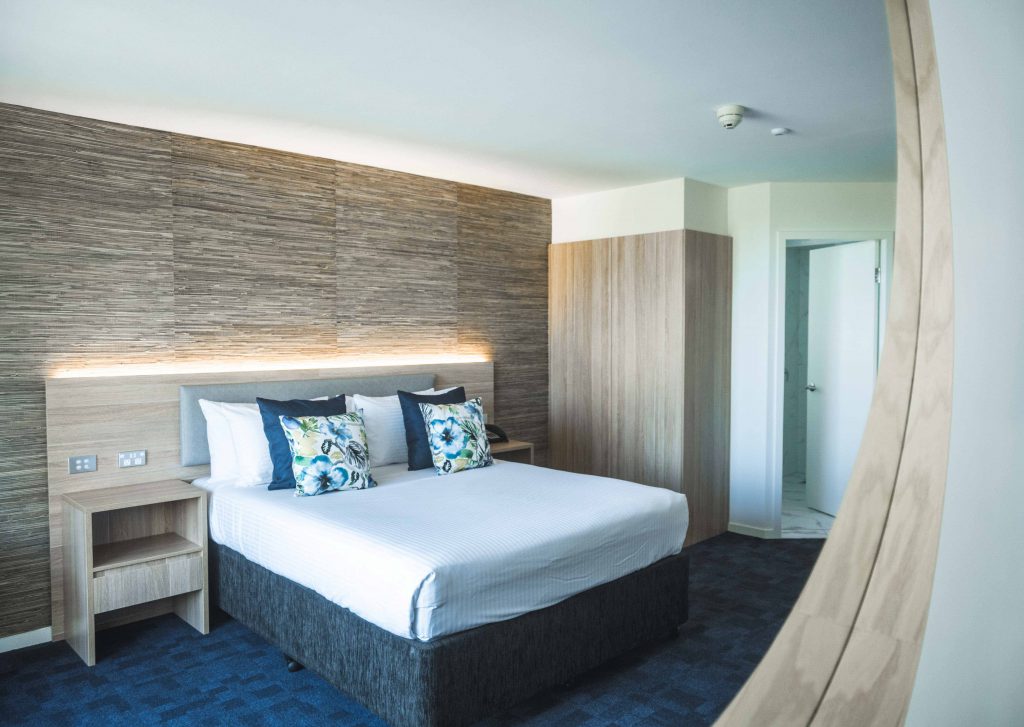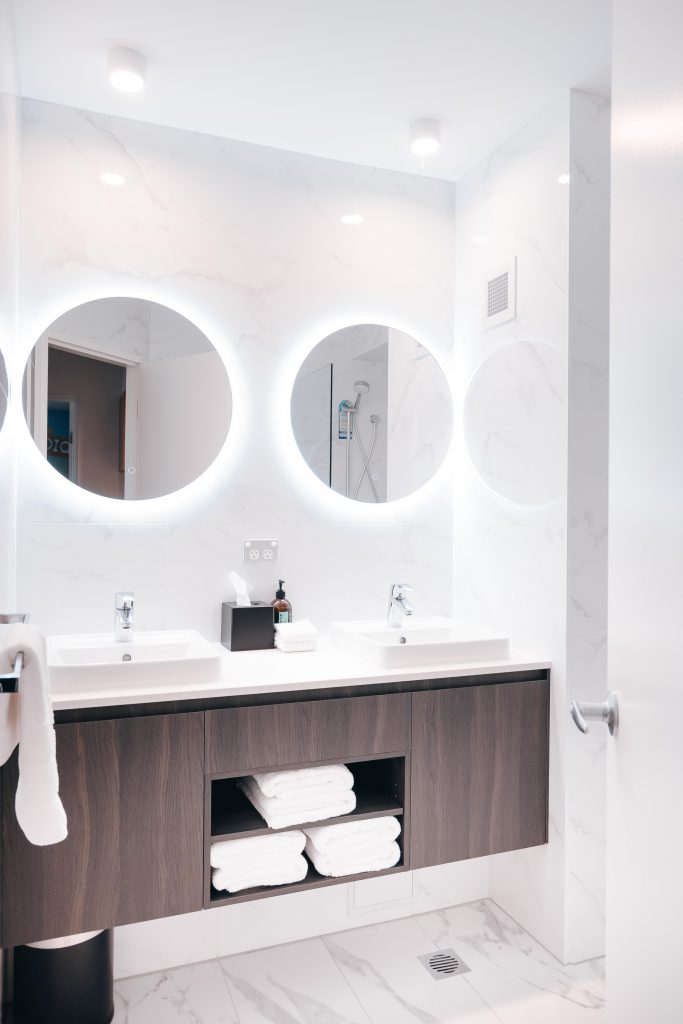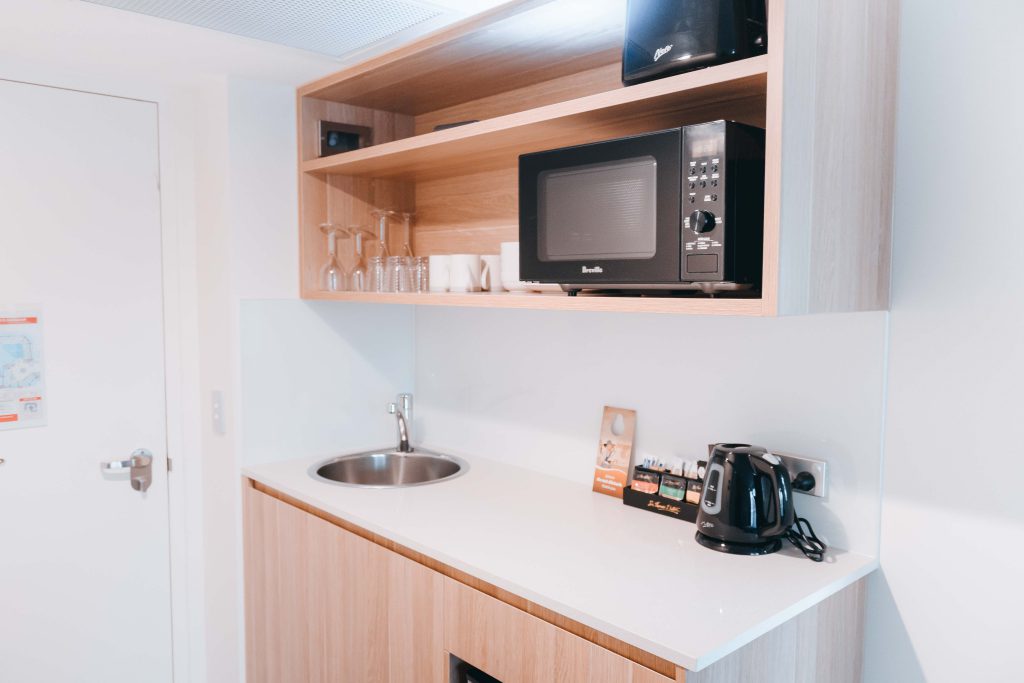 The first thing my family wanted to do after checking into our room and ditching our bags was to check out their food options. They are all about the food, so they were very happy to check out the 4 on-site eateries at Paradise.
Regardless of your family's food preferences, even those with fussy eaters are sure to find something to suit their tastes. There is also a great app that you can use to order your food or drinks, so whether you are in your room, or down beside the pool, or on your way back from a day out you can organise mealtimes and refreshments – and you get notified when they are ready for pick up! Perfect for avoiding standing in queues and also staying COVID-safe!
Penguin Family Restaurant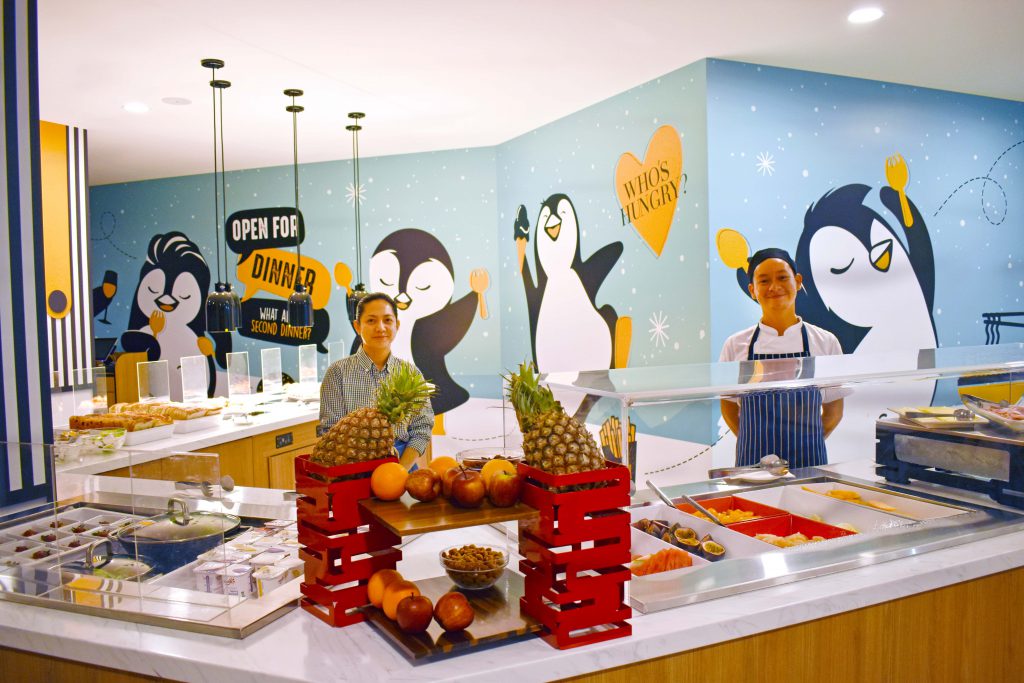 Jerry's Burgers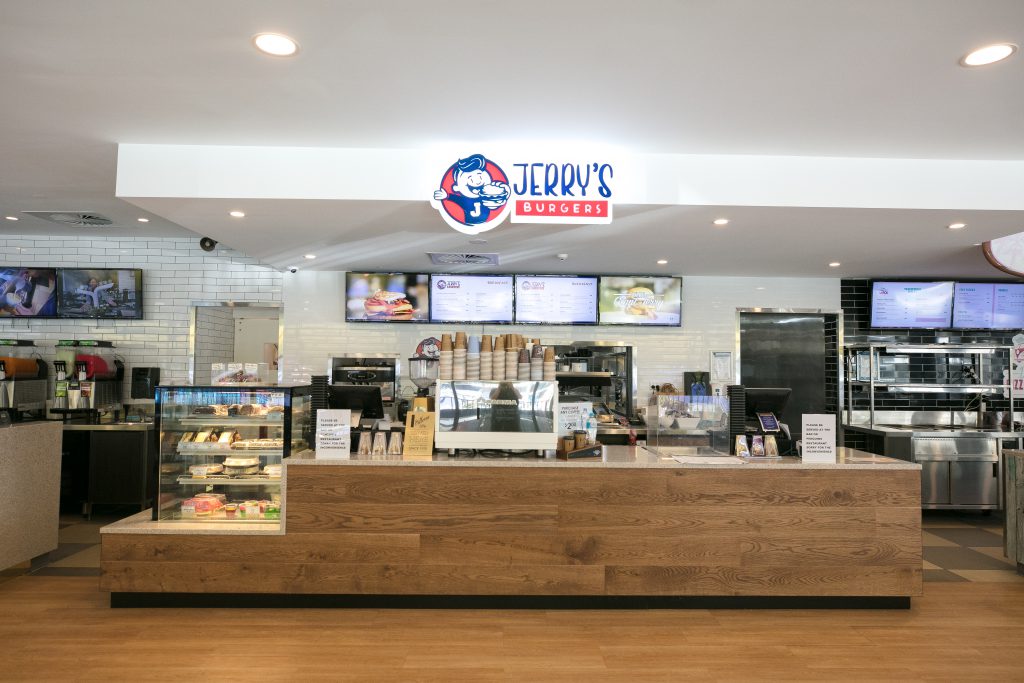 Deb's Pizza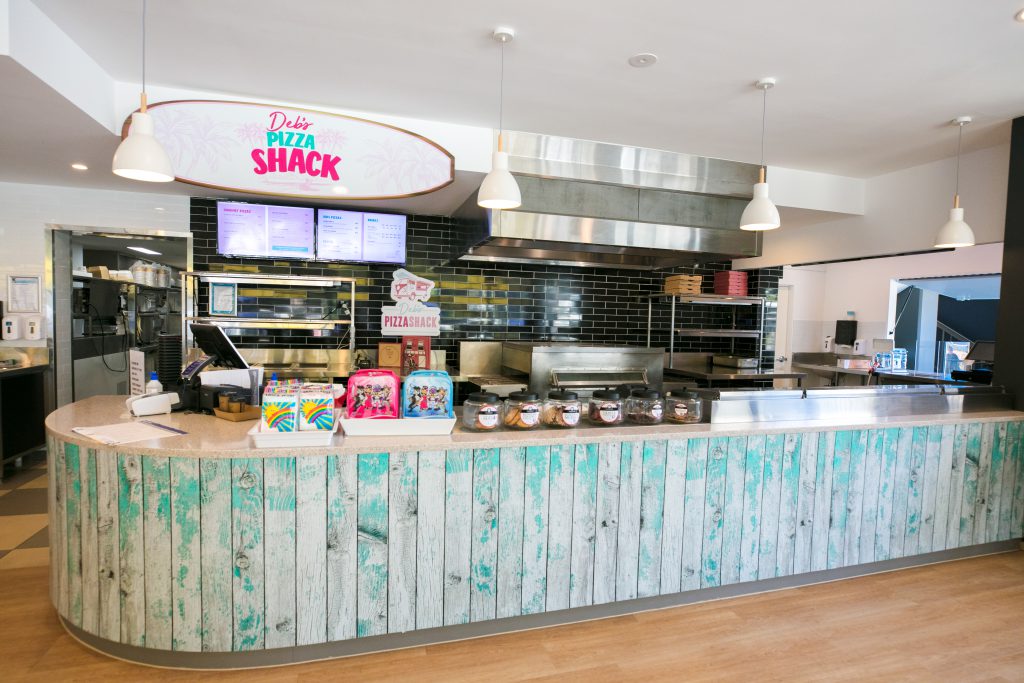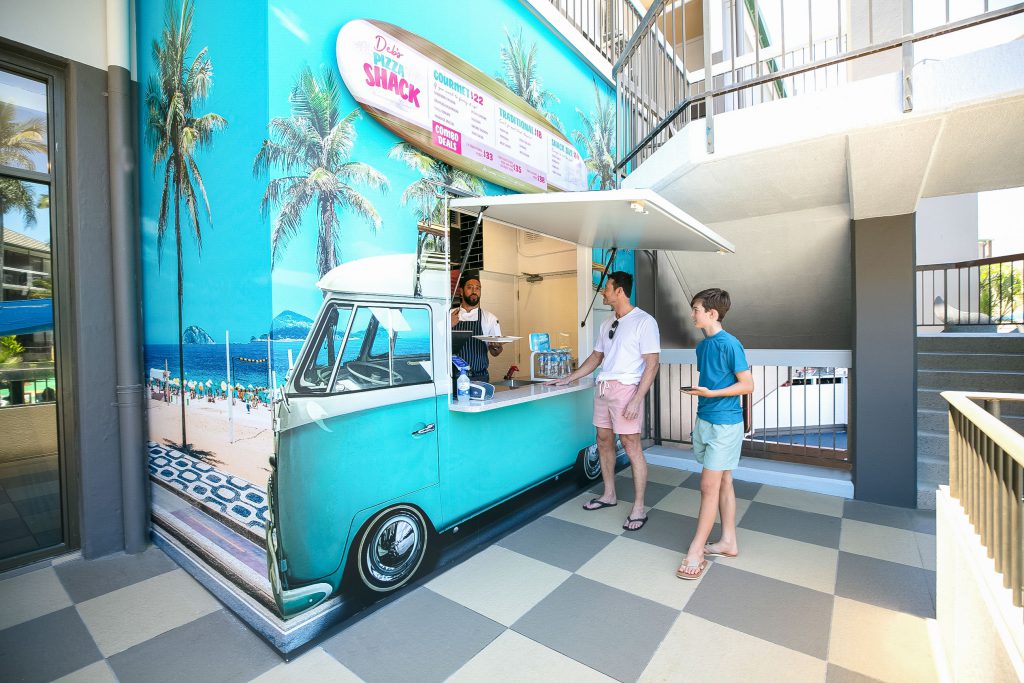 Poolside Café and Bar
All I'm going to say is that 2 nights wasn't quite enough to work our way through the entire cocktail menu, but I can highly recommend the mojito and the Toblerone cocktails.
Take me back already!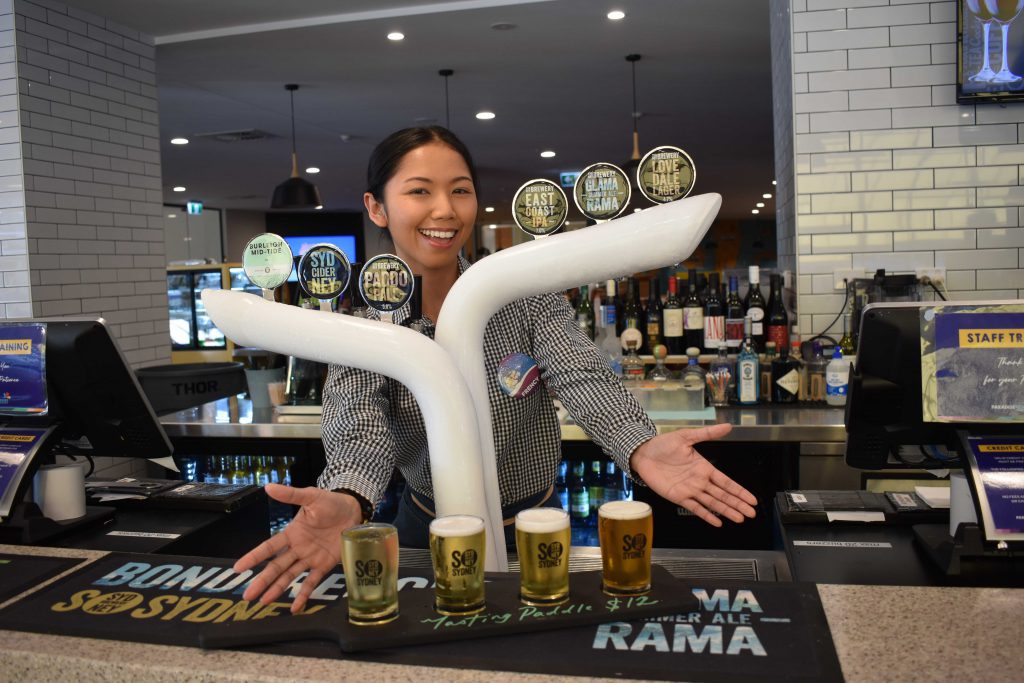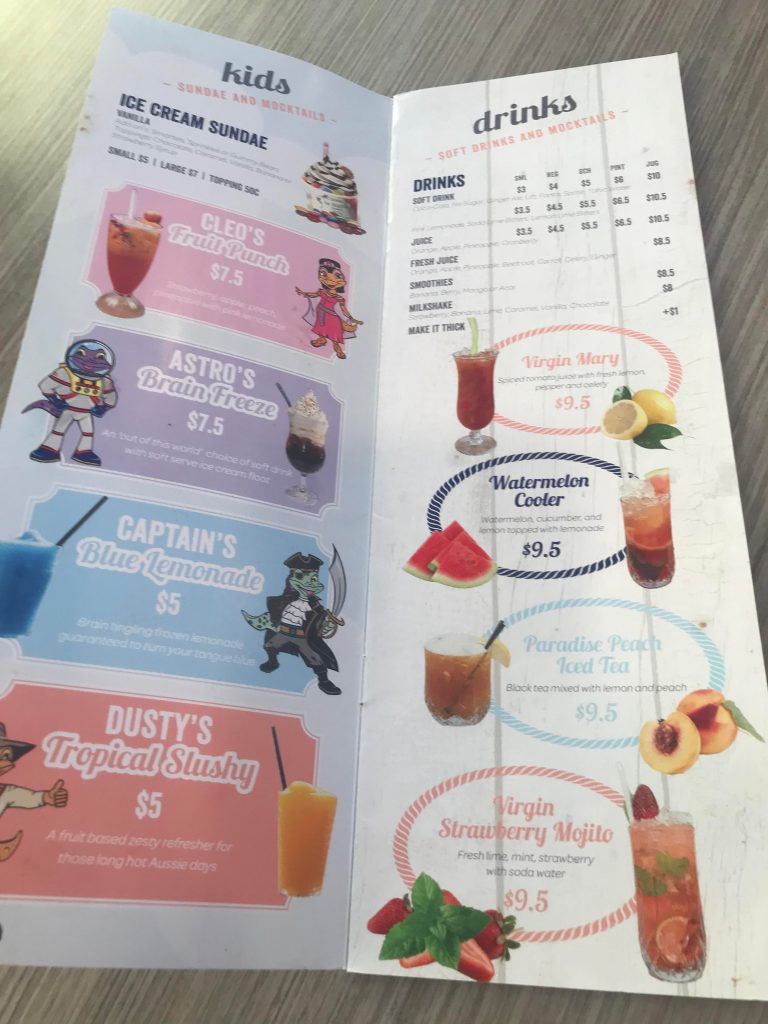 BBQ Areas
There are also now BBQ areas around the pool area, so you can cater for yourself and your family if you'd prefer. This is a great option for families who are on a budget!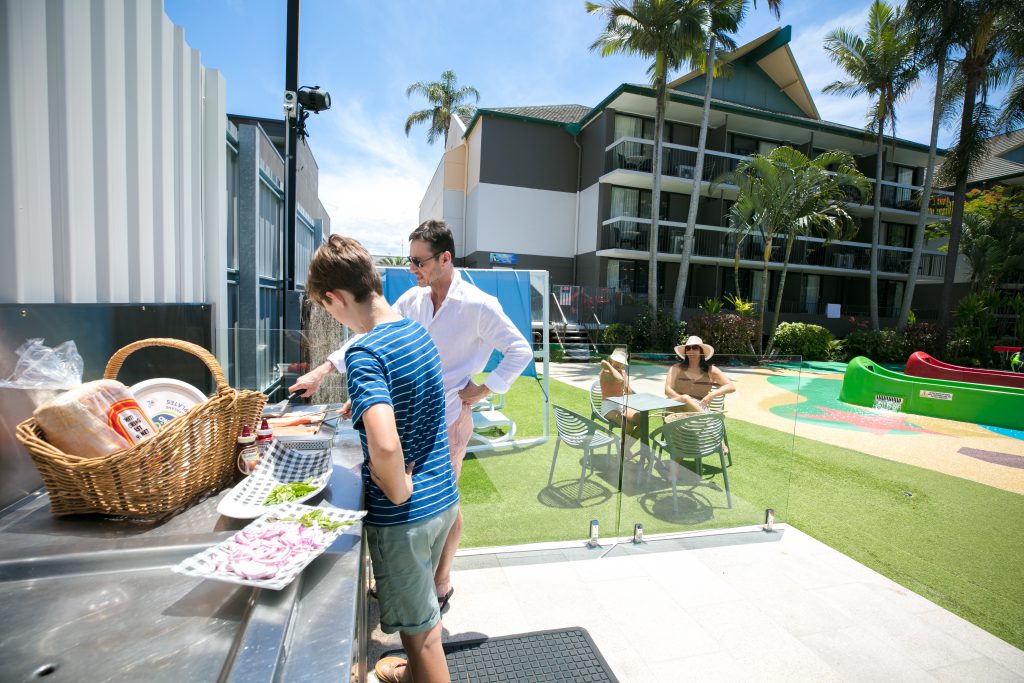 Waterpark
The waterpark is undoubtedly the centrepiece of the resort and loved by young and old! Whilst the original slides and big tipping water bucket remains (thank goodness!) the area has been given a new lease of life with new flooring, and a few new features here and there.
Planet Chill – Ice Skating Rink
Planet Chill ice skating rink is another of Paradise Resort's most loved family activities, and this too has benefited from a refurbishment – making this old favourite feel fresh and new again!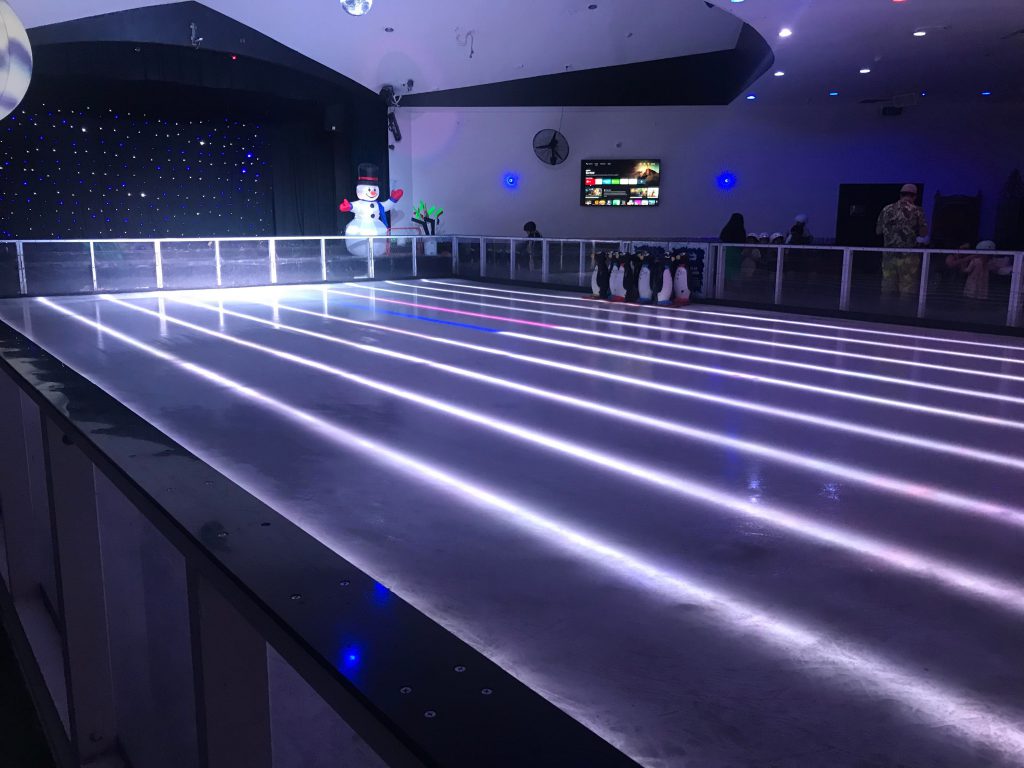 New Games Room
The new games room features a number of different arcade games, an air hockey table and claw machines – perfect for keeping little kids and big kids entertained!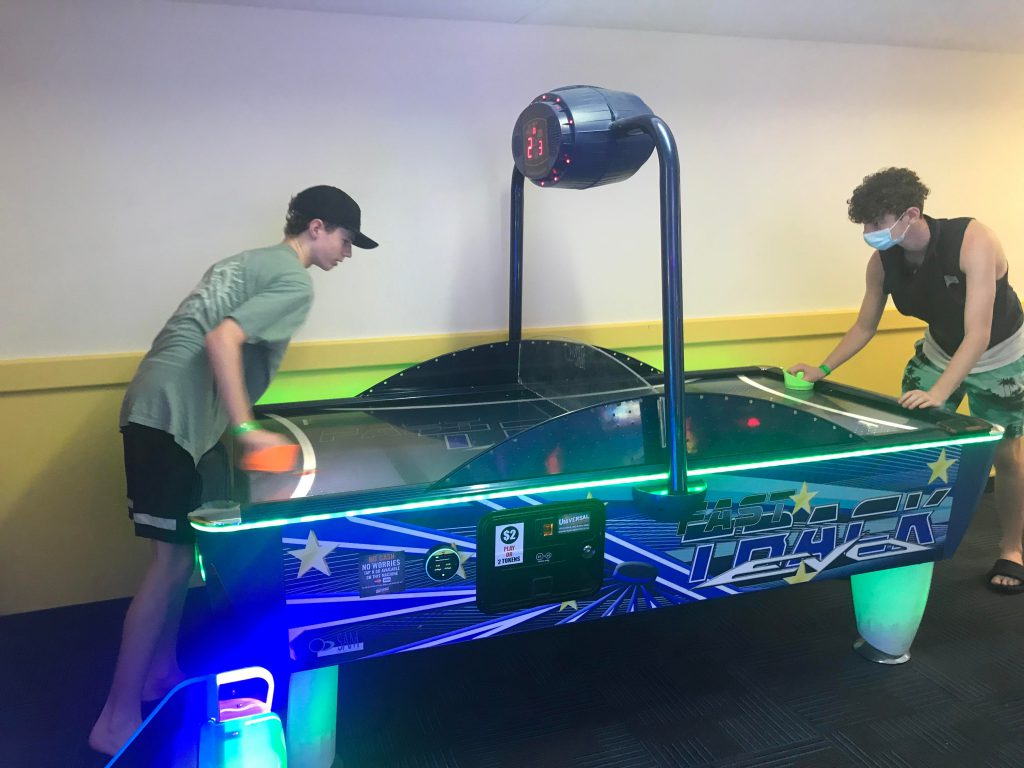 Laser Tag
What better way to deal with good ol' sibling rivalry than booking them into a session where they can run around with a backpack and a laser gun blasting each other, right? Not surprisingly, this was one of the highlights for my kids, who regaled us with stories on who got who, and who did what for hours afterwards!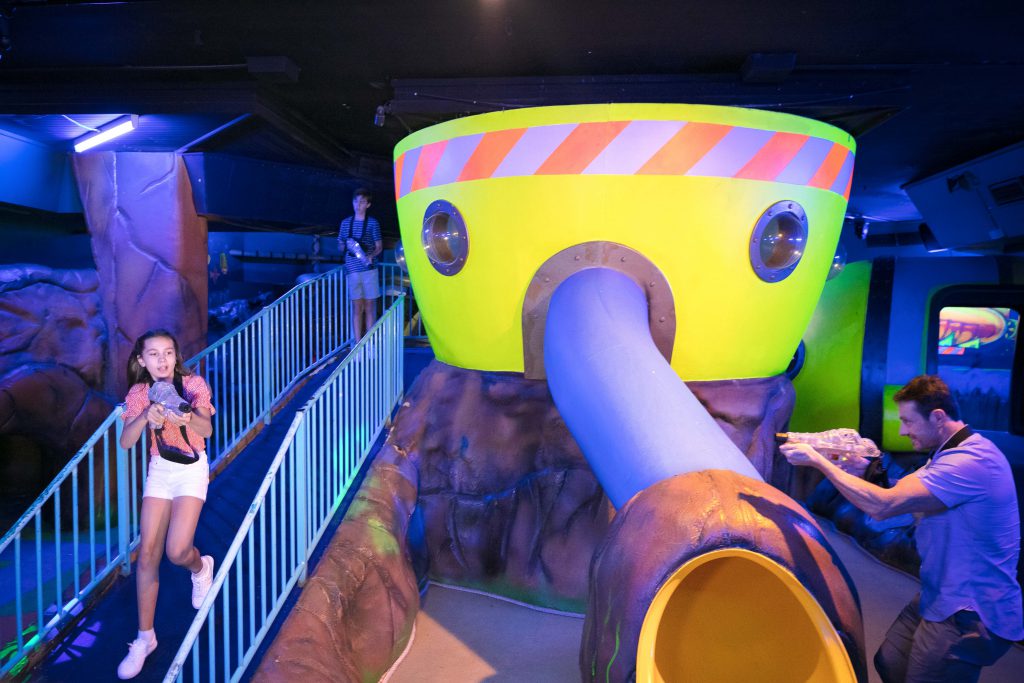 Guest Laundry
As we were booked in for a short 2 day stay we didn't need to use the new laundry facilities, but I can still appreciate how handy this would be for families staying for longer. I can remember my kids going through multiple outfit changes and bibs etc a day when they were very small due to accidents and mishaps, so for families travelling with small children it's great to have the option of doing a load of washing midway through the break rather than having to pack 2 or three times the amount of clothing!
Kids Club/Teen Club
You only have to take a look at some of the photos below to see why kids and teens LOVE Paradise Resort kids club. It's a great way for children to socialise, make new friends and holiday memories and also give parents a guilt-free break, so everyone can go home feeling happy, connected and rested!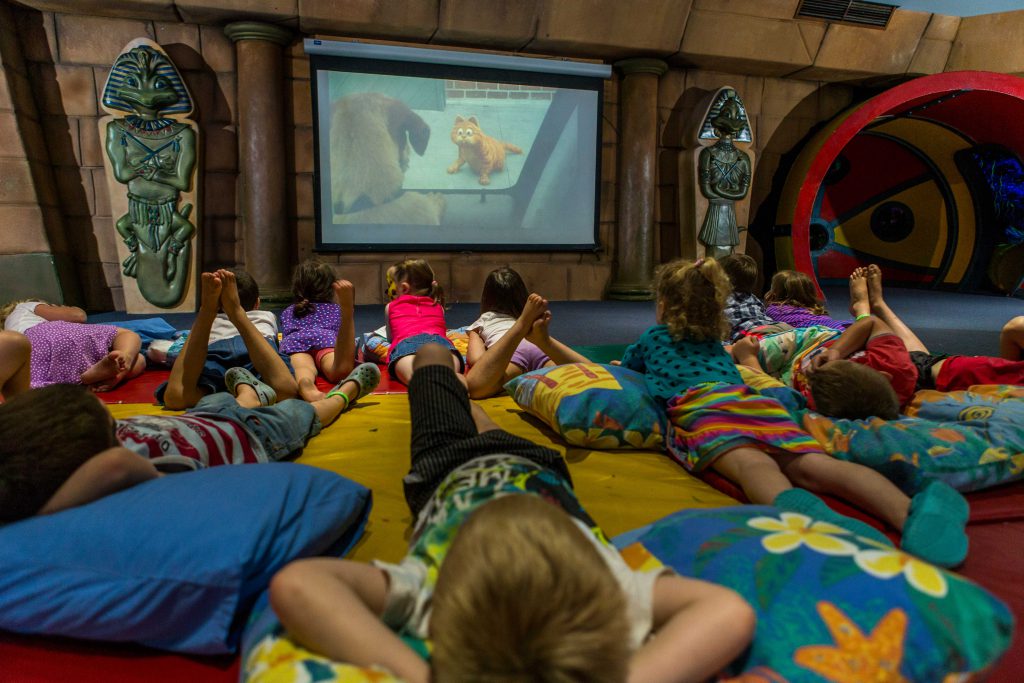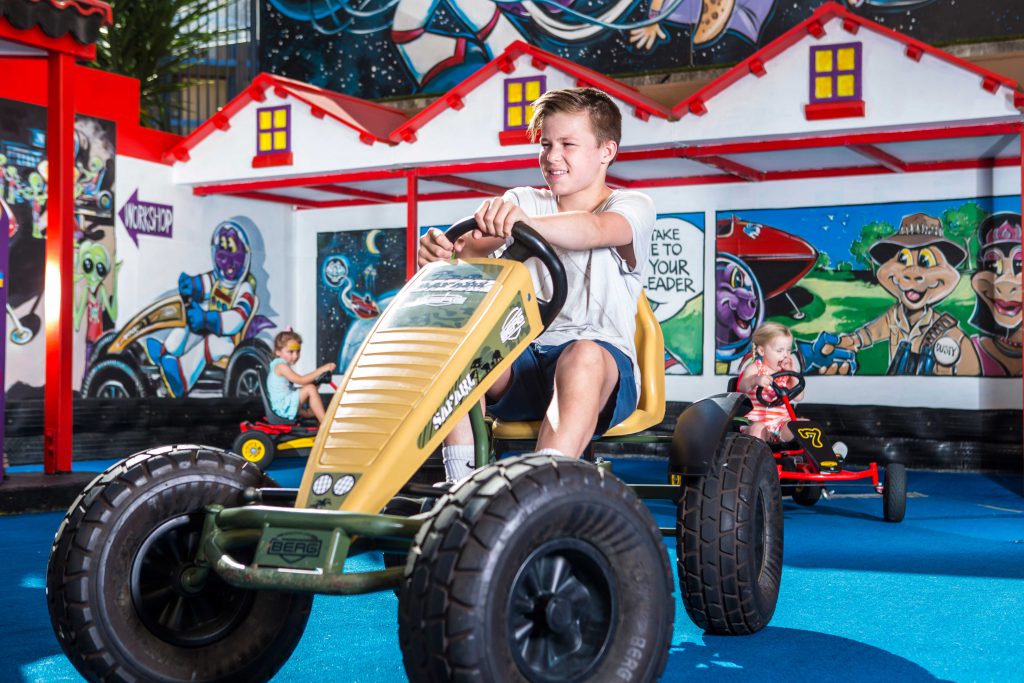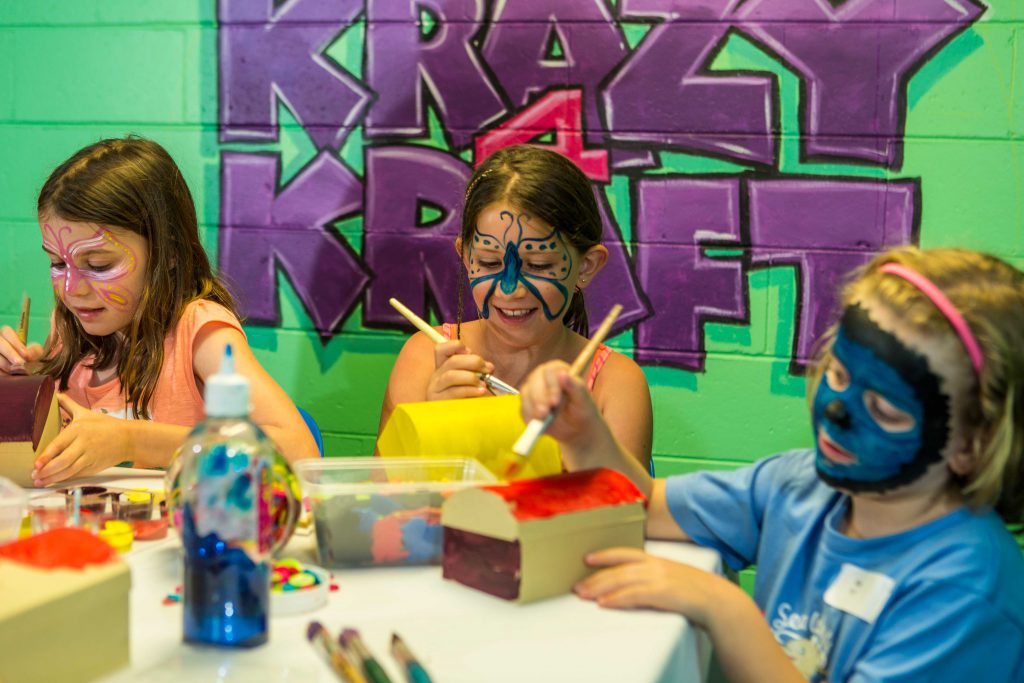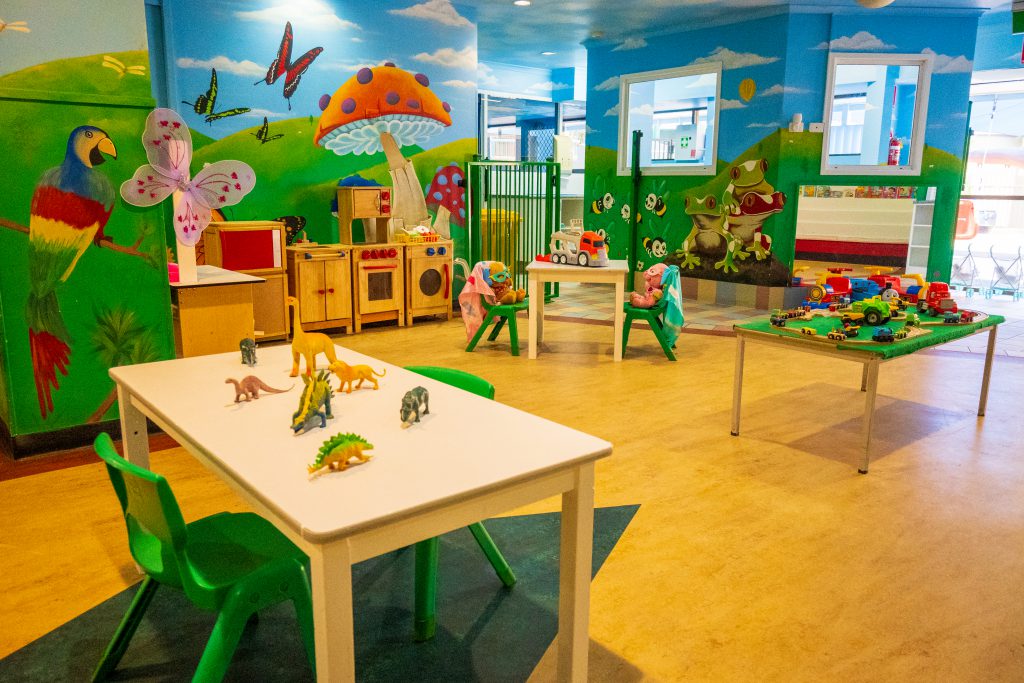 Splashes – Retail Boutique
The Splashes boutique on site at Paradise Resort stocks everything you might need on your holiday, ranging from essentials like pantry item, toiletries or sunscreen through to swimwear, jewellery and gifts.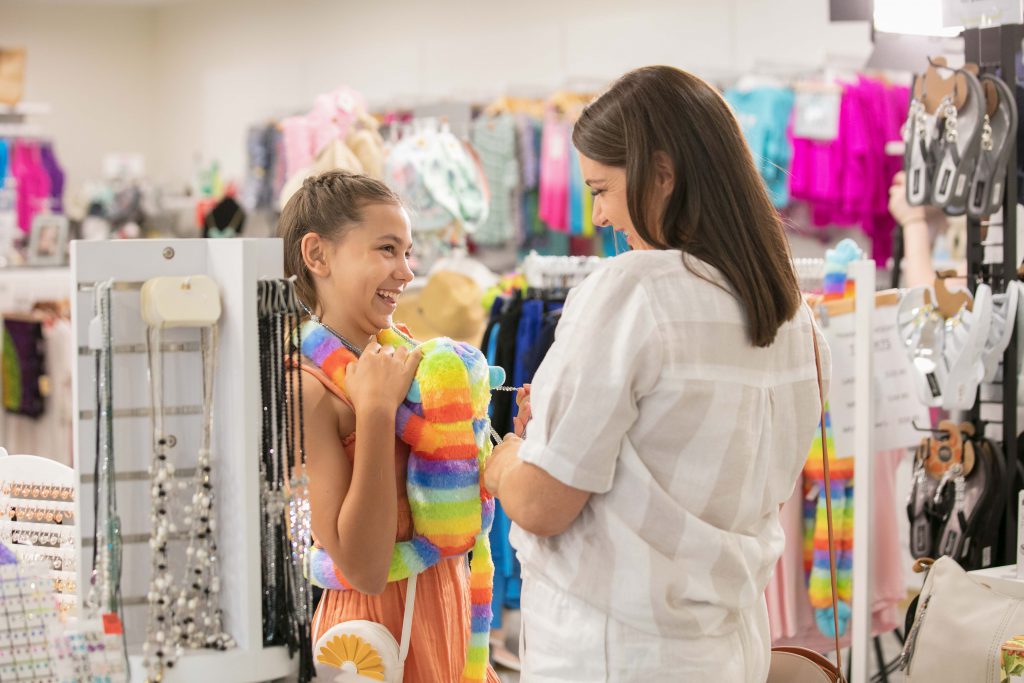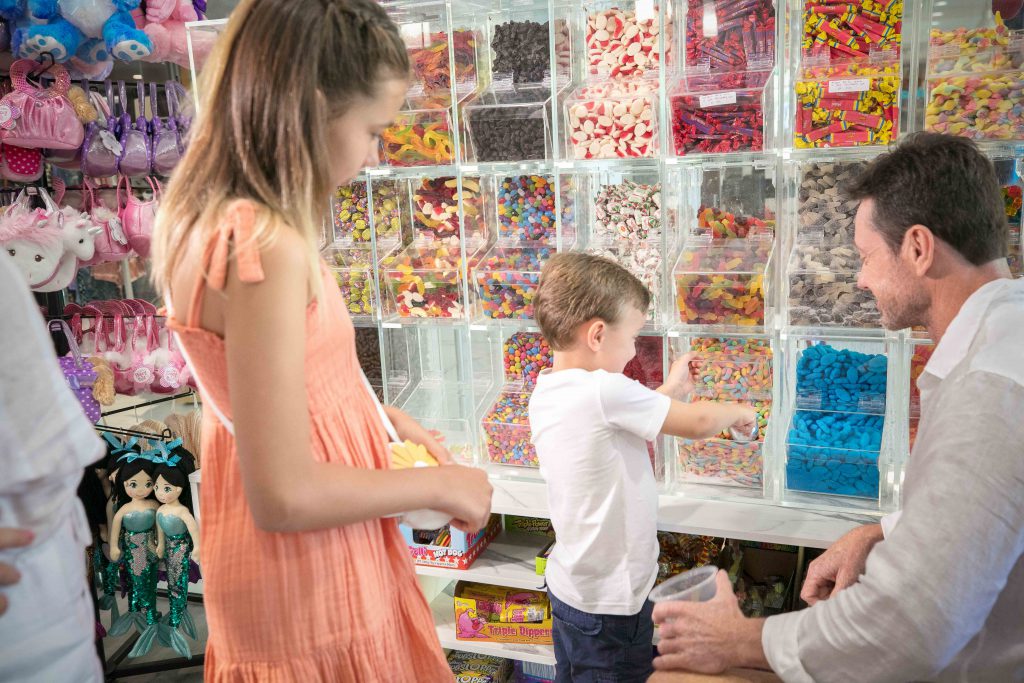 Daily Activities
The beauty of Paradise Resort is that you can do as little or as much as you want. You can fill your day with action and adventure in and around the resort, or kick back and chill.
Everyday has a calendar of free activities that you and your family can enjoy ranging from jelly eating competitions, trivia and the much-loved dunk tank, to live shows, outdoor movies and meet and greets with the resorts mascot characters Captain, Dusty, Astro and Cleopatra.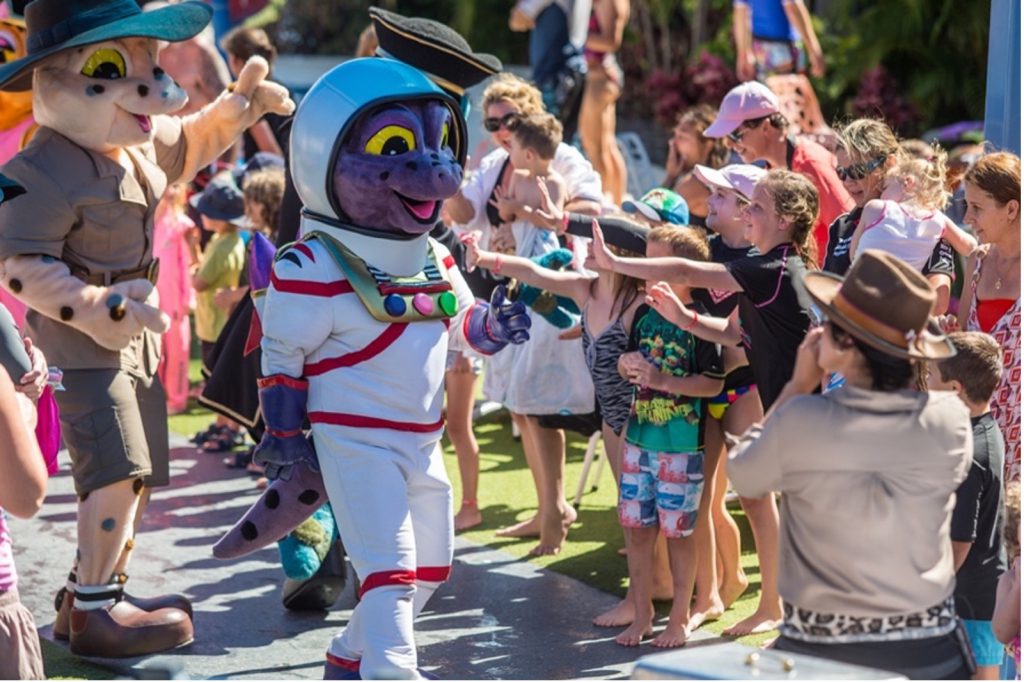 Other Improvements
Other improvements that you may not initially notice but will benefit from are the new hi-speed wi-fi, the environmentally friendly air conditioning system that runs throughout the resort and the new telephone system which allows guests to make calls between rooms, but also free local and national calls!
Adult Only Pool and Bar Coming Soon!
Paradise Resort will be taking their mantra 'heaven for kids, paradise for parents' a step further this year with the opening of a new lounge bar for over 18's only, and an adult-only pool area too. Parents will be able to make the most of their free time while their children are in the kids' club, without going too far, if they'd prefer to stay close to their little ones.
Now, doesn't that sound like the perfect holiday right here on home soil?
Stay and Play Sale
On Sale: 1-30 June 2022
Travel dates: 1-30 June, 4 Jul – 16 Sep, 8-30 Oct 22
Fly north for the Winter and Stay and Play with the entire family at Paradise Resort to receive over $800 in bonus extras!
Receive:
One Kids Club or Teen Club session for every child,
Unlimited use of the waterpark,
Continental breakfast daily for the whole family
PLUS $400 to spend on local tours and attractions!
*Offer valid for Australian residents (excluding QLD). Visit website for full T&C's.
Head to the Paradise Resort website for more information or to book your next family holiday.
Disclosure: My family and I were gifted a weekend stay at Paradise Resort for the purpose of providing an honest review. All thoughts and opinions expressed here are my own.